Trying to adapt to a new "normal" is cause alone for intense reflection, and because we've pressed pause on all of our favorite distractions (RIP happy hours), this reflection often gives way to nostalgia for pre-COVID times, more specifically those way before any semblance of a novel virus was heading our way. When we dissect ourselves, we're naturally bound to think back to the experiences that radically shifted our sense of self and the relationships we create with the world around us.
The pandemic has also radically shifted the vision the art industry had for 2020. Gallery spaces are lonelier, studio visits and interviews are now completely remote (speaking of, you can check out CAMP intern Chloe Fabien's latest here), and exhibitions have been made virtual, which is cool for those of us who can't travel on a whim, but what does this mean for the seasonal art fairs we plan our entire year around? ArtHamptons specifically is usually a beautiful moment where the chaos we've come to expect from fair preparation meshes with the relatively relaxed ambience of the Hamptons, making for a welcome retreat before the madness of Miami Art Week is upon us. With Art Basel Miami Beach officially cancelled, and other fairs still coming to terms with the novel faux pas of public gathering, our favorite Hamptons fair went virtual with the rest of us.
The CAMP's booth for this year's 3D Hamptons Virtual Art Fair featured a selection of works by CAMP artists Joseph Ginsberg, Dominik Schmitt, and Drew Doggett. While their perspectives exist on different points of every spectrum imaginable, they unite in both their sentimentality for memories and the lessons they've tucked into their pieces.
Joseph Ginsberg's pieces exhibit the distinctive abstraction of mood and memory we've come to love about his worldview, These works embody the spontaneity of emotion and experience in Ginsberg's experiences as a native New Yorker, and as an artistic jack of all trades, while proving that there is harmony between all that surrounds us, even in moments we don't feel it. Ginsberg's Paradise Lost (1995) best highlights how chaos and brilliance aren't at odds in our lives, but delicately entangled in the undercurrent of our lives.
Joseph Ginsberg. Paradise Lost, 1995. Oil on canvas. 45 × 91 in[/caption]
Like Ginsberg, Dominik Schmitt's works are a harmonious manifestation of his interests and experiences. The German artist's idiosyncratic approach to notions of reflection and memory are as charming as they are whimsically eerie, like we're visiting the inner workings of his own mind and don't quite know what's happening—but we can't look away, and we don't even want to. The Radiance of Opening (2016), featured in The CAMP's HVAF booth, evokes both surrealism and mannerism, dark and quirky and chaotic. It suggests that teasing things apart is necessary, and that we mustn't be too serious about it either.
Thus, we're left wondering, how do Drew Doggett's tranquil photographs play into nostalgia, juxtaposed with the eclectic color schemes used by Schmitt and Ginsberg, who are also working in totally different mediums?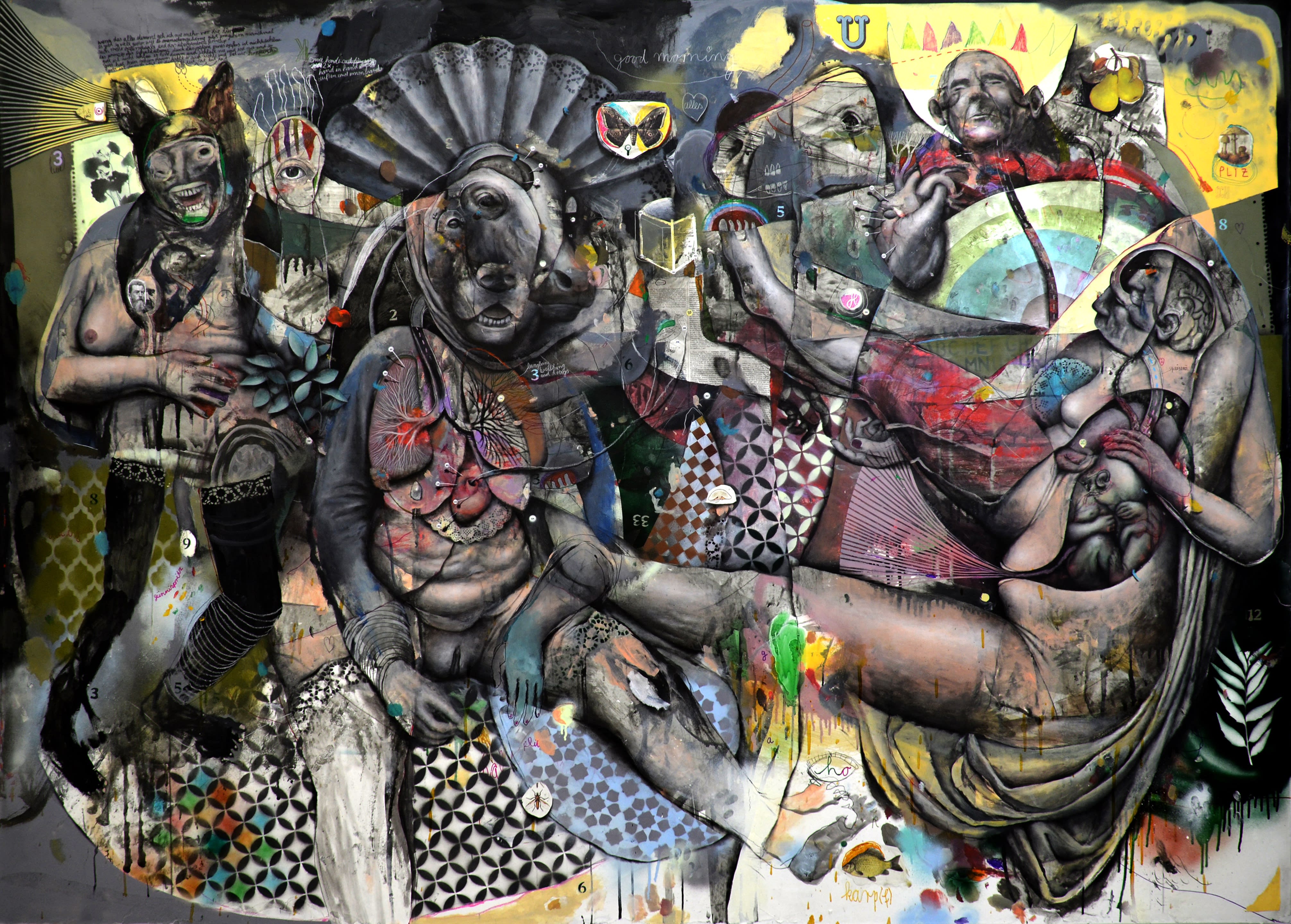 Dominik Schmitt. The Radiance of Opening, 2019. Mixed Media on Canvas. 180 × 250 cm[/caption]
Doggett, an American photographer, captures real, arresting images of the sea as an agent along those working within it, reliving his own memories as he photographed each series. The Swell: Endless Blue and Sail: Majesty at Sea series touch on the power of their subjects (surfing waves and racing yachts) as they navigate the ocean, which is as tenacious and enduring as our desire to figure out what we must focus on and what we should probably quit overthinking. As seen in Doggett's Flight at Sea (2019). the oceans are wide and deep enough to encompass all memories and all possibilities for the future, and surfers are out there nonetheless.
If there's anything to meditate on whilst we continue to adapt to a pandemic, it's that there's power in self-reflection, and that the future is actually now. Though it does make one wonder if we're witnessing the building blocks of an online art world we can't yet conceive of—will all fairs be virtual now? How will that change markets? What does that even mean for virtual booth technology? Will the wine be cheaper? It also makes one wonder what the future of memories will look like in an increasingly virtual world, like, will we ever get to hug again? Do masks affect the way we perceive one another, and what does that mean for those whose inspiration is largely found outside of their headspaces?
Drew Doggett. Flight at Sea, 2019. Archival Pigment Print.[/caption]
If you'd like to view all of the works from our Hamptons Virtual Art Fair 2020 booth, you can do so here.