Welcome to CAMP Conversations, an editorial space brought to you by The Contemporary Art Modern Project! At The CAMP, we're firm believers in the power of the intimate relationship between art and those who love art, and we're happy to champion it in our approach to a nearly-inaccessible industry. CAMP Conversations are written to promote thoughtful dialogue exploring the art industry embedded with our sophisticated brand of snark, involving artists, gallery employees, and our beloved audience.
I'm CAMP creative, curator, and art dealer Andres J. Mora, taking over this little space for the first time to facilitate our readers a look into the work and process of one of my personal favorite artists to work with, Vicky Martin.
Spilt Milk, from the Not in Kansas series.

As a curator, I have had the pleasure to interact with a solid number of artists in my time with The Contemporary Art Modern Project, both virtually and in presence (once maskless, now some of them don't know what I look like under my trusty black piece of fabric, but alas) and I have to say that few have been as engaging and enthusiastic as Martin. Don't get me wrong, a positive attitude is not a qualification for making great art, but it definitely helps add some motivation into you when you are working on 4 hours of sleep a night and living off gas station coffee on the way to both grad school finals and Miami Art Week.
Being a pleasant human being is not Vicky Martin's only strong suit, however. The British-born photographer conceptualizes and executes her whimsical reflections on social realities through her fine eye for both composition and aesthetics. It's safe to state that Martin has a clear understanding of fashion—she's been featured in The Contemporary Art Modern Project's pioneering fashion-inspired exhibition, Not Dior's New "Look" and will be featured in the second iteration of this show set to release early December. And hear me out, most shows do not make it to a second release, so there is something to be said about her impact.
Nevertheless, Vicky Martin is not (spoiler-alert for the interview) to be put in a box as a fashion photographer. While the artist's creations are undoubtedly fit to be featured in the greatest of fashion publications, their true beauty lies in the meaning behind her vision. Marrying her whimsical aesthetic with her editorial eye, she constructs narratives that are as intriguing as they are beautiful, blurring the boundaries between fantasy and reality into a conversation on the female journey through a world that actively seeks to limit your potential. Thus, strong female figures take center stage in Martin's world, and she takes advantage of her refined perspective to facilitate her strong social critique, which lies at the core of all of her work.
Agreeable, talented, and with a voice, the holy trinity of an artist's qualities if you ask me.
If this bit, and my unapologetic fascination for Martin were enough to garner your attention, please read ahead and dive head first into the rabbit hole that is the world of Vicky Martin. And let me just preface - you're welcome.
Thank you for taking the time to share a little bit about yourself to me and those reading this Vicky. To start off the interview, what does photography mean to you?
First of all, thank you for inviting me to take part in this interview. Wow what an intriguing question! Well, the easy answer would be that, over the years of being a photographer, it has become an integral part of who I am. Photography has allowed me to find my creative voice and has given me a platform to share this voice from. When I was just starting out discovering photography, I realised very quickly that not only was this what I wanted to do with my life, it was the part of my life that I did not realise had been missing.
Would you say that working as a photographer affects the way you see and interact with the world around you? Even when you are not "behind a lens" per se, do you still feel like your perception of your surroundings function as one?
I would say that I interact with the world around me through a subconscious lens: constantly attuned to colour, aware of composition, continually selecting and deselecting, in my mind, what I see and how I would translate my surroundings into a photograph. In my experience of being a photographer, it is not something that is ever really switched off, it is a state of being rather than a 9 to 5 job and, I find, personally, that I am constantly sensitive to my surroundings and look for inspiration, whether deliberately or subconsciously.
Can you tell me about your creative process? What makes it characteristically Vicky Martin?
To start with I will walk you through my creative process: most of my projects start with an initial idea for a photograph, I then think through how to achieve the image in my mind. Then consideration is given to locations, outfits, colours and how everything will work together. The crucial stage is then conceptualizing how to take single image ideas and develop them into a series. I enjoy the creative process and am very hands on, whether in terms of making the props and outfits or, creating the sets I will use. My work is characteristically "Vicky Martin" through the aesthetic that runs throughout all of my series: the saturation and tonal range, the elements of whimsical fantasy paired with a sense of vulnerability, as well as the societal critique that underwrites the narratives I depict.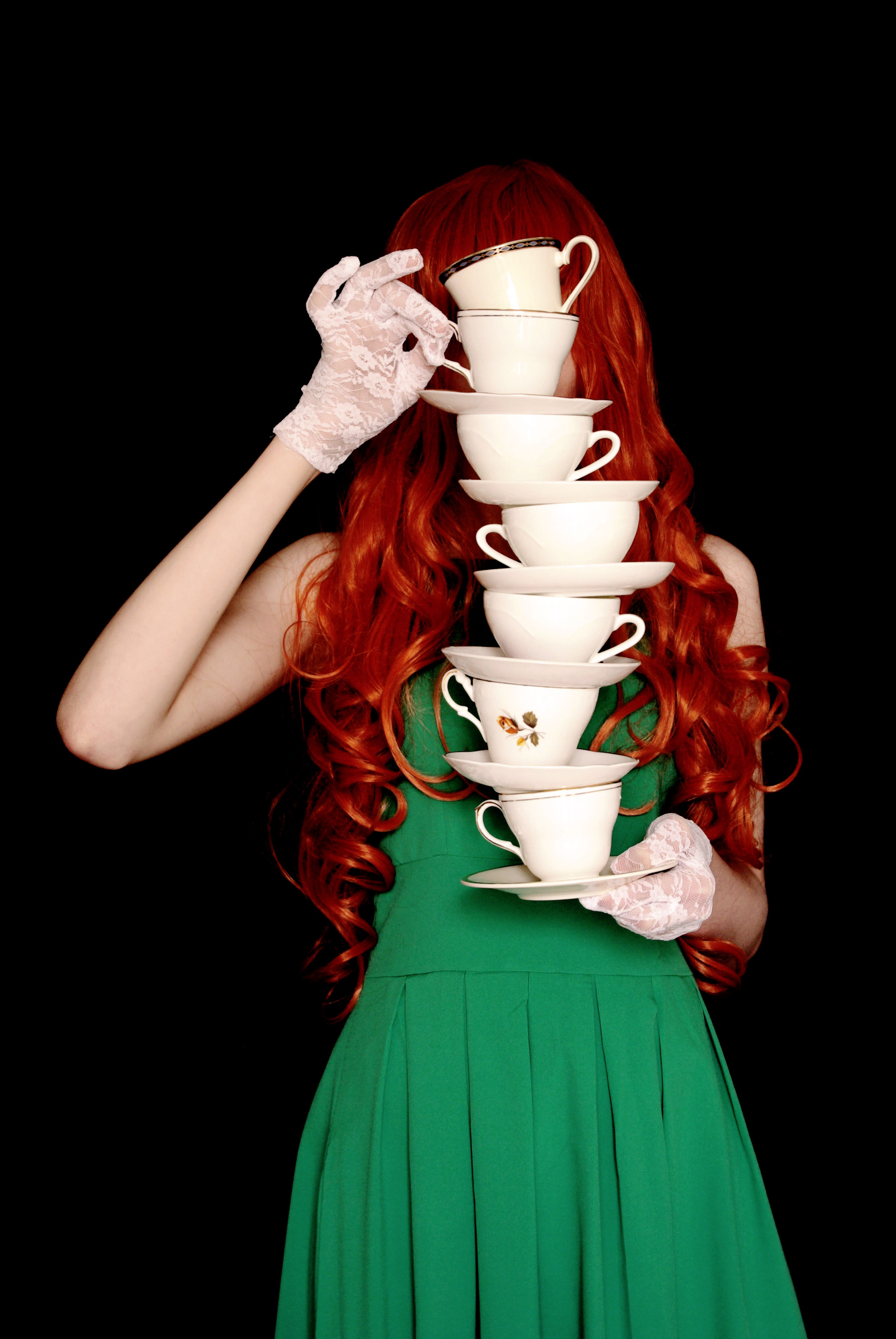 In Balance, from the Selfhood series, featured in Not Dior's New "Look."
What is your personal relationship with fashion? Do you consider yourself a fashion photographer or a photographer who is fashion-aware?
Before studying photography, I studied art, design and fashion and, even went on to work as an assistant designer in the '90s. I have always had an affinity with fashion and this love of creating fashion finds its way into my work. I find it difficult to define my work as solely fashion photography, I prefer to think of my work as a mixture of fine art, portraiture and fashion photography.
You have been featured in The Contemporary Art Modern Project's most fashion-oriented series to date, "Not Dior's New 'Look,'" being one of only two artists to be featured twice. How do you feel knowing that your work inspired this series to become more than a one-hit-wonder?
I feel extremely proud and honoured to have been a part of this exceptional exhibition and to be featured twice is truly amazing! It feels both exciting and humbling to know that my work inspired this to become more than a one-hit-wonder! Although I always have my own perception of what my work could mean, it was really intriguing to me to see an alternative perspective of my work and to read these insightful ideas that I had not previously considered to apply to Not in Kansas and Selfhood.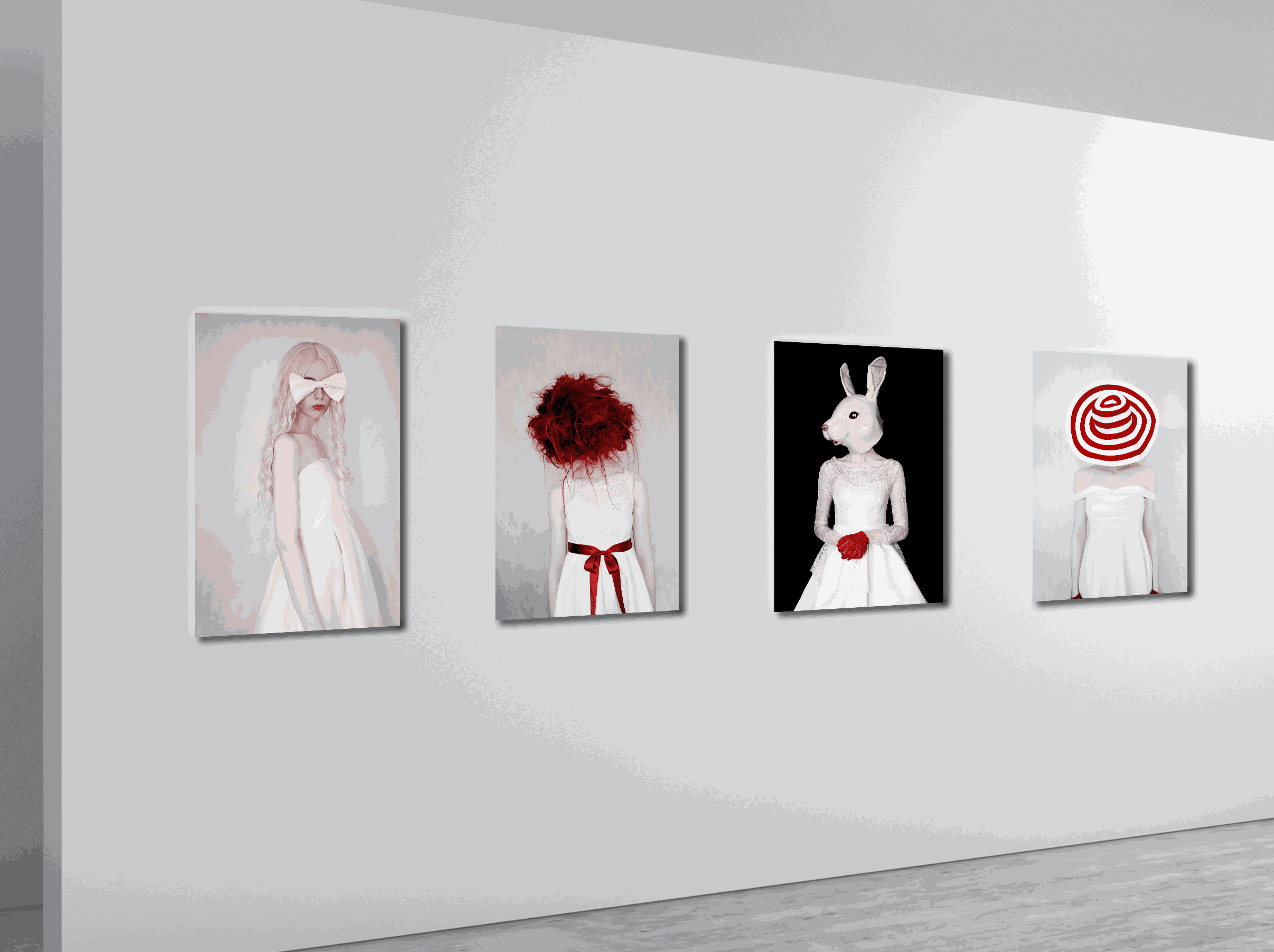 Not Dior's New Look, featuring Vicky Martin's Selfhood series. Curation by Andres J. Mora.
Your "Not in Kansas" series was inspired by Frank L. Baum's "Wizard of Oz", specifically the character of Dorothy. Is fantasy a big influence in your creative expression?
I fell in love with the story and film The Wizard of Oz from a very young age. The transition from sepia tones to the Technicolour paradise of Oz was the moment I found most memorable and poignant, which definitely influences the aesthetic and colour saturation I create in Not in Kansas. I also felt empowered by Dorothy as she was one of the first strong female characters I was introduced to who didn't conform to the archetype of the damsel in distress waiting for a knight in shining armour to save her: she used her brain, courage and heart to save both herself and her friends. In addition to The Wizard of Oz, I have also taken inspiration from Alice in Wonderland and Great Expectations: the tension between fantasy and reality that informs all of these texts is a strong influence on my creative expression. I think that the female characters in particular inspired me (whether they are tenacious like Dorothy, curious like Alice or, haunted by the injustices of a patriarchal society like Miss Havisham) as they embody values and emotions that are, to a certain extent, universal to the female experience.
Do you ever struggle to find a balance between fantasy and reality within your work? Do you consider your fantasy-inspired references to be a benefit or a detriment when it comes to audiences understanding your work?
My work, at least in my opinion, never fully strays into a total fantasy realm, as all of my series explore contemporary issues through the fantasy frame, which in itself ensures a balance between the two. Using such recognisable texts and films allows my work to be accessible for the viewer, as it provides a familiar vehicle through which to explore and raise questions about both contemporary issues (particularly those concerning gender) and personal issues (such as how a sense of identity is constructed and found) that I engage with in my work. I also like to reference such iconic figures in order to add further layers of meaning to my work: the dialogues and discourses that surround these stories inform the viewer's perception of the colours, symbols, location etc. that I use and, provide an opportunity for multiple interpretations.
How do you maintain your personal vision while allowing viewers to personally relate to it as well?
My personal vision is what inspires my photographs and I believe that I always stay true to my own inspiration without trying to second guess how the viewer will interpret my work. I don't think that you can ever really know what the viewer will see in a photograph and how they will relate to it. I believe that my use of iconic figures helps to provide the viewer with a way to navigate their understanding of my work yet, although I leave signposts in my work, they are rarely explicit.
Do you separate your identity as a photographer and your identity as a person, or are they one and the same? Is your photography a source of vulnerability for you?
Although in some ways, you could say that I live and breathe photography, there are obviously some areas of my life that photography does not really play a significant role in. My identity as a person is inherently intertwined with my identity as a photographer as my tastes and interests as an individual translate into and inspire my work. In a similar way, being a photographer means that I view the world in a certain way, and translate what I see into possible photographs, considering colour, perspective and composition. Perhaps this inability to really switch off the way I see the world could be seen as a vulnerability, but I believe that it enables me to see and appreciate things that others would not and, that it allows me to take the best possible photographs I can.
Potsdamer Platz (left) and Somewhere (right), from the Not in Kansas series, featured in Not Dior's New "Look" II.
You speak of conformity to the stereotypical in your work, do you consider your photography to defy conformity or embrace it?
Whilst my work is certainly not autobiographical, all of my series are personal as there are elements of my own experiences and observed experiences that contribute strongly to the situations that I create for my protagonists. I believe most females have encountered some form of stereotyping or discrimination that I explore in my work, especially in the project (great) Expectations. Within all of my work, I explore the tension between the desire to break free from stereotypes and, an almost inherent complicity in these stereotypical attitudes so, I would consider my photography to illustrate the fine line that many women walk between defying conformity and embracing it.
Who is Vicky Martin's biggest inspiration? Not necessarily a photographer.
I find that the people I love are my biggest inspiration. For my work I am inspired by strong female characters whether from film, literature or everyday life.
And finally, can you tell me a bit about your upcoming projects? What's the future looking like for Vicky Martin?
I think it has been a very uncertain and unsettling time this past year which has been very impactful on the artist community in general. I had to put a location project I had planned for this year on hold and proceed with a studio project which I had envisaged starting next year. This new studio series has kept me positive throughout the very tough lockdowns that we have had endure this year, although I am 11 photographs into this series, I haven't settled on a title yet but it is inspired by 1950s-60s cinema. Once this series is completed, I look forward to resuming my location project and being able to travel again.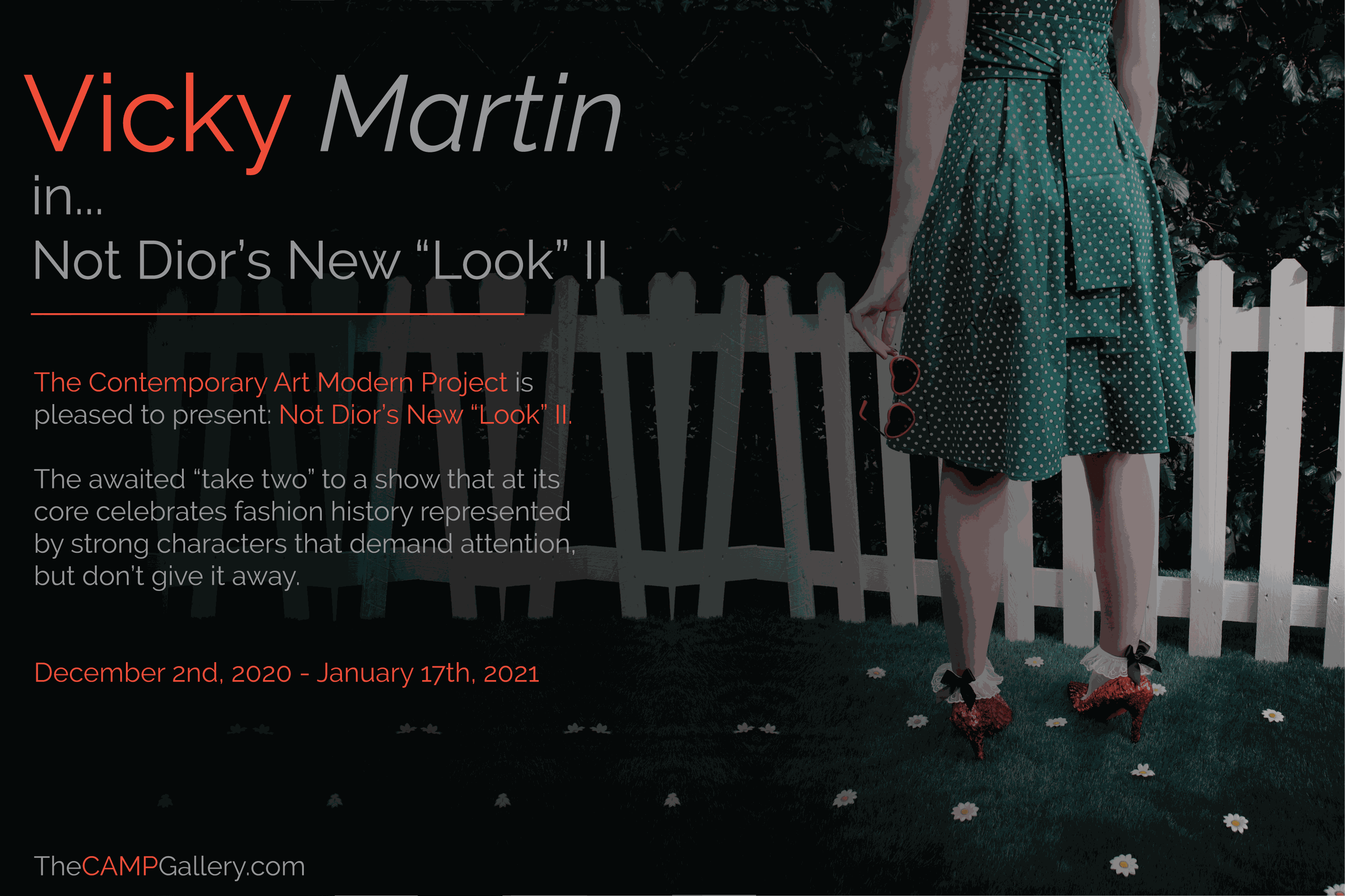 VICKY MARTIN'S WORK IS FEATURED IN "NOT DIOR'S NEW LOOK II," AN ONLINE GROUP EXHIBITION THAT AT ITS CORE CELEBRATES FASHION HISTORY REPRESENTED BY STRONG CHARACTERS THAT DEMAND ATTENTION, BUT DON'T GIVE IT AWAY, CURATED BY ANDRES J. MORA. VICKY'S PHOTOGRAPHS

ARE FEATURED ALONGSIDE WORK BY ELLY AZIZIAN, EMMA COYLE, ISHER DHIMAN, FARES MICUE, AND SONYA REVELL & QUEEF LATINA.