Welcome to CAMP Conversations, an editorial space brought to you by The Contemporary Art Modern Project! At The CAMP, we're firm believers in the power of the intimate relationship between art and those who love art, and we're happy to champion it in our approach to a nearly-inaccessible industry. CAMP Conversations are written to promote thoughtful dialogue exploring the art industry embedded with our sophisticated brand of snark, involving artists, gallery employees, and our beloved audience.
Johnny Ramstedt is an abstract artist who works in a variety of media, often creating pieces that are restricted to one or two color blocks. As stated on his website, "(Johnny's) artworks are on the one hand touchingly beautiful, on the other hand painfully attractive. Again and again, the artist leaves us orphaned with a mix of conflicting feelings and thoughts. By manipulating the viewer to create confusion, he often creates several practically identical works, upon which thoughts that have apparently just been developed are manifested: notes are made and then crossed out again, 'mistakes' are repeated." He is currently featured in our online group exhibition Monokhromos II, along with artists Natalia Schonowski, Giulia Ronchetti, Karla Kantorovich, Marc Brousse, and Rania Rangou. In this virtual, written interview, Johnny explains his creative process as well as some of his inspirations.
I'm Mario Rodriguez, CAMP's resident social media guru and operations staffer (you can check out my interviews with Silvana Soriano, Aurora Molina and Edison Penafiel, and Marc Brousse on IGTV!), I have the unique chance to always keep abreadth of all the wonderful things we're working on and new developments with our lovely artists. Johnny Ramstedt is one such artist, and we are so excited to be exhibiting his work in Monokhromos II!
What importance does texture play in your work?
It gives depth to my work and a certain roughness. I like it when a piece of art is rough in a gentle way. I try to achieve that in my works.
"Nbr 157. Present reality, just floating."
Color seems to be central to your pieces, especially within your monochromatic works. Does the use of only one color bolster its importance or put color to the side for the viewer to instead focus on other elements of the piece?
The use of only one color makes the whole piece more harmonic and you feel calm in front of it. Then the torn canvas gives it some structure, but also in a very calm way. My paintings are roughly calming. You feel good looking at them live. As one client once said: "I felt good and calm looking at your art. Your art really touched me deeply, a very impressive moment"
Does scale play a role in your work? If so why?
Large scale paintings work for me, the thought that you can "walk" into the painting fascinates me. And when you stand close to the painting, the only thing you see is the painting itself. No distractions. But yes, I also work on smaller sizes, the smaller ones are like small gems.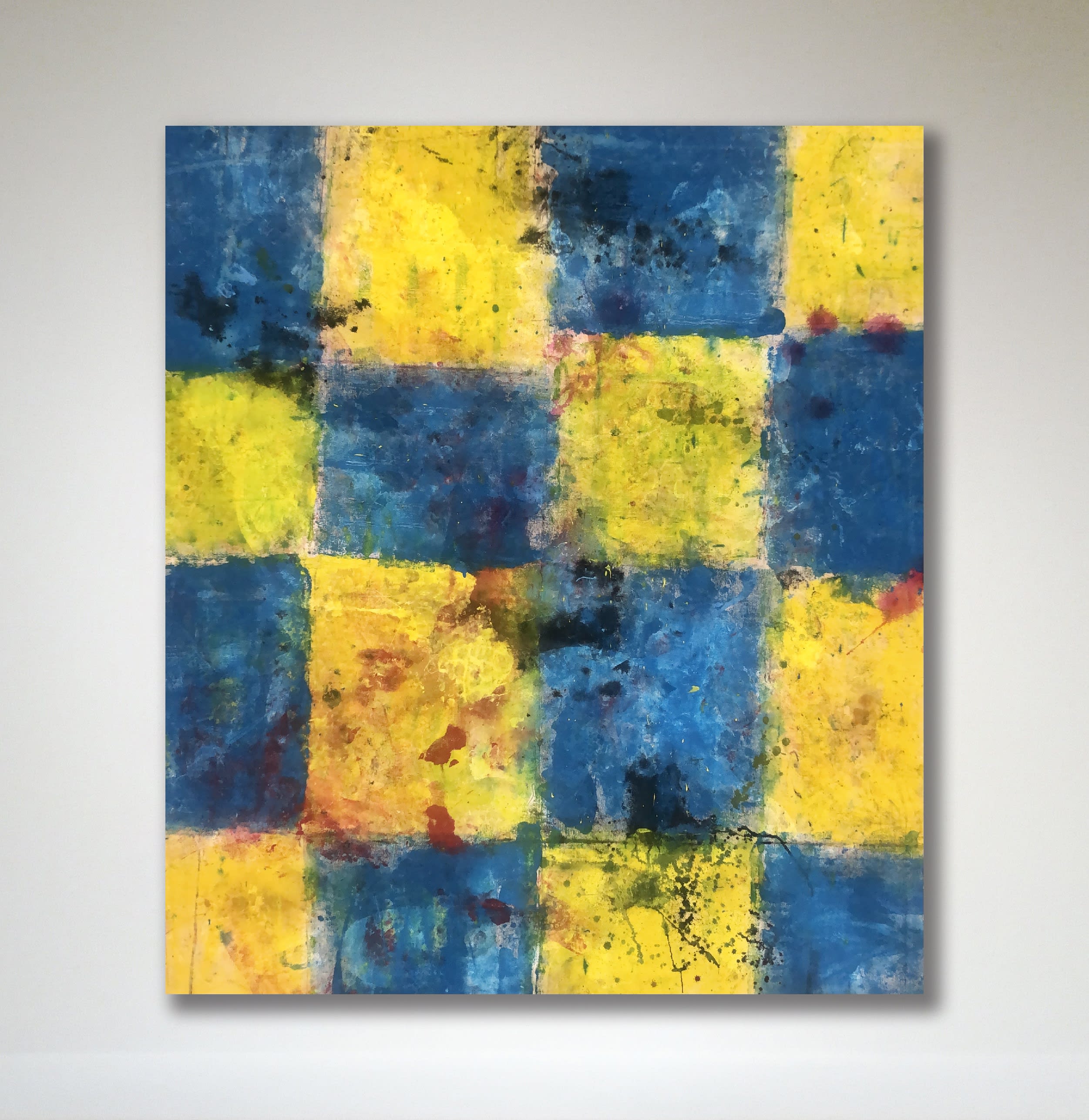 How did your growth as an artist bring you to the pieces that you create now, which are wholly abstractive?
I have always loved abstract art in various forms. The first pieces in this style I made from scrap canvas pieces laying around in my studio. In a way, there was also this re-cycling thinking, Can I make something with these scrap pieces of canvas? I wanted to create something new from something old. Now I tear apart canvas, paint every single canvas piece, and then attach them to each other and I have something new.
How do you decide on the title of your pieces, what about each piece speaks to you in such a way that informs the title you give it?
I'm fascinated by the New York School painters (Pollock, Newman, Rothko, Reinhardt) who mainly numbered their paintings as they did not want the title to conflict with the painting. I think the same in a way, I like the painting to speak for itself. But at the same time, I like to play with words and sentences, and the names that are in parentheses do pop into my mind during the process.
People often don't use house paint to create works of art because, as the name suggests it Is more to paint walls and such, but in this case, I feel like the use of houseplant is very fitting to the effect you are trying to achieve. What about house painting in particular do you think serves your goals as an artist best?
Household paint/alkyd works great for me. As my process resembles more of labor than the romantic scene where the painter sits by the pond painting a beautiful landscape. :) My style is rough, and I always work on my canvases on the floor unstretched.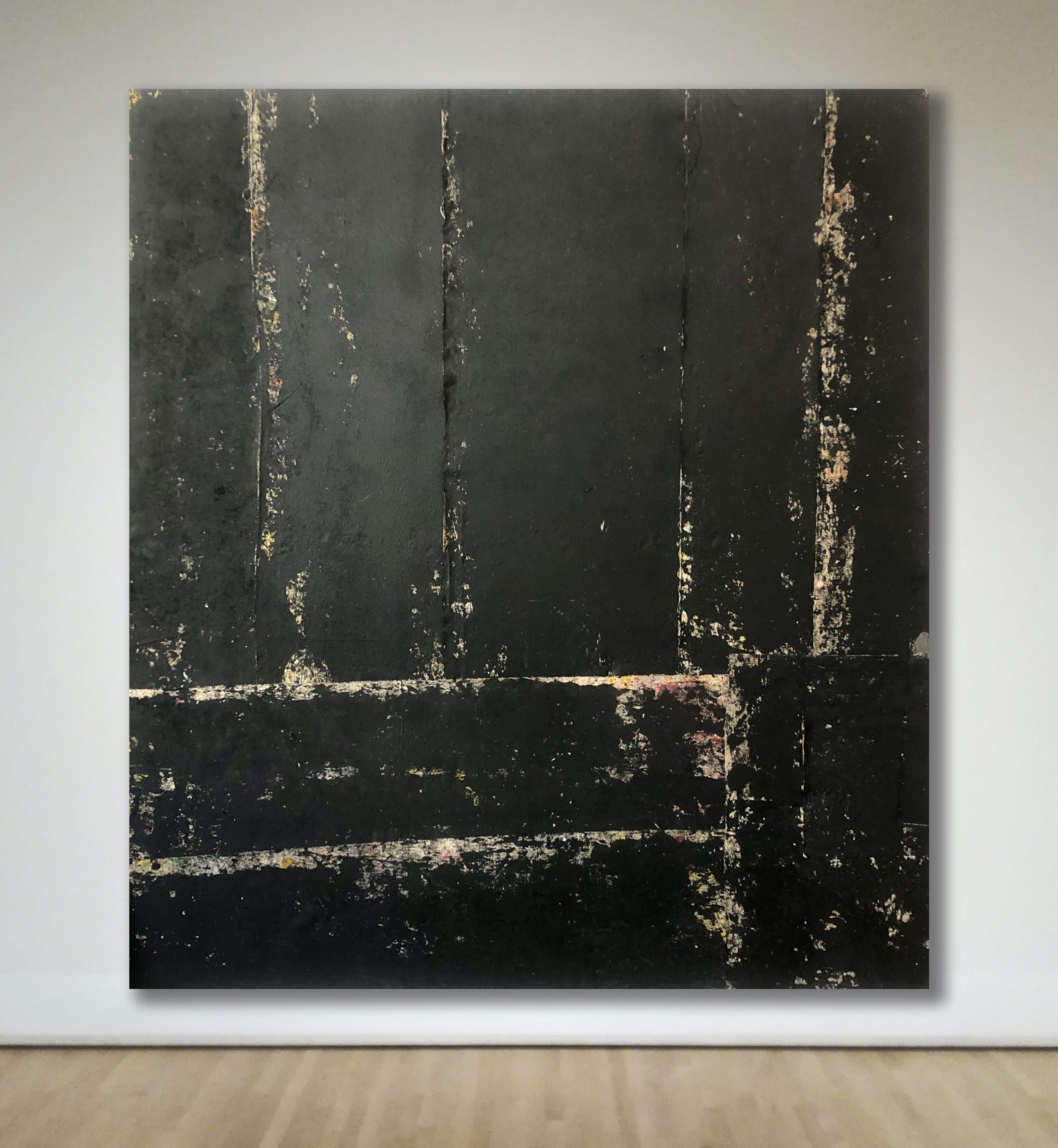 I see from your Instagram (@johnnyramstedt) that after your monochrome series you have moved towards multiple color pieces. how permanently do you see that forming part of your work?
To be honest, I love to jump back and forth between styles. The colorful text pieces were just something I had fun doing. Now I'm back to my Monochromes again.
Has quarantine affected your artistic process? If so, how has it done so?
Not really. I have always worked/painted alone in my studio. I still do so.
Which artists inspire you creatively?
As I mentioned in my response to the earlier question, New York School painters (1950-1960) such as Rothko, Pollock, Reinhardt, Newman, Gorky inspire my work.
Monokhromos II

is an online group exhibition which hopes to force viewers to focus on the importance of the artwork by stripping down to the most central and simplest elements. It is available to view on our website,

Art Logic

, and our various vendor sites through New Year's Eve. Please feel free to email me or hello@thecampgallery.com!