2020 is on its way out of our collective memory, though not without fully overhauling life as we've known it. At The CAMP, we kicked the year off by starting from scratch, adding new and wildly talented artists to our darling roster (i.e., making loads of new friends), partnering with FAMA for a 40-artist exhibition, leaving our Little River home and setting up shop in North Miami, and even the launch of a brand-new virtual gallery with the help of Emperia, UK.
Which made us curious—how has the unruly intensity of the new decade impacted those we work closest with?

In the spirit of growth and community, we bring you The CAMP's 2020 Roundup, a small interview series featuring reflections from our CAMP and CAMP Spotlight artists.
Nikolina Petolas. Forestation, 2019. Photography on archival pigment print. Multiple editions.
Croatian digital artist, photographer, and CAMP artist Nikolina Petolas'photomontages are based upon a fusion of opposing concepts: photography and painting; the corporal and the surreal; the psychology of humanity and the non-human; space and time. Her body of work engages with her own fascination with identity, environment, and life, whether it has passed or is ever-present. For Petolas, her digital collages address the complexities of the inner workings of one's universe, a collection of fragments much like the narratives, textures, and symbols she compiles into a singular, dreamy piece. She finds inspiration in memories, emotions, theory, and media.
2020 has been a difficult and often tumultuous year - how has it affected you and your artwork?
Well I think it has affected all of us, one way or the other. The life we knew is different now and we have to adjust to this. I had to postpone my travel arrangements, several exhibitions were also cancelled.
What has been the biggest hurdle you have had to deal with since March of this year?
It is, I think, that now every plan you have, business or private, has this hurdle in front of it. We just can't think normally as we used to, because first there is this obstacle and once it is surpassed we can think about pushing the plan forward. We cannot know how is the person you have a connection to, affected by the situation. We cannot know if the situation will escalate even more and this is making life and business very uncertain.
Have you noticed any changes in your work?
I thought that not much will change for me, except traveling, because I am used to work alone in my studio, so working remotely is what I usually do. But once the lockdown came, I just couldn't force myself to do anything. I lost focus at first and couldn't really push my creativity anywhere. But as the time passed, I got used to everything and started working kind of normally.
Have you noticed any changes in how people react and or engage with your work now that they can see it mainly online?
Not really. I think that now people are spending more of their time at home, they are probably more engaged in social media so maybe we interacted more than before.
What has been the best thing that has happened this year?
It was finding pleasure again in small things we usually take for granted.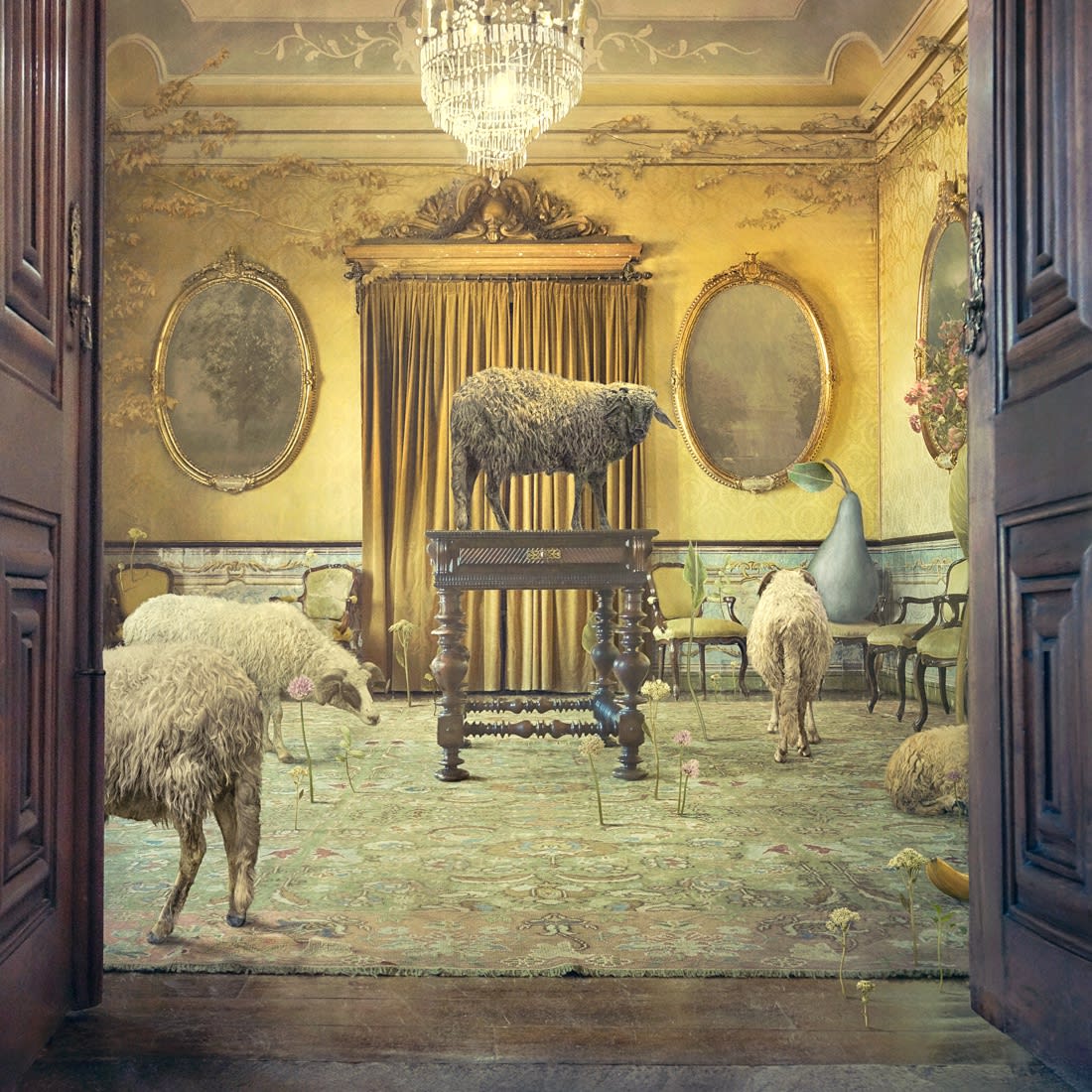 Nikolina Petolas. Sheep's Day, 2017. Photography on archival pigment print. Multiple editions.
Has anything surprised you this year?
We had a bad earthquake in March, so that was a bad surprise, waking us from bed in the early morning, not knowing what was happening. I wouldn't want to experience that again.
What inspires you currently? Do you see this changing?
I try to work more on one of my older series, which has a dystopian vibe. I've been postponing working on this for long, but now I have some ideas I'd like to explore in this theme.
Is there anything (exhibition, event, travel, etc.) that you had to forego this year that ended up working out beautifully?
Yes, I had two exhibitions cancelled, one in Portugal for which we already booked a flight. At first I thought we would be able to travel there, but when we saw how serious the situation became, there was no other way than to cancel everything. In the end, the exhibition was cancelled as well.
In the same vein, is there anything that quarantine/isolation has inspired you to start doing or practicing?
Somewhere at that time of the cancelled exhibition in Portugal, I was contacted to do a big commission project and that was what I was doing in the following months and during summer. So it turned out great in the end. I was doing less personal work, but explored other possibilities.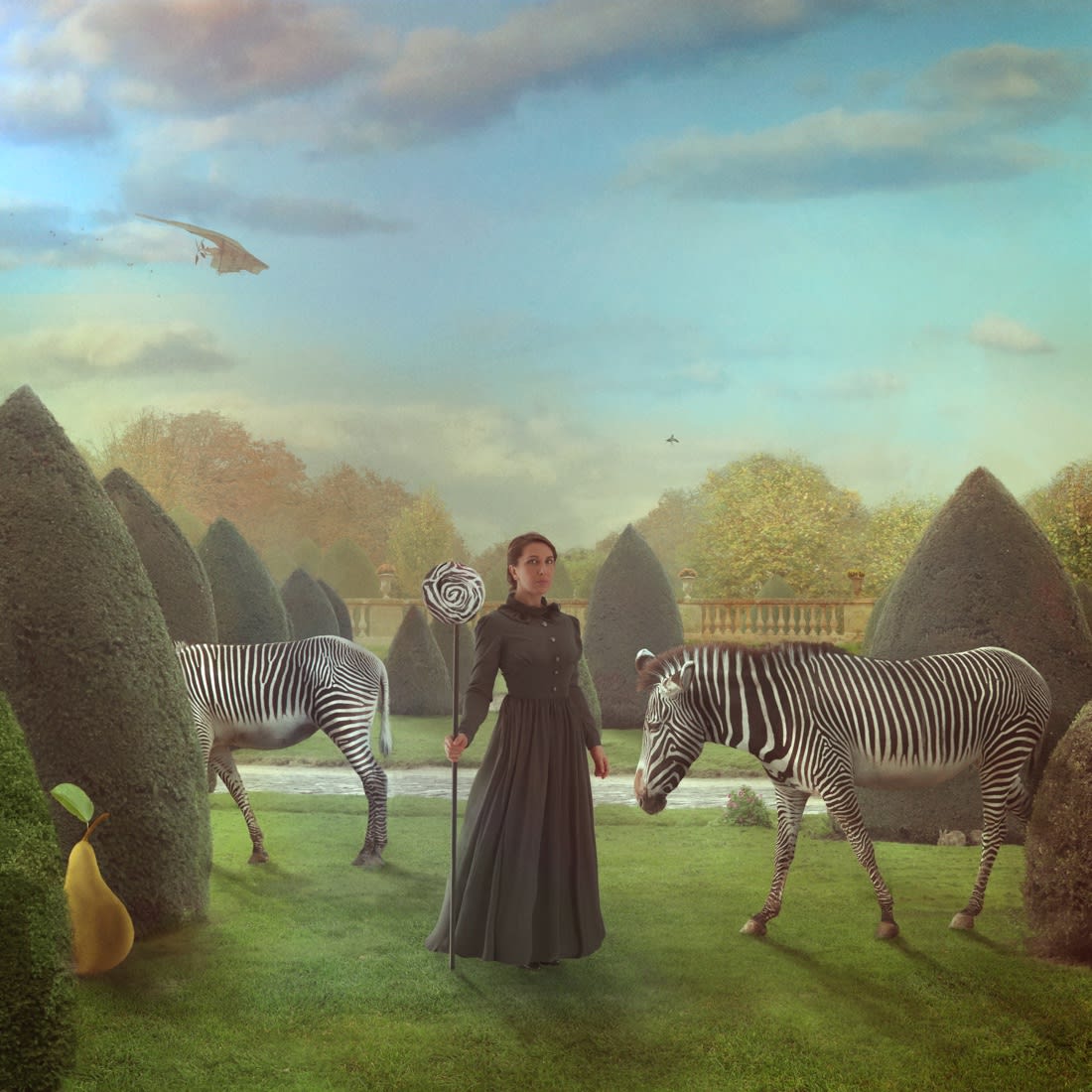 Nikolina Petolas. And Then There Were Two, 2019. Photography on archival pigment print. Multiple editions.
How does your process differ now that we're all spending less time out "in the world" and more time with ourselves?
Isolation is much needed for artists, at least in my case. It is not possible to create and explore new ideas while socializing with others. So, although spending more time on my own is good in a way, it sometimes becomes "too much". Balance is the key here and I think it is best to have this balance between isolation and creating and doing something else, spending time outside, exploring life beyond art as well.
I still try to do things outside, spend few days at the seaside, take a walk in nature, do anything to 'clear' my mind somehow. Being constantly alone in the studio can in the end be counterproductive. But when I'm here I usually do what I used to before this situation. Sketch, work on collages, exploring new ideas, compositions, painting...
How do you see this moment in time affecting the bigger industry in the long-term?
That's hard to tell. I think we will somehow have to learn to live with this thing, but many branches of industry will surely be affected, unfortunately.
Do you have any New Year's Resolutions?
Not really. I stopped doing that a long time ago as it was not effective. I think it is best to stick to the resolutions from the present moment and to plan from now, if possible. Unfortunately, because of the current situation in the world it is hard to plan anything.