2020 is on its way out of our collective memory, though not without fully overhauling life as we've known it. At The CAMP, we kicked the year off by starting from scratch, adding new and wildly talented artists to our darling roster (i.e., making loads of new friends), partnering with FAMA for a 40-artist exhibition, leaving our Little River home and setting up shop in North Miami, and even the launch of a brand-new virtual gallery with the help of Emperia, UK.
Which made us curious—how has the unruly intensity of the new decade impacted those we work closest with?

In the spirit of growth and community, we bring you The CAMP's 2020 Roundup, a small interview series featuring reflections from our CAMP and CAMP Spotlight artists.
Natalia Schonowski. Mass Sewers, from Schonowski's A Wolf in Sheep's Clothing series. 2010. Cotton thread and prismacolor on linen. 11 x 18 in.
Colombian-German artist Natalia Schnowski finds inspiration for most of her detailed, embroidered series through travels, her pieces acting as a field journal. For her Face Shields project, she pulled from experiences in Indonesia, interested in the use of masks as functional, rather than embedded in ceremony as they have been traditionally. Her work seeks to explore the concept of identity as we know it, plunging under the surface of nationality to question the ways in which cultural identity and collective experiences affects our individuality.
2020 has been a difficult and often tumultuous year - how has it affected you and your artwork?
We usually travel quite a bit as a family. I also have family in Colombia and my father lives in Germany. We haven't been able to do international travel and I haven't been able to see my family.
In theory, I seem to have less time to do artwork, but I have been making time to make things.
What has been the biggest hurdle you have had to deal with since March of this year?
Having everyone at home. We are a family of 6 and everyone is always home. I've had to make time to do art in the evenings when my kids are asleep and I have alone time. But I've also had to come to terms of doing art in short intervals. 20 min here and there.
Have you noticed any changes in your work?
I've become more efficient at executing ideas. I also have been sketching more since my 5 year old daughter loves doing art. So I sketch and experiment with materials while she does her projects.
Have you noticed any changes in how people react and or engage with your work now that they can see it mainly online?
I haven't noticed changes.
What has been the best thing that has happened this year?
I have spent a lot of time outdoors hiking and just enjoying nature.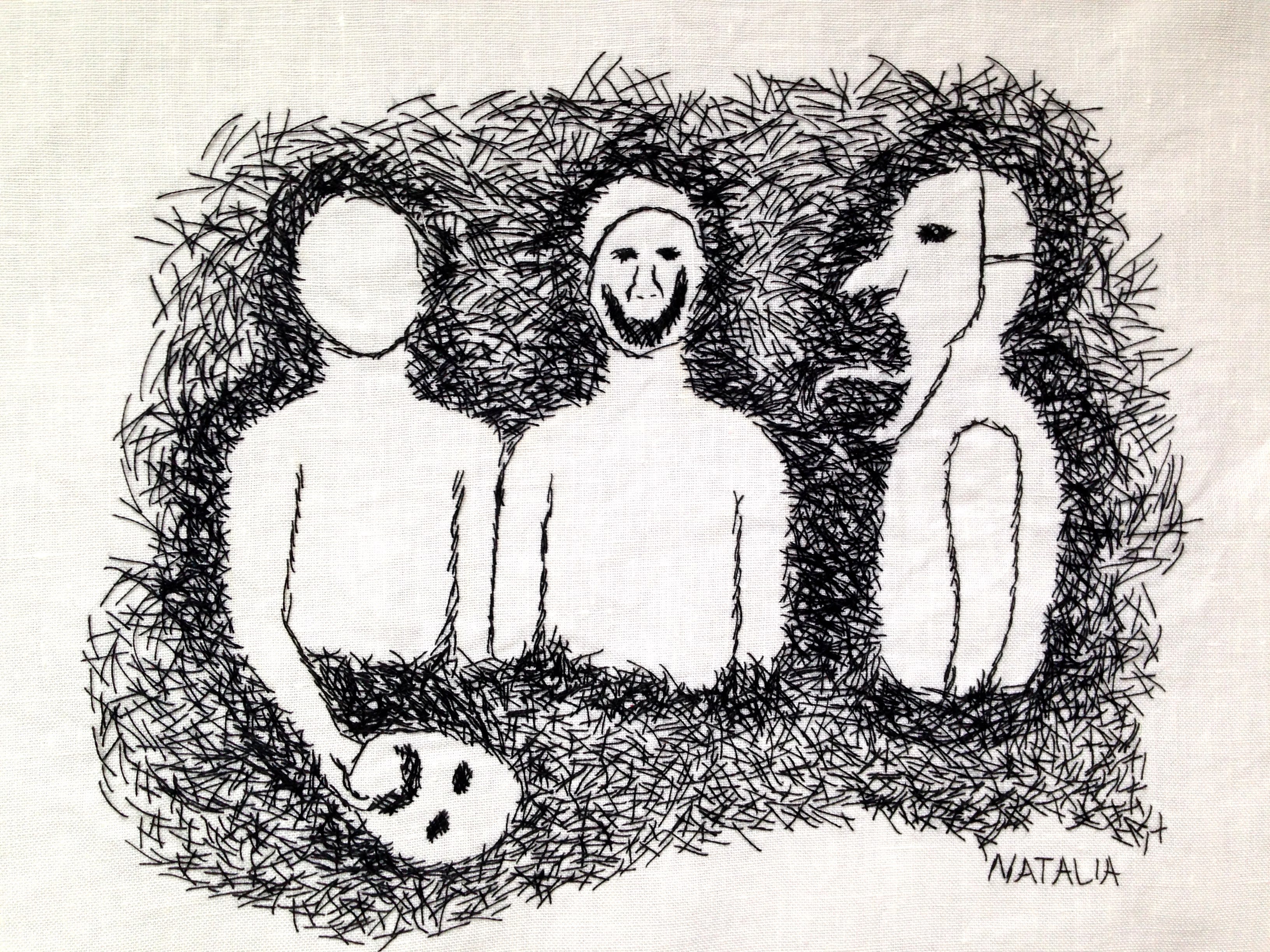 Natalia Schonowski. Is This your Face?, from Schonowski's Fiber Diary series. 2010. Embroidery floss on linen. 16 x 25 in.
Has anything surprised you this year?
I have become more organized. I have been able to keep a routine. And we have been spending a lot of rime outdoors
What inspires you currently? Do you see this changing?
I've been inspired by how my daughters make art. They are not attempting to do a masterpiece. They just make. They experiment. They are not afraid of making mistakes.
Is there anything (exhibition, event, travel, etc.) that you had to forego this year that ended up working out beautifully?
Not really. We didn't have formal travel plans, but we do miss traveling.
In the same vein, is there anything that quarantine/isolation has inspired you to start doing or practicing?
I retook martial arts. I had been doing martial arts for about 15 years and I have been doing some online seminars with my old school based in Miami. It's been very good for my mental health.
How does your process differ now that we're all spending less time out "in the world" and more time with ourselves?
My process has usually been inside the home because fiber work is more isolated, be it in front of the sewing machine or hand embroidering. So it hasn't really changed much.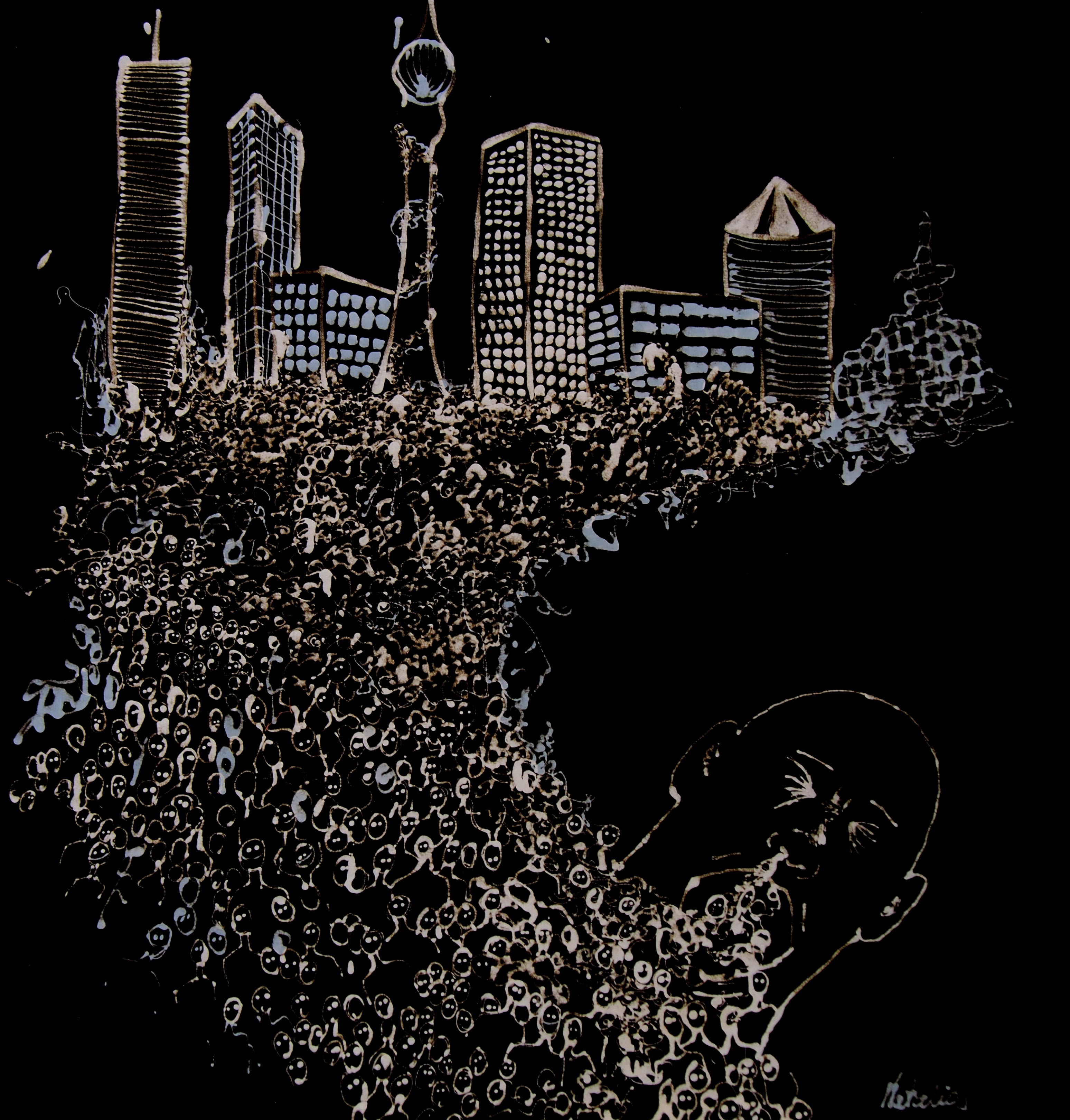 Natalia Schonowski. Faceshields 1, 2014. Batik. 33 x 34 in.
How do you see this moment in time affecting the bigger industry in the long-term?
I'm worried about the industry. Museums are struggling financially, as well as galleries. I fear that a lot of institutions are going to disappear. I also think there is going to be a greater focus on online galleries and online work.
Do you have any New Year's Resolutions?
I want to continue building an online presence.