2020 is on its way out of our collective memory, though not without fully overhauling life as we've known it. At The CAMP, we kicked the year off by starting from scratch, adding new and wildly talented artists to our darling roster (i.e., making loads of new friends), partnering with FAMA for a 40-artist exhibition, leaving our Little River home and setting up shop in North Miami, and even the launch of a brand-new virtual gallery with the help of Emperia, UK.
Which made us curious—how has the unruly intensity of the new decade impacted those we work closest with?

In the spirit of growth and community, we bring you The CAMP's 2020 Roundup, a small interview series featuring reflections from our CAMP and CAMP Spotlight artists.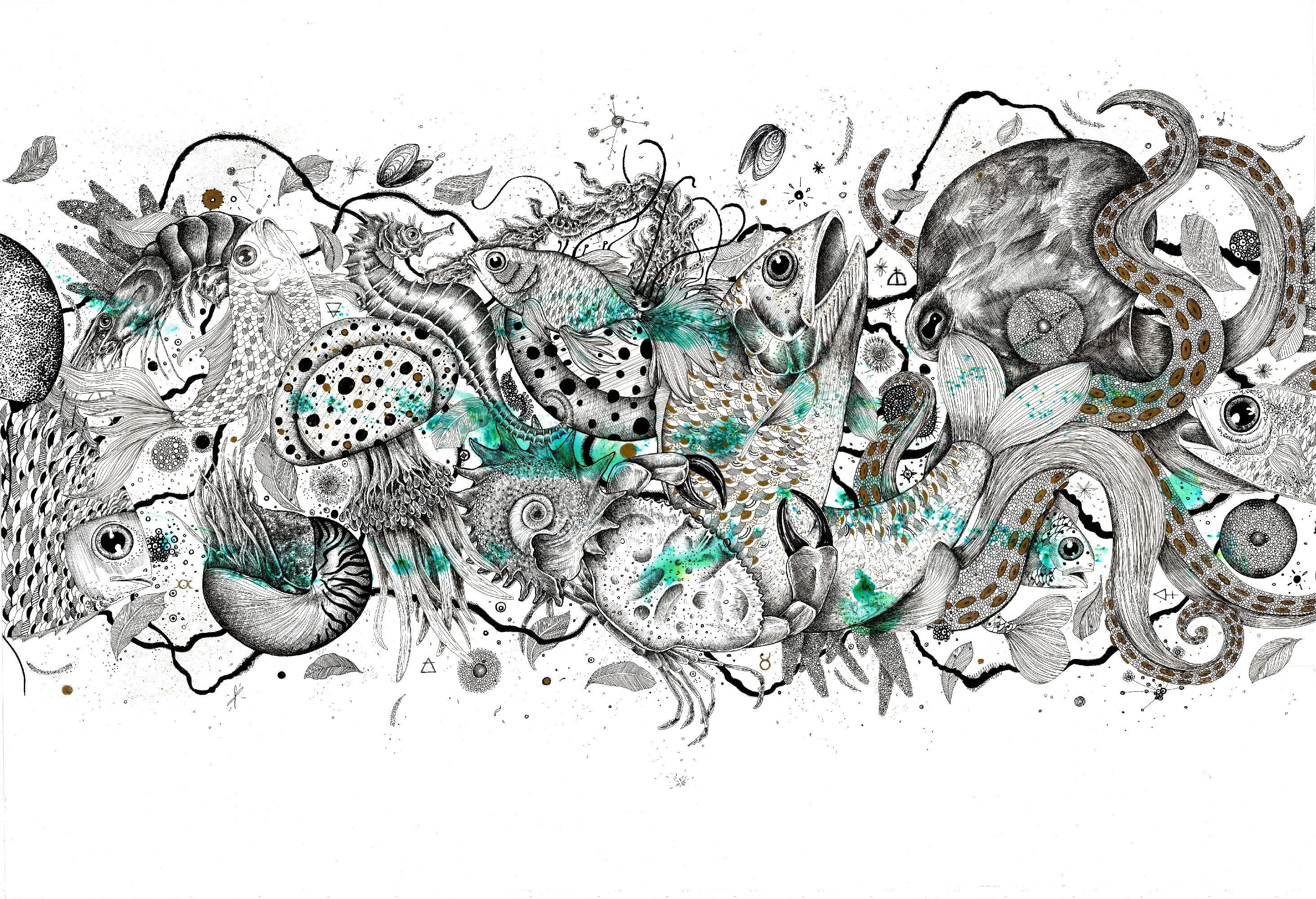 Giulia Ronchetti. Liquid Universe 3, 2018. Mixed media on watercolor paper. 75 x 110 cm.
Italian CAMP artist Giulia Ronchetti's approach to her work is experimental, employing a varied toolkit and her fascination with mythology, ancient archetypes, fairy tales, the Egyptian horror vacui, and symbology to draw her fantasyscapes. Her pieces center the natural world through whimsical reinterpretations of the familiar, specifically the manner in which the natural world functions as the steward of the world's collective consciousness. Ronchetti's body of work evokes psychedelia, although delicate and sometimes ornate, pulling from the concept of "the thread of life" and embellishing her drawings with materials such as liquid ink, pen-nibs, and watercolor.
2020 has been a difficult and often tumultuous year - how has it affected you and your artwork?
The first month, when we were in lockdown, I couldn't paint anything. It was really hard, mentally I didn't know how to get out of it, I never had such a long period without working.
What has been the biggest hurdle you have had to deal with since March of this year?
The biggest obstacle for me was just starting to find inspiration to create new works. Fortunately, thanks to some commissions, I recovered and started again, even more energetic than before.
Have you noticed any changes in your work?
Yes, I started using embroidery more and giving more breath to the work. Subconsciously, I think I needed to slow down and give more space, as a reaction to the forced closure.
Have you noticed any changes in how people react and or engage with your work now that they can see it mainly online?
The main change was on my part: I started posting more on instagram, especially stories where I show how I make the work. I set out to defeat my shy side and use social media more and started getting more comments and more interest.
What has been the best thing that has happened this year?
The best thing that happened this year was to learn to take some time for me and carry out some work just for the pleasure of seeing my vision realized.
Has anything surprised you this year?
I have been surprised by the closeness of people in this period, I didn't feel alone even for a moment and it was very important.
Giulia Ronchetti. Copper Stilla, 2018. Mixed media on watercolor paper. 40 x 40 cm.
What inspires you currently? Do you see this changing?
My stylistic references have remained unchanged, but I feel even more the need to look back to the past. It is a very strong attraction to the ancient cultures that continue to inspire me and the present world, in my opinion, really needs to learn from the past, to remember.
Is there anything (exhibition, event, travel, etc.) that you had to forego this year that ended up working out beautifully?
Unfortunately no, all the exhibitions, travels and projects that had to be done or were in the making have been postponed to a later date.
In the same vein, is there anything that quarantine/isolation has inspired you to start doing or practicing?
Yes, I started doing yoga again, which I had neglected a lot. I also started cooking and reading more than before. All these things have helped me a lot not to go crazy.
How does your process differ now that we're all spending less time out "in the world" and more time with ourselves?
Actually, except the lack of initial inspiration, nothing has changed in the methodology of the work. I'm always alone when I work and I'm fine with myself so the hours spent working and getting lost in the details, in the nuances, in the symbolism of what I create, have remained unchanged. I missed the contact with the public at the moment of the exhibition of the work. That, yes, a lot. It's very important to interact with the public, to show the work, explain the meanings and understand what is perceived and what is not.
Giulia Ronchetti. The Second Sex – Snake, 2020. Liquid in pen-nibs, watercolors, embroidery cotton thread on canvas. 49.8 x 49.8 cm.
How do you see this moment in time affecting the bigger industry in the long-term?
In my opinion, if this moment will go on in time, the internet will be the one and only help, I think it's the only usable showcase in times like these.
Do you have any New Year's Resolutions?
Well, I would say that this year it wasn't possible to realize the resolutions I had set last year so, I will keep those for the 2021: more exhibitions, more travels, and more inspirations. With the hope that the new year will help us turn over a new leaf.