At The CAMP, we're not just interested in the the business of art. Sure, there's a wonderful feeling when we make a sale because it encourages the artists we work with and validates our dreams of growing into the platform we know we're meant to be, but it's bigger than that. What we're interested in is art—full stop. The CAMP revolves around a serious love for artistic expression and along with that comes serious people who are just as beautiful as their creation.
To kick off 2021, we're bringing you a new CAMPerspectives series: Introducing.
In this series, you'll learn about artists joining The CAMP and The CAMP Spotlight: their journeys, their inspirations, and even some tidbits you may not find in a run-of-the-mill interview. If there's one thing about us, all of us, it's that we're not like other platforms—we're a community.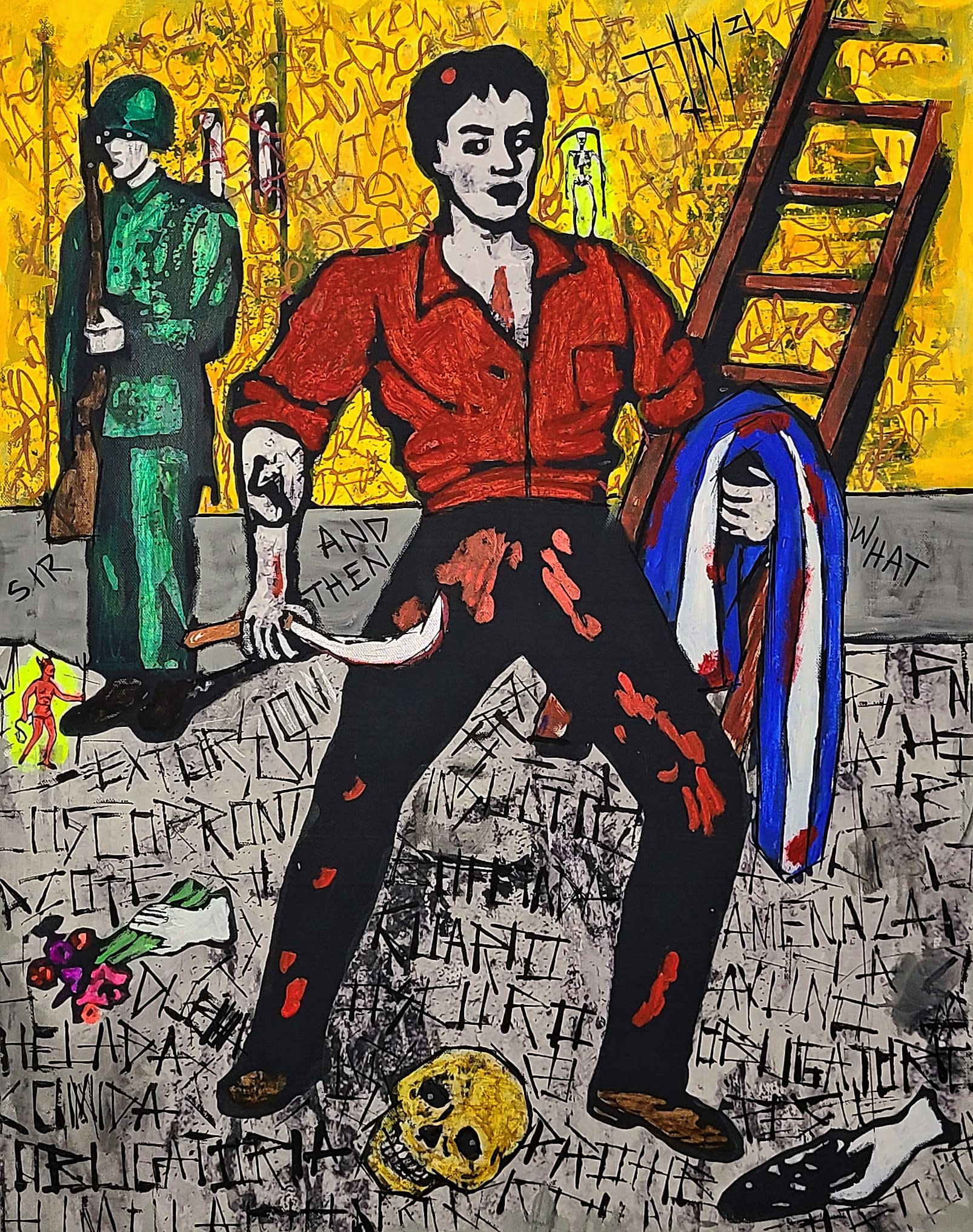 Franck de las Mercedes. Cuarto Oscuro, 2020. Acrylic and pigment ink on canvas paper. 24 x 30 in.
Franck de las Mercedes' work is rooted in personal memory and experience, history and popular culture, and visual experimentation. Born in Nicaragua and based in New York, de las Mercedes' relationship with his art explores the sociopolitical and emotional landscapes of his life; bold, jagged, and intensely abstracted observations kept in his pocket and carefully added to pieces that are as deeply personal as they are emotional. Through the course of his career, de las Mercedes' study of what he refers to as "fractures in family dynamics inflicted by war, trauma, the disintegration of family through migration, and loss," has blossomed into a testament to spiritual and political healing, one that allows audiences to reflect on the human element in moments of grief and despair.
His joining the CAMP roster in 2021 is just another step in his already-prolific journey toward becoming an artist known for being outspoken when necessary, always having something unexpected to say.
When did you know you wanted to be an artist?

I came into visual arts in my twenties, but the truth is I was always an artistic person. I started dancing Nicaraguan traditional music at an early age at yearly celebrations. I know I was always doodling on everything and wrote poetry since I was a child. I played and wrote rock music in my teens and then I started doing theater in New York. From there, at a low point in my life I transitioned into painting. I discovered that art, unlike the other art forms, was the best channel to explore myself. I didn't stop making art since. I discovered the artist in me.

What pressure do you feel as an artist?

For me the pressure has always been in having the time to make art. I'm very prolific and life seems to make no sense if I'm not in my element. Also being self-taught has always put pressure to get better to be included and have relevance in an art-world that is not inclusive and tends to ignore artists like me.
What are you saying with your art?

My art was always based on emotional variants without necessarily exploring their root. Lately, I'm most interested in depicting this self exploration and having a direct conversation with my inner child. I became a teen and came of age in the US, but my entire childhood was spent in a very turbulent and violent Nicaragua. I never allowed myself to really look back through my art and depict each memory as it was experienced. I'm tackling my own emotional, spiritual, and developmental fractures, inflicted by experiencing war, trauma, the disintegration of family through migration, loss, and how this ultimately shaped me.
Franck de las Mercedes. Defaced, 2020. Acrylic and pigment ink on canvas paper. 36 x 24 in.

What is it like in your studio?

My studio is now a small space in the hallway of our apartment. I used to have a large room which became our son's room. It's forced me to paint smaller and keep things a little more organized since it's also my wife's space, but it is just as magical and full of creativity. The plan was to find a studio outside of home, but the pandemic hit. That is still the plan.

Why do you create the art that you do?

Because my search is important to me and I think is worthy of sharing and acknowledging. Because it allows me to make sense of the world and find common ground with others.
Who inspires you? And why?

I'm honestly inspired by a lot of things. I could be watching a commercial on TV and come away as if a Zen master just spoke to me. It's kind of embarrassing.
My influences are many and not limited to visual artists. I'm most inspired by my wife and child. As a damaged child who had a troubled upbringing and youth, I tend to observe them and go, "wow. This is what it's like when you have the proper care and expectations." Luca's presence in my life has influenced my work tremendously by just providing a contrast of who and where I was at his age. There's no doubt in my mind I was just like him as a child, except I was silenced. Nicola is an amazingly patient and understanding wife and mother which inspires me to be a better person and parent.

Tell us about a pivotal moment for you and your career as an artist.

It's definitely the moment the Peace Boxes came to life. Perhaps not the inception, but how the project took off and became a worldwide movement. I never expected that to happen. It opened doors that I never imagined would open for me. Still today, almost 15 years later I'm hearing from people making them in schools or who in some way continue to be inspired by it.

How are you adapting to the socially distant world?

I was pretty much ready for it. I've worked from home since the mid 2000s and kept my art studio at home to work. So, I've always been kind of isolated and distant. I'm in the group of creatives that feel it has been an art residency. But I'm ready to see friends and loved ones with more normalcy already. I miss sitting down at a bar for a beer for lunch before going back to the studio. And by that, I mean I miss the wooden structure and feel of the bar surface.
Outside of your art, what is something that you are most proud of?

Luca. I know all parents love their children and think they're special, but I admire Luca's constant desire to build things and I hope never loses it. The world needs it. At 5 he really is his own person with opinions of his own and I'm proud of that. He really is what has inspired me to let my inner child to speak up in my art.

What do you do in your day when not creating?

I love walking around the city. Everywhere. Which leads to me taking photos and being creative.
Lastly: tell us a story, anything, that lets readers know who you are—the person.
This is a tough one. The unexamined life does not apply to me. I hate that I examine too much at times, but I believe it is what's gotten me this far. I've survived quite a few painful chapters in life. I'm a creative hermit. I meditate. I consider myself a very musical person who loves all kinds of music, but especially the blues, Avant-garde Jazz, 80s metal and cheesy 80's ballads. I love poetry books and documentaries. I'm a frustrated guitar hero; I still jam on my electric guitar to blues tracks and love to sing. If I weren't an artist, I would have loved to have been a rockstar, music producer or actor. But I've come to think I would have been a psychotherapist.