At The CAMP, we're not just interested in the the business of art. Sure, there's a wonderful feeling when we make a sale because it encourages the artists we work with and validates our dreams of growing into the platform we know we're meant to be, but it's bigger than that. What we're interested in is art—full stop. The CAMP revolves around a serious love for artistic expression and along with that comes serious people who are just as beautiful as their creation.
This is Introducing, a series of questions and answers sent to the latest artists joining The CAMP and The CAMP Spotlight: their journeys, their inspirations, and even some tidbits you may not find in a run-of-the-mill interview. If there's one thing about us, all of us, it's that we're not like other platforms—we're a community.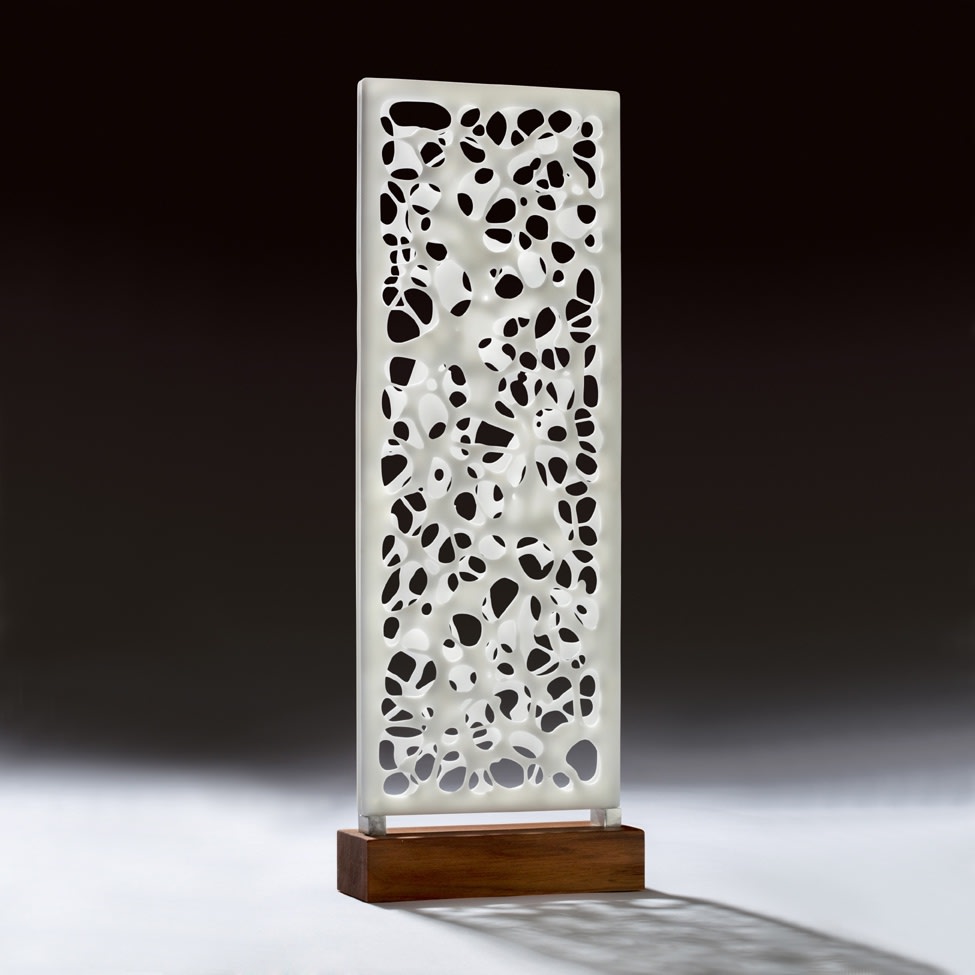 Tracy Nicholls. Osseous, 2019. Glass, walnut, aluminium. 54 x 20 x 4 cm.
British glass artist Tracy Nicholls is a creator who understands the delicate and oft-repressed relationship between creation and conclusion—natural destruction, even. Working predominantly with opaque glass, she takes time to study her medium before sculpting, transforming it into delicate structures that evoke elegant lace—a "perfectly imperfect," as she would say, ode to erosion and the minutia of what it means to be alive. Nicholls guides herself by the qualities associated with glass and "the tension between the planned and unexpected," subverting the idea that glass must not only look a certain way, but be utilized dully.
Nicholls brings her award-winning craft to The CAMP, along with the reminder that fragility is not only pretty, it's powerful. It can also be hilarious—scroll to read an excerpt from her memories. We don't believe in spoilers, but if you've ever worked in the industry, you'll find yourself questioning whether your memory's been hijacked.
When did you know you wanted to be an artist?
I didn't ever plan to be an artist and I took a very scenic journey to get here! Although I have always been creative and good at making, drawing is another matter. At school, being good at art meant being able to draw a bowl of fruit and the like, something I could never do—and to this day I avoid drawing whenever possible. It was only when I discovered classes at a local college that I really discovered all that art could be. I tried a few things before discovering glass. I still didn't think of it as anything but a hobby but as I progressed and became more accomplished it became the material I settled on.
What pressure do you feel as an artist?
The usual deadline madness, striving to make each piece as I see it in my head. Being asked to write about or draw my thoughts and ideas—that's why I make.
What are you saying with your art?
That's quite a complex question to answer.
I start with inspirations, ideas and images. Many come from microscopic cells which can be associated with disease and decay which I don't necessarily require the viewer to focus on. I like to let them bring their own thoughts and ideas - to spark their imagination. Every piece will say something different to each individual and I find it so interesting hearing how other people interpret my work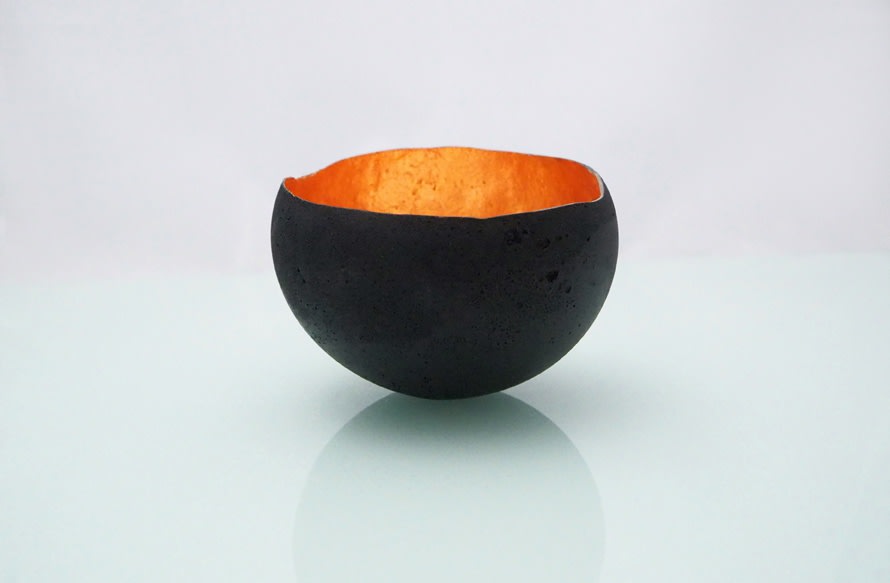 Tracy Nicholls. Glow–copper, 2021. Glass, copper leaf. 12 x 19 x 19 cm

What is it like in your studio?
My studio is at the bottom of my garden and full of light. It is always very busy as I work on several pieces at the same time so generally looks a mess. Making anything from glass requires some large equipment which I have been accumulating over time. Most is second-hand and I am fortunate to have picked up 3 kilns of various sizes and a sandblaster which take up a lot of space but are invaluable to my work. There are areas for drilling and grinding and general cold working. There are a couple of large tables for design work, glass cutting and mould making which overlook the garden and storage, lots and lots of storage!
Why do you create the art that you do?
The art I create now is an evolution of what has come before. Things I have seen and learnt inform what I do. With each piece I gain new skills or improve how I do things. Constantly pushing the material, I am never sure exactly what will have happened during a firing until I open the kiln. There are many failures and frustrations amongst the successes but I am very stubborn and don't like to give up.
Who inspires you? And why?
There are many people who inspire me for different reasons. At the moment I am most inspired by my friends who work at the hospital, they have run COVID wards and worked in the ICU. The conditions they are working in and the traumatic things they have seen are just beyond my comprehension.

Tell us about a pivotal moment for you and your career as an artist.
In 2008 I won 'Best in Show' at the British Glass Biennale, the largest UK glass exhibition/competition. I was still studying at the time and was thrilled just to have been selected. To win the main prize opened up a world of possibilities that I hadn't even considered.

How are you adapting to the socially distant world?
I am used to spending much of my time alone so lockdown just provided more time to actually work through the ever growing to do list. At the beginning as exhibitions were being cancelled I had no motivation to make work and instead did jobs around the house and garden. My Pilates class moved online and I have kept up with it several times a week.
I finally accepted some opportunities to show my work online which has been a revelation. I was convinced sculpture in particular wouldn't sell unless it had been seen in real life but I have been proved completely wrong and have been pleasantly surprised at how well my work has been received and other opportunities that have come from it.
Outside of your art, what is something that you are most proud of?

Over the last year it has definitely been my vegetable patch. Having previously struggled to keep grass alive I managed to produce a successful and edible crop. There is still much to learn and I will see what this year produces. Definitely less tomatoes and carrots as I just about ran out of people to gift them to last summer – apparently you can have too much of a good thing.

What do you do in your day when not creating?

I try to do some form of exercise usually Pilates and walking. Having moved at the beginning of the first lockdown I have been exploring the area. There is a nature reserve just across the road which is so peaceful and removed from my usual urban life. I also like to wander and look at the different houses and gardens – getting inspiration for my own. There is always an extensive to do list for the house and garden which I am slowly working through. At the moment the focus is on the garden, hopefully as restriction eases we will be able to socialise outside soon so I want to get it ready for visitors.
Tracy Nicholls. Fragile Lace, 2017. Glass, walnut, aluminium. 45 x 40 x 11 cm.
Lastly: tell us a story, anything, that lets readers know who you are—the person.
Pre COVID and Brexit, I always loved the excuse for a road trip. I don't have many chances to get away so fitting in a quick break around an exhibition works perfectly and, more often than not, there's a friend ready to come along for a little adventure and they are always memorable.
Once, another artist and I volunteered to take a van to Luxembourg to pick up the work of about 10 UK artists at the end of an exhibition. It was farcical from the beginning. The hire van was so battered it didn't look like it would reach Dover let alone Luxembourg. We missed the ferry as we were buying snacks for the trip, because you can't go on a road trip without lots of snacks… We finally ended up on the last and slowest ferry of the night and arrived in Calais in the wee small hours. As my partner-in-crime refused to drive anymore, we found the only hotel open, on the outskirts of Calais which bared an uncanny likeness to the Bates Motel in Psycho.
A surreal experience ensued where we seemed to be gate crashing a rather bizarre wedding reception—who has their wedding reception in the Bates motel? We locked ourselves in our room and survived the few hours we were there before we had to get back on the road. We made good progress until my partner-in-crime announced, as we passed a petrol station on the motorway that perhaps we should have stopped there as we were running low. The van had a counter with how many miles left until empty and this was counted down with great glee as I got progressively more hysterical, no doubt adding to the entertainment. With no petrol station in sight I insisted we get off at the next exit and not break down on the motorway. Running on fumes we coasted into the most deserted, derelict closed down looking petrol station I have ever seen.
By now we were also fending off calls from Luxembourg about our ETA: no idea, and our location, again, no idea. We walked around looking for any signs, people, anything until we finally realised it was an unmanned pay at pump petrol station. The relief and joy that we could be on our way again buoyed us through the rest of our uneventful journey until two turnings before the gallery when the road took a sharp turn and basically became a very narrow alley on a steep incline, definitely not built for vans. We held our breath, because that always helps squeeze a transit van down a narrow alley and very slowly we made it to the bottom. With something resembling a 25 point turn we made the left turn at the end and were now very grateful for the beaten up state of the van, as another couple of scratches wouldn't notice.
We arrived, 3 hours late, to find the Luxembourg team having a picnic on the pavement waiting for us. We loaded up the work from the gallery and now had an escort to show us the way to the second venue. After dinner and a night with the Luxembourg team, we finished the third and fourth venues the following morning. The work had to be fitted like a jigsaw puzzle to fit it all in and I think the final space was filled with a crate of beer as we made sure to stop at the petrol station before hitting the motorway for the return trip. We certainly didn't have to worry about anything moving around in the back. True to form, we just managed to miss the ferry again. It was still there but they wouldn't let us on and we were told it would be 2 hours before the next one. I jumped out to use the bathroom and came back to a stony silence. As I wittered on quite cheerily I noticed all the cars around us had gone and we were parked totally alone – apparently there was some more space on the ferry that we were watching pull out and they had loaded some more cars on. It would have been us, only I wasn't there… a two hour wait it was then. Arriving in Dover, we thought we were home and dry, and then customs pulled us over.
They looked at the paperwork and asked us to open the back of the van. There was a horrible ten minutes or so when we thought they were going to make us take everything out but fortunately, in the end I don't think they could face that either. Back on the road, we definitely deserved the fish and chips we stopped for on the way back to London.
I hope that these eventful trips can become a reality again soon as they are always an experience and I definitely miss them.