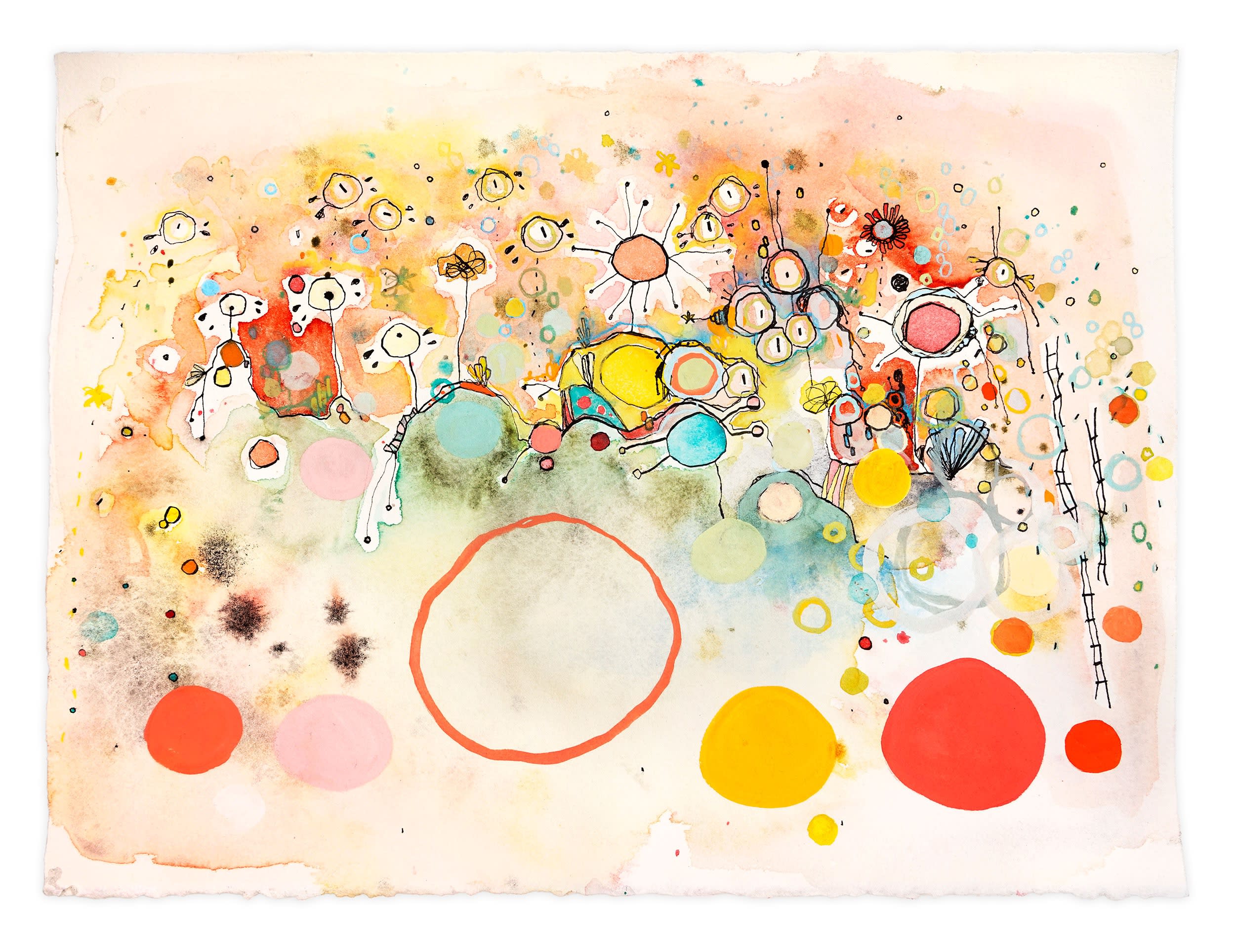 Untitled #384 2020 Watercolor, Gouache, and Ink on Paper 11 × 15 in.
Welcome to CAMP Conversations, an editorial space brought to you byThe Contemporary Art Modern Project! At The CAMP, we're firm believers in the power of the intimate relationship between art and those who love art, and we're happy to champion it in our approach to a nearly-inaccessible industry. CAMP Conversations are written to promote thoughtful dialogue exploring the art industry embedded with our sophisticated brand of snark, involving artists, gallery employees, and our beloved audience.
Clara Fialho is a well known artist known extensively across the globe for her abstract art. Her use of colors, technique and perception speak in a visual language that provokes emotion from the audience. She describes the major themes in her work as a combination of "unconsciousness, impermanence, unity, the universe, nature, dreams, and love". Viewers are left enchanted as they bask in another realm considering her work. Fialho was born in Porto Alegre, Brazil, but has New York city her home. While working to get her BFA from Cooper union, she completed her first solo exhibition at the age of 22. Since then, her work has taken off and been published in The New York Times numerous times, made it all the way to Tunisia to be apart ambassadorial residence, participated in SCOPE Miami beach and so much more.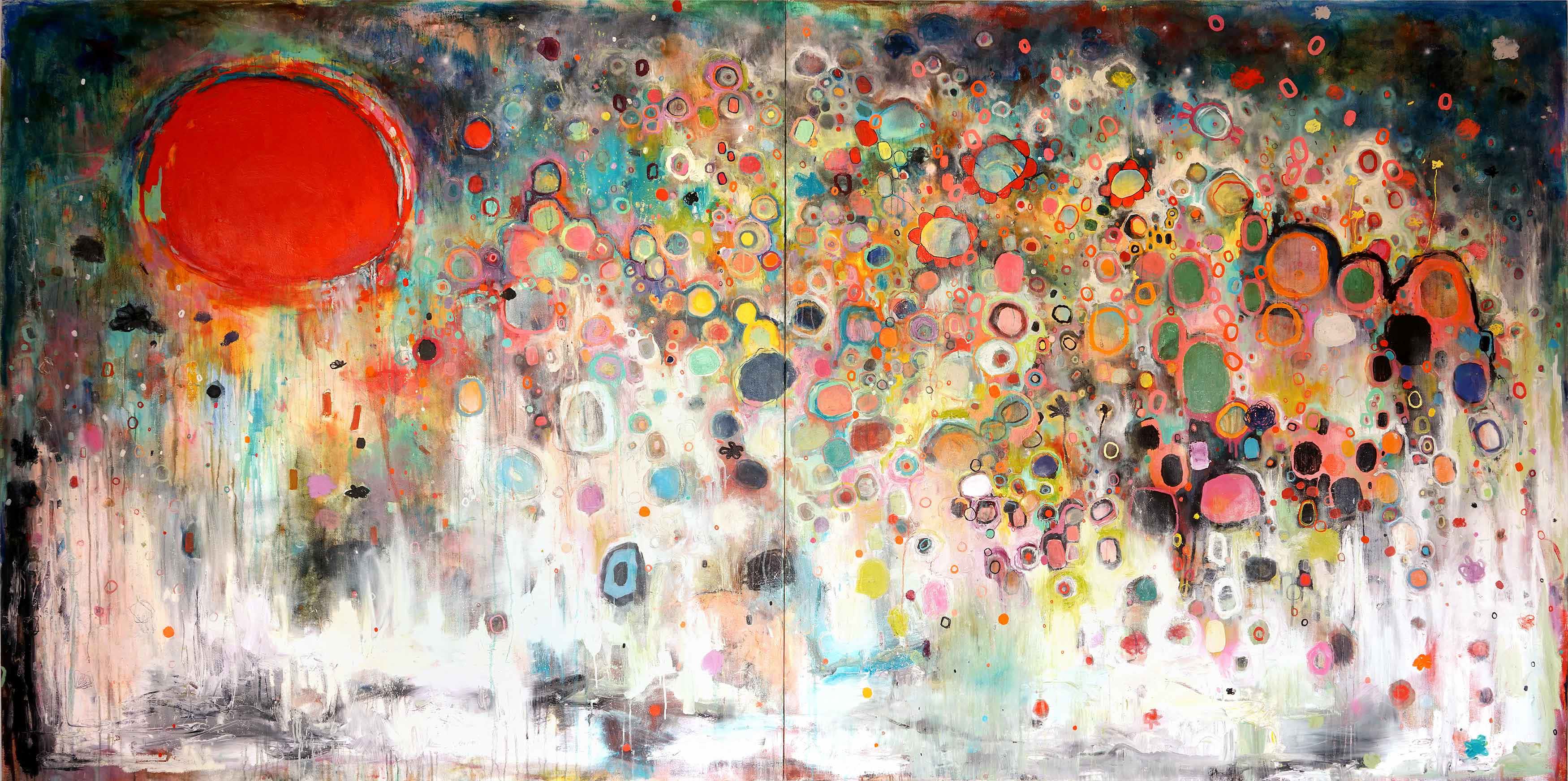 Credit: clarafialho 2019
Why do you create?
Being an artist has always been part of my identity. As a child, if there was no paper available, I would draw on walls, floors, dolls, bibles, you name it. I love creating.
How does your Brazilian culture influence your life?
That is an interesting question. As someone who emigrated to NY as a kid and doesn't go back very often, the culture of Brazil feels foreign to me now. Perhaps the biggest way it influences my life is that I am conflicted by that. I struggle to reconcile the way that others label my art with this culture that I am curious about but don't quite understand. Brazil has a rich and complex cultural history, which reflects its African, Indigenous and European heritage, all of which are also part of my ancestry. It's definitely there on a subconscious level. I am from the south of Brazil, which has its own gaucho culture (think brutally cold winters, depressed cowboys, and maté). I do listen to Brazilian music sometimes, and I admire the work of Brazilian artists such as Lygia Clark, Ernesto Neto, and Iberê Camargo.
Can you describe a pivotal moment for you and your art?
I would say that a pivotal moment for my career was when I was accepted to Cooper Union, which at the time offered full scholarships. It provided me with a wonderful arts education, and opened many doors for me. I am very grateful for that.
I know your work is often inspired by your dreams. Do you journal them? How do you stay connected to them after waking up?
Sometimes my work is inspired by dreams. The best way to record them is to journal and sketch immediately after waking up. It doesn't happen very often, but sometimes I dream of paintings that look like they're mine, but that I haven't painted yet. I try to at least take notes on the color scheme and basic composition. Sometimes it's just a phrase that sounds interesting and I use it for a title.
Where do you feel most comfortable creating?
I feel comfortable creating anywhere, as long as I have my headphones and there's no one around.
Are there any artists or specific pieces that you really resonate with?
I really like the work of Agnes Martin, Yayoi Kusama, Mark Bradford, Paul Klee, Peter Halley, there are too many to mention.
How are you easing back into some type of normalcy?
We are still very far from normalcy. I have started preparing for my solo exhibition at CAMP next year, which is very exciting. And on a personal level, I've been spending more time with friends who are also vaccinated.
How does your art react to society?
My art reacts to society on an emotional level. I am very sensitive to what is happening in the world around me, and art is simply how I make sense of it.
Untitled #329 2020. Watercolor, Gouache, and Ink on Paper. 11 × 15 in