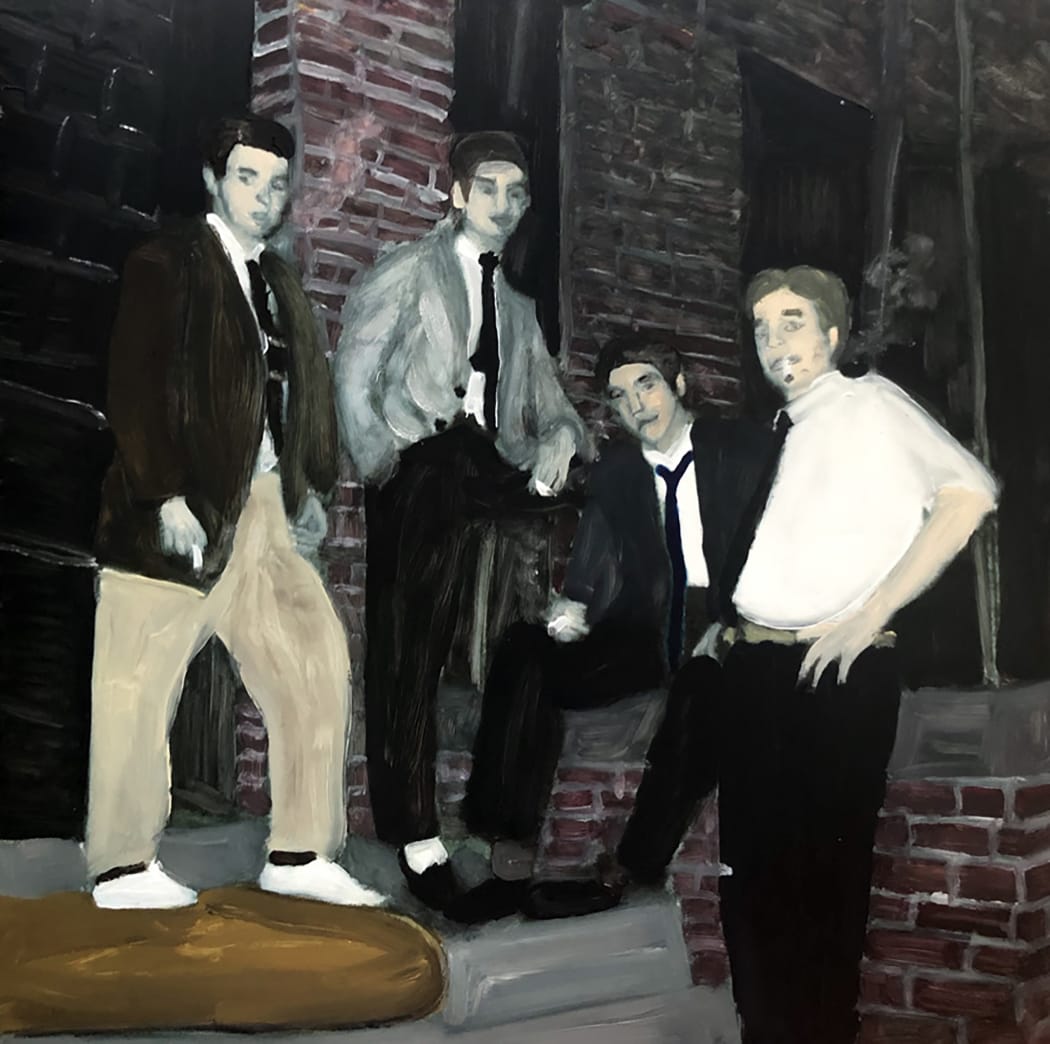 The one detail of group exhibitions that is equal parts anxiety-inducing and thrilling is not, as expected, the number of artists, whether there are three or over sixty; it's actually the sheer quantity of dialogues their works create together. The CAMP's latest group exhibition, Not Dior's New Look III, isn't simply an array of works tethered to one another by medium or aesthetic—it's a conceptual runway. Following CAMP founder Melanie Prapopoulos' commitment to donating a percentage of gallery sales to Fashion Fights Cancer, a non-profit organization founded in 2004 that offers innovative and therapeutic programs in fashion and design, what was once a fun digital exhibition has blossomed into a conversation, and ultimately, a force for good.
Oftentimes, the intersection of the Fashion and Fine Art realms is looked at from a depersonalized lens, fully devoid of nuance, and totally forsaking the vibrancy of creative pursuits that makes all that labor worth it. Not Dior's New Look III stands as an acknowledgment of what makes this life fun, how easily we're able to both influence and find inspiration within the people around us, and just how vital one's personal aesthetic is to the rest of our lives.
Christy Powers engages with the concepts of memory and reality through an adept reappropriation of photographic principles. The New York-based artist's small-scale paintings occupy emotionally liminal spaces; ephemeral, opaque characters that could have existed in someone else's history are transformed into vessels for reflection. Powers' depersonalization, and thus decontextualization, of memories evoke elements of the Romanticism period with a mid-20th century lens.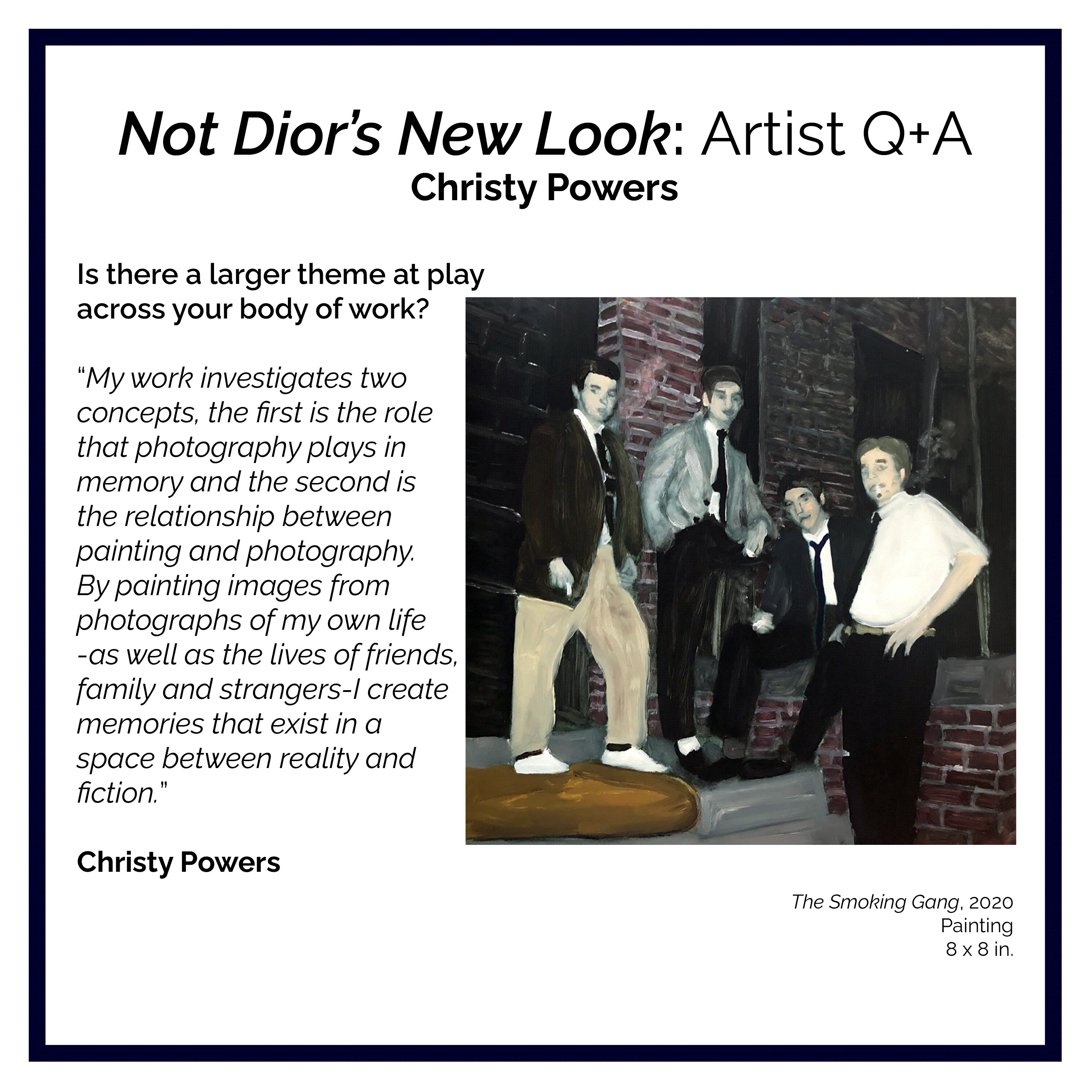 What role do you think art plays in our societies?
I believe that art holds up a mirror to society, examining and exploring the world and times we live in.
How do you find fulfillment in your artistic process?
I feel the artistic process is itself therapeutic. Being able to paint stories that connect emotionally with people and their own memories is incredibly rewarding and helps remind me of how interconnected we all are.
Is there a larger theme at play across your body of work?
My work investigates two concepts: the first is the role that photography plays in memory, and the second is the relationship between painting and photography. By painting images from photographs of my own life—as well as the lives of friends, family and strangers—I create memories that exist in a space between reality and fiction. I remove details, change the colors within the image, and blur and distort the figures so that the viewer can project their own memory and images onto the piece.
I enjoy capturing this ephemeral and impermanent moment in my paintings. I depict the "just-out-of-reach" feeling in memory where some details remain sharp yet others blur and disappear.
Can you tell me a little bit about your relationship with your art and how it plays into your relationship with fashion?
I think because I paint, I bring that sensibility into my relationship with fashion. I love blending textures, colors and patterns and am conscious of the message I'm communicating with my clothing.
Does this impact your work?
I feel like fashion is another way that we visually communicate with others. What we choose to wear tells others so much about us before we even interact. In my paintings, clothes are an integral part of telling the story of the people in my images; who they are, where they are, and what's happening. My works are mis-en-scene of memories and what they're wearing helps the viewer create their own reading of the moment.
Not Dior's New Look III is the first official collaboration that The CAMP is doing with Fashion Fights Cancer. Can you walk me through your feelings about this, and the fact that part of the proceeds will be donated to FFC?
I'm so happy to be included in this collaboration. Like almost everyone, I have had cancer impact my life through friends' and family members' diagnosis. Any way I can contribute to grow awareness and help enable donations to help fight cancer.
How do you feel about your work, specifically, being placed in a larger conversation about art's capability to inspire awareness and bring about change?
My work is designed to evoke introspection in the viewer. My hope is that, by giving the viewer pause to look back in their memories, that this will help viewers be more empathetic in the present.
Why are you an artist?
I find that painting is the best way I've found to express myself and understand and process ideas.