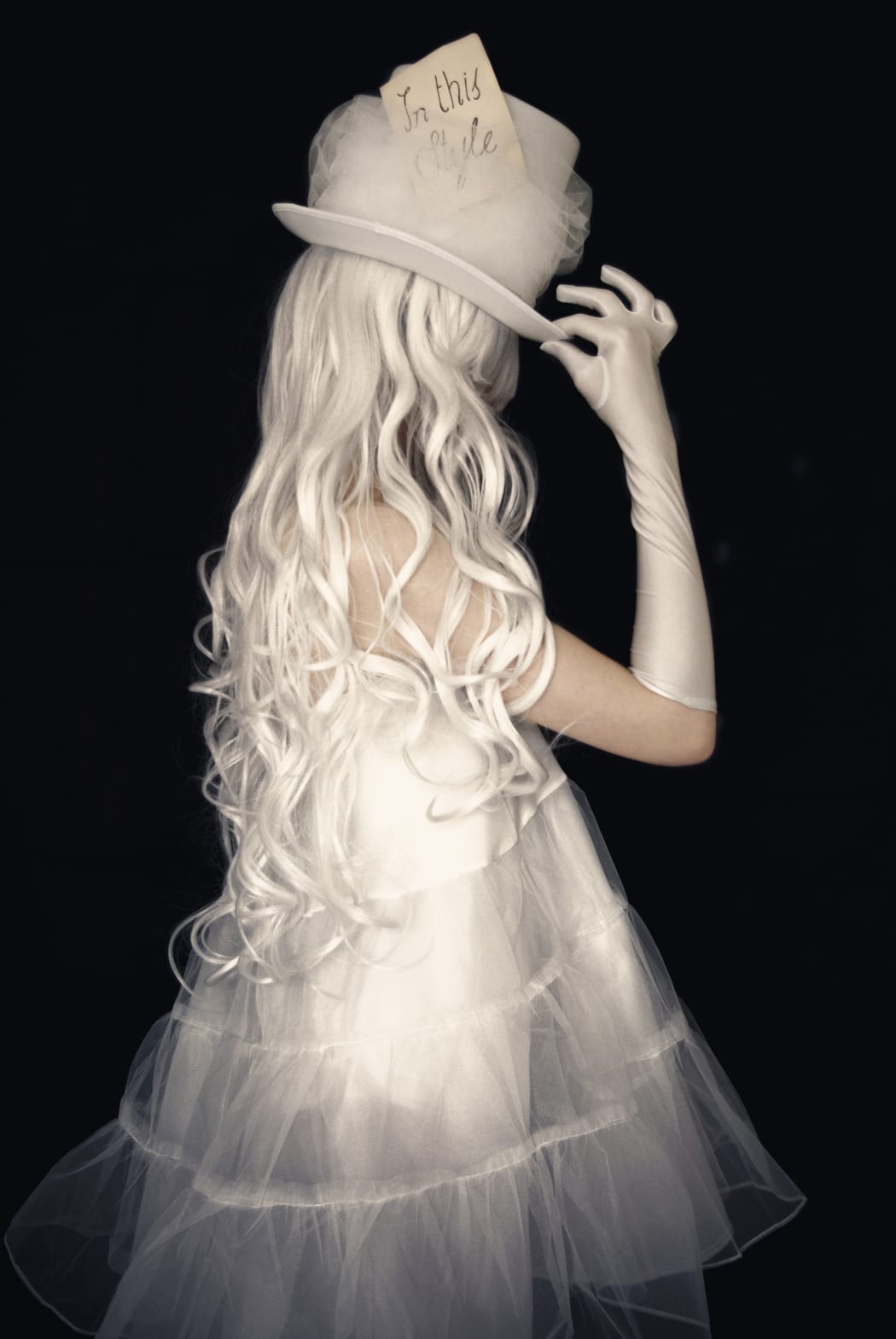 The one detail of group exhibitions that is equal parts anxiety-inducing and thrilling is not, as expected, the number of artists, whether there are three or over sixty; it's actually the sheer quantity of dialogues their works create together. The CAMP's latest group exhibition, Not Dior's New Look III, isn't simply an array of works tethered to one another by medium or aesthetic—it's a conceptual runway. Following CAMP founder Melanie Prapopoulos' commitment to donating a percentage of gallery sales to Fashion Fights Cancer, a non-profit organization founded in 2004 that offers innovative and therapeutic programs in fashion and design, what was once a fun digital exhibition has blossomed into a conversation, and ultimately, a force for good.
Oftentimes, the intersection of the Fashion and Fine Art realms is looked at from a depersonalized lens, fully devoid of nuance, and totally forsaking the vibrancy of creative pursuits that makes all that labor worth it. Not Dior's New Look III stands as an acknowledgment of what makes this life fun, how easily we're able to both influence and find inspiration within the people around us, and just how vital one's personal aesthetic is to the rest of our lives.
From the fairytales and coming of age tales she grew up with, to following a post-modern Dorothy in her series Not in Kansas, British photographer Vicky Martin is better said to reconstruct truths rather than fantasies. The artist's work is driven by a fundamental, nuanced reflection of the feminine experience, toeing the boundaries of "real" and "made up". Her staging, use of props, and careful employment of color are points of entry, acting as veils for a deeper critique of the ways in which women are made to internalize social constructs.
What role do you think art plays in our societies?
Art reflects society, culture and history. Although art may be specifically created to explore a particular issue—whether this be race, class or gender issues, or perhaps more recently in contemporary art, increasing climate concerns—I believe that all art subconsciously reflects the time period in which it was created.
Although this is not the most poetic metaphor, the artist is almost like a sponge, soaking up the contexts and issues, whether publicly, politically or personally relevant, occurring during the creation of the piece. And this is what I believe is crucial to the role art plays in society: documenting history. Not only the cold, hard facts of a certain day or event, but the personal and more nuanced emotional factors and responses to an object or subject. Art is a medium that gives a voice, not only to the artist, but to those represented within the piece of artwork
How do you find fulfillment in your artistic process?
I find it to be privilege to have a means of expressing myself and my voice through my art. It is also a necessity of my everyday life. I see the world through the lens of my camera, so to be able to translate how I see the world (in terms of both aesthetic colours and compositions, and the issues or themes related by these) into my work and express what I respond to in the world, is not only an incredibly fulfilling but also cathartic process
Is there a larger theme at play across your body of work?
Throughout my work I explore themes and stories that I, instinctively, feel have resonance and need to be told through a lens. My work depicts the conflict between themes of fantasy and reality and strength and vulnerability, especially in relation to the female experience.
Can you tell me a little bit about your relationship with your art and how it plays into your relationship with fashion? Does this impact your work?
Before studying photography, I studied art, design and fashion. [I] even went on to work as an assistant designer in the '90s. I have always had an affinity with fashion and this love of creating fashion finds its way into my work. I make many of the props and outfits for my conceptual portraits, both more whimsical, fantastical creations or [those] inspired by historical periods and their corresponding fashions and aesthetics, such as the 1950s in my latest series Hollywoodland.
Not Dior's New Look III is the first official collaboration that The CAMP is doing with Fashion Fights Cancer. Can you walk me through your feelings about this, and the fact that part of the proceeds will be donated to FFC?
I am extremely honoured that my work will be exhibited in the collaboration with Fashion Fights Cancer, and I am thrilled that the proceeds from any sales will benefit this fantastic charity. One in every two people will get cancer in their lifetime, and I don't think anyone is unaffected by cancer, whether personally or within family and friendship circles. Art and fashion have always helped me to express and find my voice, and the work that FFC does creating programmes that provide opportunities to develop, learn and heal through the very therapeutic process of creating art is really inspiring.
How do you feel about your work, specifically, being placed in a larger conversation about art's capability to inspire awareness and bring about change?
As an artist, to have my work visible to an audience, is a privilege if this evokes conversation and inspires an awareness, either about cancer or other issues that I specifically explore, and even potentially change, I would be personally honoured, however I feel that to spark conversation and encourage debate is one of art's most powerful capabilities.
Why are you an artist?
I live and breathe my art—it is who I am. To reappropriate Descartes: I create therefore I am.