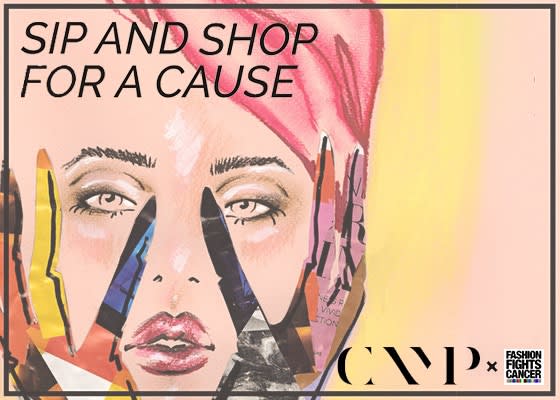 The magic of an opening night or event in the gallery is in the final product, but it doesn't mean that getting there isn't an experience on its own. Read on for Brianna's and Melanie's reflections on Westport's preparing for the closing of Not Dior's New Look III, and for the debut of the long-awaited CAMP Signature Cocktail (yes!)
Before we say goodbye to Not Dior's New Look (for now), The CAMP Gallery Westport will be hosting Sip & Shop For a Cause on Sunday, March 27 from 12 to 5. So, I reached out to Brianna for a behind-the-scenes look at putting the event together.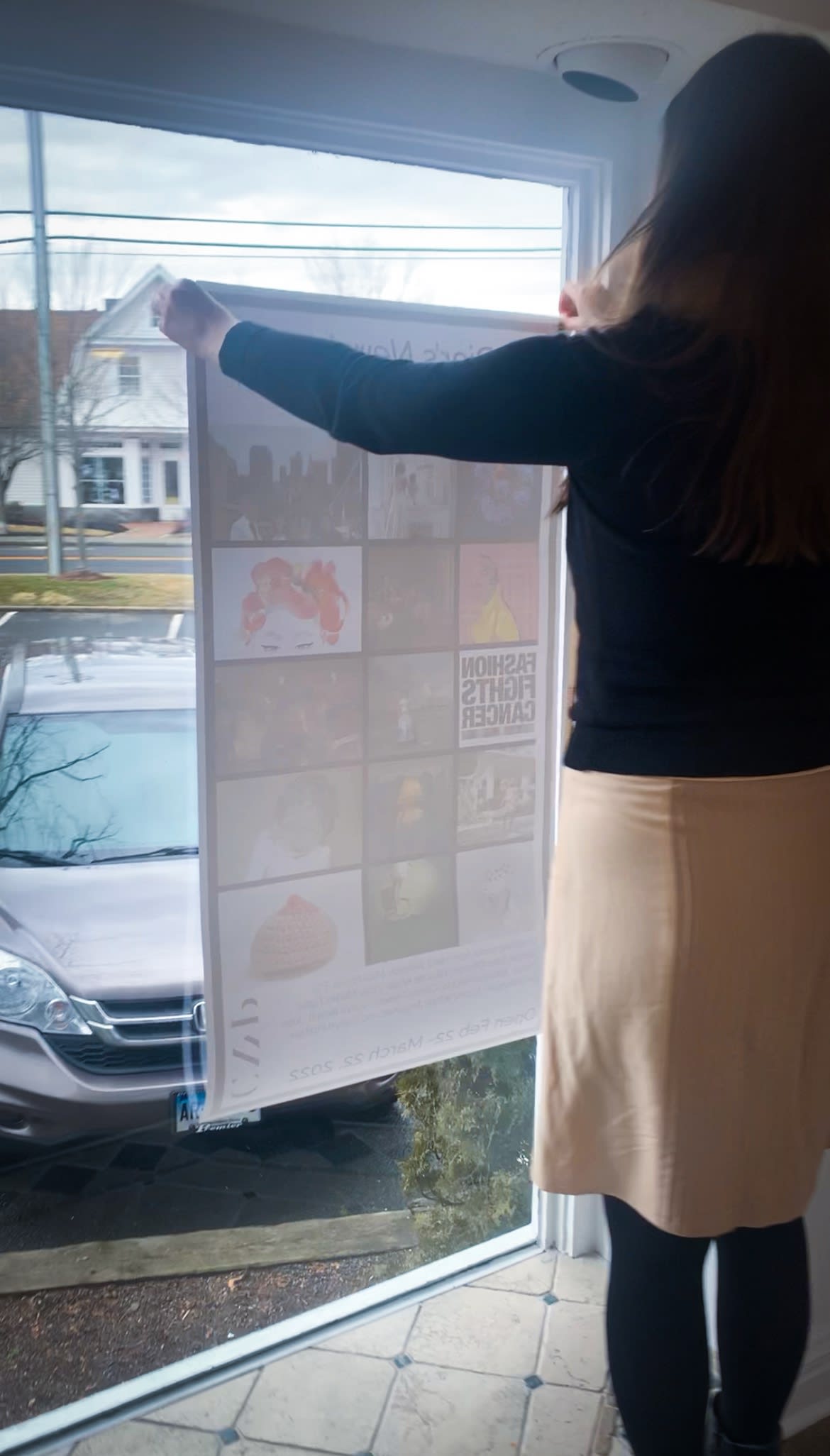 Amy hanging an exhibition banner in the Westport gallery's front window.
"We're really happy to be able to provide the space for all of the participating companies and organizations to come together. Our favorite part is to be able to support small businesses in Westport, and forming these relationships is really exciting for us, especially since we are new here, and personally, my favorite part of putting together this event has been reaching out to other business we'd otherwise not really interact with—working together to create something that can potentially be influential for not just the local community in Westport, but for the people suffering in Ukraine, and those battling with cancer and the struggles that come with the disease."
In addition to inviting designers Rosie Assoulin, Johnny Was, and Kristi Vosbeck, The CAMP Westport has also invited local brands Boho Prep, The Hidden Gem, and Le Rouge Chocolates. A percentage of all sales proceeds will be donated to our friends at Fashion Fights Cancer, and we'll be hearing from CAMP artist Elly Azizian, as well as designer Gia Han Phan.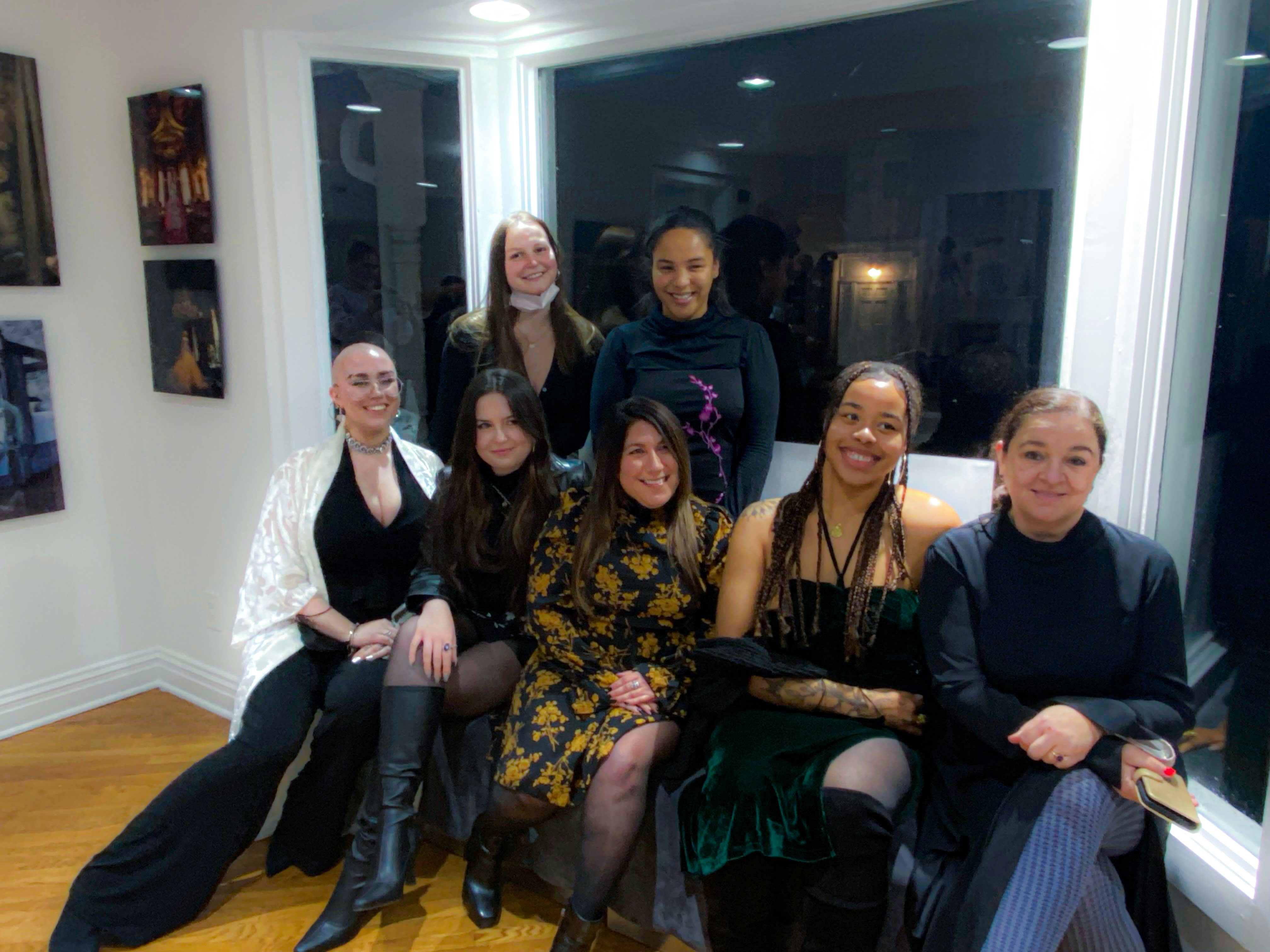 The CAMP Westport and Fashion Fights Cancer in the same space at the same time! Left to right: Bianca Criscuolo, Amy Clarke, Aryonna Orth, Chloe Fabien, Kara Solomon, Brianna Luz Fernandez, Melanie Prapopoulos.
Unlike in Miami, where your catering ends to look like an assortment of Latin American pastries from your friendly neighborhood bakery, the Westport team's been looking to Melanie's roots for a menu. "It's a play on the traditional Saturday Tea initiative we want to create in the Westport gallery, like the first one we did in January [for Margaret Roleke's exhibition, March on Society]. So, we're offering a classic English tea sandwich along with some modern twists on that concept. We wanted to have healthy options for everyone. I love the cucumber sandwiches, and the new CAMP signature cocktail."
That's right. After years of wine, canned cocktails, and sparkling cider, The CAMP is debuting a signature cocktail in time for its second birthday.
"I'm dying for it. I've always wanted one," Melanie Prapopoulos, CAMP founder, says. "I want everything CAMP: cocktail, cookie, magazine, podcast, billboards—wait a minute, a CAMP cottage!"
So, how do you make your own?
"It's literally—you want to grab a cup, a nice cup, one that makes you feel really good. Get your bottle of Campari, which is perfectly CAMP-colored, and a bottle of your favorite, dry, sparkly brut. We're using Prosecco. Then, you're going to pour in maybe an ounce of Campari and two ounces of Prosecco in that glass—and there's a secret ingredient in ours, which is what makes it our signature, but this is where you can add your own Chemical X, if you will. Add ice, and garnish with an orange or tangerine, and voila."