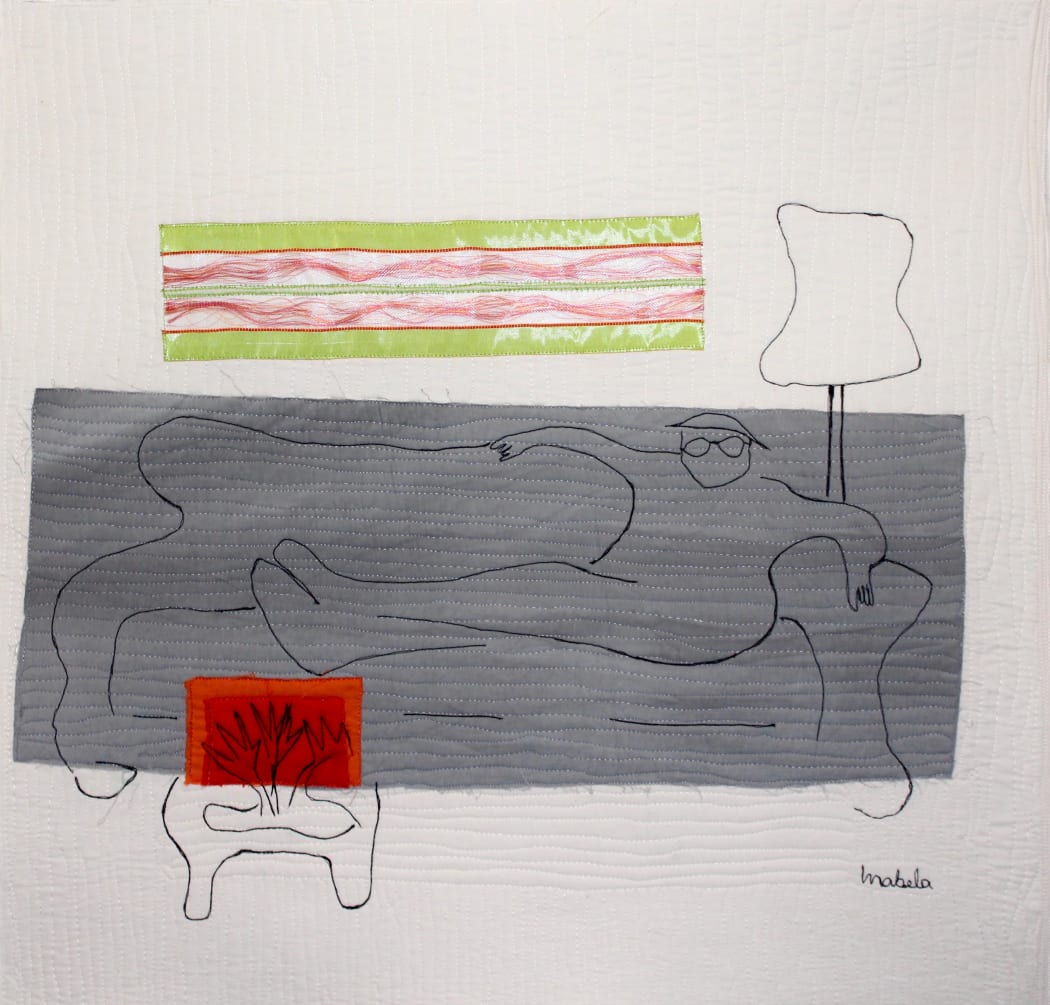 At The CAMP, we're not just interested in the the business of art. Sure, there's a wonderful feeling when we make a sale because it encourages the artists we work with and validates our dreams of growing into the platform we know we're meant to be, but it's bigger than that. What we're interested in is art—full stop. The CAMP revolves around a serious love for artistic expression and along with that comes serious people who are just as beautiful as their creation. If there's one thing about us, all of us, it's that we're not like other platforms—we're a community.
In Introducing, we get to know CAMP artists in their own words and learn about the journeys, influences, and memories underlining their works.

Mabelin Castellanos is a Cuban fiber artist based in Miami. Her delicate interpretations of quotidian life as seen from her window are often made from scrap fabrics, with both her story as an artist and fiber paintings acting as conduits for agency—namely, Castellanos' own. Her practice is marked by self-reflection, pleasant observations, and a tender reconstructing of identity and paths to personal development through moments of strife and rebirth. Mabela's body of work can be interpreted as a series of textile snapshots, subverting the nature of textile work by treating her sewing machine as an instrument for photography, while honoring the fleeting beauty in moments most would describe as trivial.
Her joining the CAMP roster, thanks in part to her participation in 2021's quilt project with FAMA, of which Castellanos is a member, marks a moment of recognition and legitimacy whose art has, quite literally, saved her life.
Mabelin Castellanos. Mother's Visit, 2016. Quilted thread painting made with cotton cloths and rayon threads. 12 x 12 in.
When did you know you wanted to be an artist?
In my forties and out of pain. I couldn't get my sons out of Cuba before the conscription, I was suicidal. I enrolled in glasswork classes at the community college, and that saved me. I was a scientist at the time, but I was hooked. The opening of the kiln… to see the result of my creation gave me the same adrenaline rush as the analysis of the results after an experiment.

What pressure do you feel as an artist?
I don't feel any pressure, I work compulsively every day because I feel the need to do it
What are you saying with your art?
Right now, I just feel the need to express the beauty I encounter on my daily walks. The sea, the vegetation, people, their interactions, all of that.
Mabelin Castellanos. Zumba by Herself, 2017. Quilted thread painting made with cotton cloths and rayon threads. 12 x 12 in.

What is it like in your studio?
Messy.

Why do you create the art that you do?
While expecting the birth of my first granddaughter, I bought a sewing machine and taught myself how to sew to make her dolls and clothes. The fabric patterns, colors, and textures inspired me more than glass, so I started exploring the new medium, first gluing them to make collages, later quilting and piecing. Nowadays I use the technique of free-motion quilting that gives more freedom of expression.

Who inspires you? And why?
The work of my many artist friends on social media—it is part of my daily routine to see their wonderful art. After a series of ischemic episodes and a nervous breakdown as a result, my career as a scientist ended, and once again the creative process saves my life. I started compulsively working on my quilted drawings. They healed me, and now I can proudly say that I am an artist.

How are you adapting to a socially distant world?
My mental disease has evolved into agoraphobia which is a decrease in social skills with apprehension of getting outside and socializing so the distancing has not affected me
Mabelin Castellanos. Reading Can Seriously Damage Your Innocence, 2022. Quilted thread painting made with cotton cloths and rayon threads. 24 x 20 in.
Outside of your art, what is something that you are most proud of?
Getting my whole family out of Cuba.

What do you do in your day when not creating?
Walking, swimming, reading.
Lastly: tell us a story, anything, that lets readers know who you are—the person.
I am a mother, grandmother, bipolar, grapheme-color synesthetic, former scientist and artist.