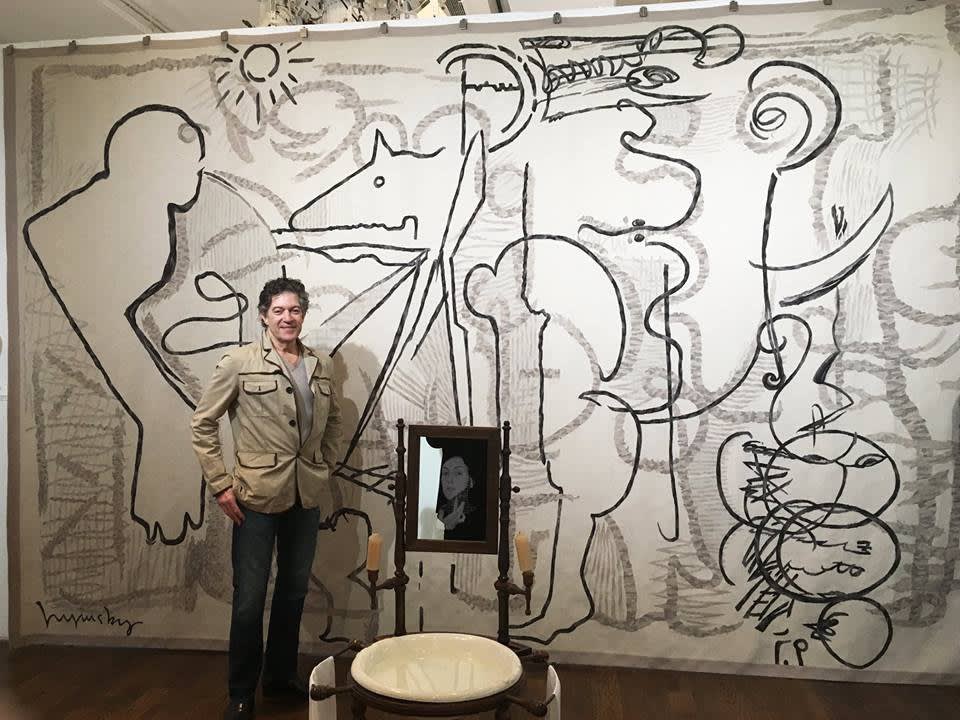 CAMP curator and design gal Amy Clarke was fortunate enough to sit down and talk with a man who embodies the truth of what it is to be a creative—native New Yorker, artist, and designer Joseph Ginsberg. Gifted with what seems to be an innate artistic vision, the artist has been dreaming and drawing since he was a child. Fast forward to present day, and the artist has gathered over 40 years of professional experience the industry from painting or blowing glass in his studio, to designing hotel lobbies from top to bottom. With such a variety of outlets, Amy wanted to talk with Ginsberg himself to find out how which speaks more to him. Who is Joseph Ginsberg to Joseph Ginsberg?
Amy Clarke: How do your art and design work exist in conversation with one another?
Joseph Ginsberg: Every space that I take on as a design project is originally conceptualized as a canvas or sculptural element creating a dimensional platform for all and any art.
AC: How are these two different from one another? Do you engage with different parts of yourself when you're immersed in each?
JG: They pretty much are as one, though each medium carries its own voice, either to compliment or contrast the other.
AC: Describe your design studio in your own words.
JG: My design studio is a progressive workplace, a true multi-media studio as it encompasses the many fantasies of design. With our productions, we work with graphics, sculptural furniture design, material applications, architectural design, custom fabrications in all material from canvas to printing, all metals, all woods.
AC: Considering you're both a painter and an interior designer, do you work in the same space for each?
JG: It depends where I am and what schedule or deadline I'm dealing with. Scale and medium of a piece or project requirements have restrictions, requirements. I have found the creation process takes on its own momentum and can take place either in the studio, at the kitchen table, in nature, or wherever you may be at the time.
AC: Do you find that because of your relationship with interiors, you require your space to look or feel a certain way in order to create there? Does this extend to projects or where you exhibit?
JG: I really don't, though I must say I respond to a tidy framework in order to create a certain havoc within.
AC: You've been designing for 27 years. What is your favorite part of the design process?
JG: Everything. From the inspiration, taking it to the next level; through the process, doubting yourself, feeling that you've created it and know it's right; the challenges of creating something that is fresh to me; the fact that the work can be ever changing and continuously seen in new ways.
Sketch of custom bronze table base by Ginsberg
AC: What is your favorite part of the painting process?
JG: Knowing when you've connected to the flow and a language develops between process and intent.
AC: Do you consider yourself more of an interior designer or a painter?
JG: I consider myself a pure creative. A painter. I create new imagery that works into whatever I'm working on at that time. Whether it is furniture, lighting, murals, or sculptural reliefs, it is hands-on, progressive, and new.
Ginsberg's initial sketch on paper of hand-blown glass object
AC: Tell me about your projects with Calvin Klein and Christian Dior.
JG: I was involved in set production, which is ultimately what brought me to interiors. Sets are a canvas to me. I was always given creative freedom while working for the brands, alongside with the creative director.
AC: Did this impact your design work and your art? How?
JG: Any medium and set of rules one must follow when taking on a commission honing one's craft and prowess.
AC: How about the Marmara Park Avenue Hotel project?
JG: This was one of my first design projects in hospitality. I went to Africa and was inspired by the oasis of the desert. I brought this atmosphere into the space, while also bringing the street to this haven. I played with soft, neutral tones, and everything was handmade. From the torrazzo flooring, the custom atrium, the art in all of the rooms—spa, penthouse, lobby, bar. It was about bringing the world a feeling of oasis, getting off the street. Like a sanctuary, a meeting place. I even buried the elm hand carved birds in the ground for 6 months.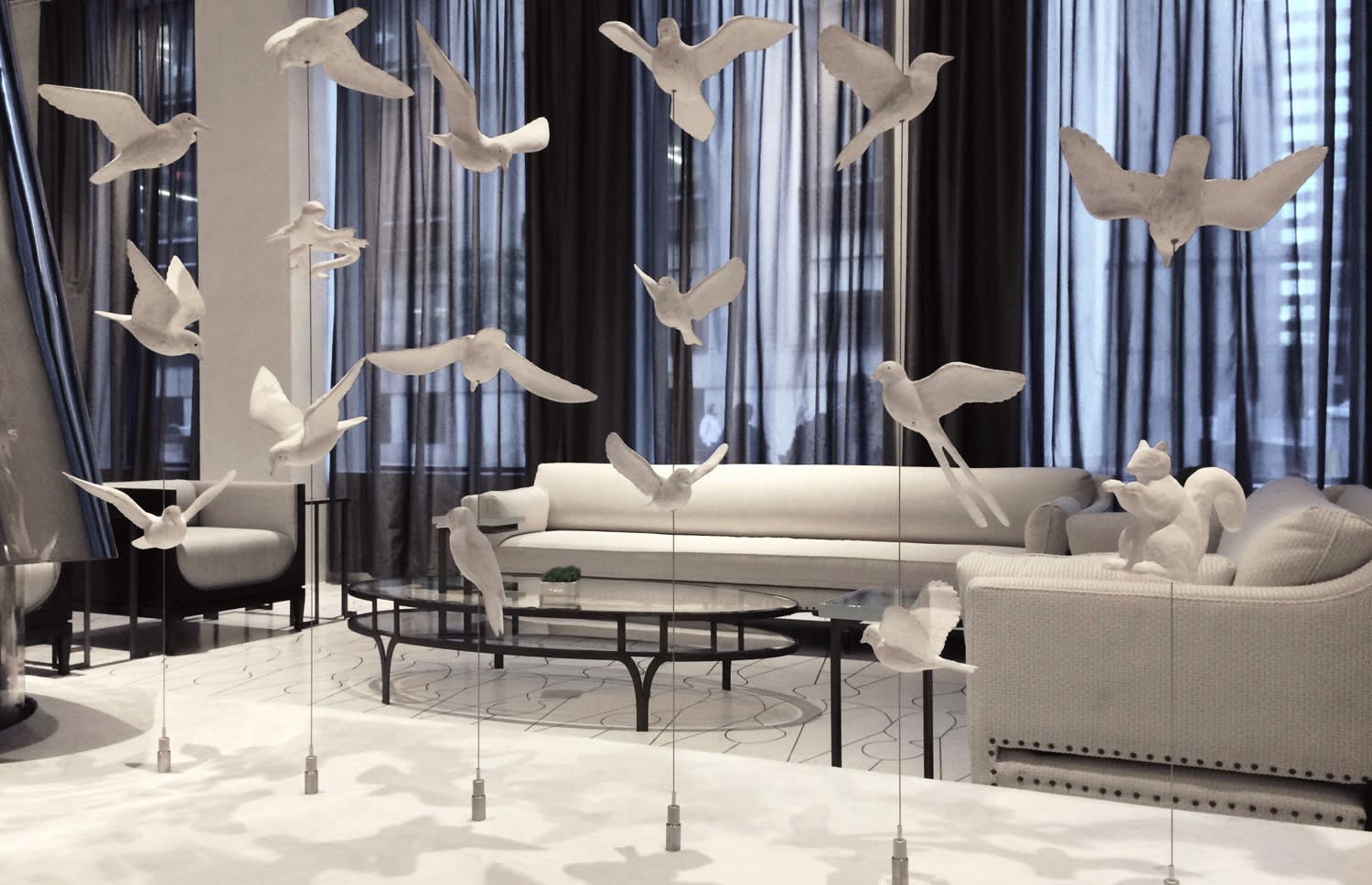 Marmara Park Avenue Hotel lobby space
AC: Do you work trying to cultivate a specific energy in your projects, regardless of whether they're design or painting, or does it vary? What does that process look like?
JG: The work is the energy. I am solely the tool to make it happen.
AC:Your design work and painting are, of course, part of one legacy. How do you define that? What makes something "Joe Ginsberg"?
JG: I don't set out to make a JG work. Entering a raw [space], or a space that requires redefining, speaks to me from all architectural elements, light, dimensions, vertical, horizontal surfaces, etc., and a client's requirements, how a space functions, a canvas or dimensional piece has its own set of rules, if any. Once some of these foundations are realized, there is an internal language that starts taking place—you must listen to it. From another angle, the challenges (fun) begin setting the stage for my signature style. Never do I repeat myself in a work.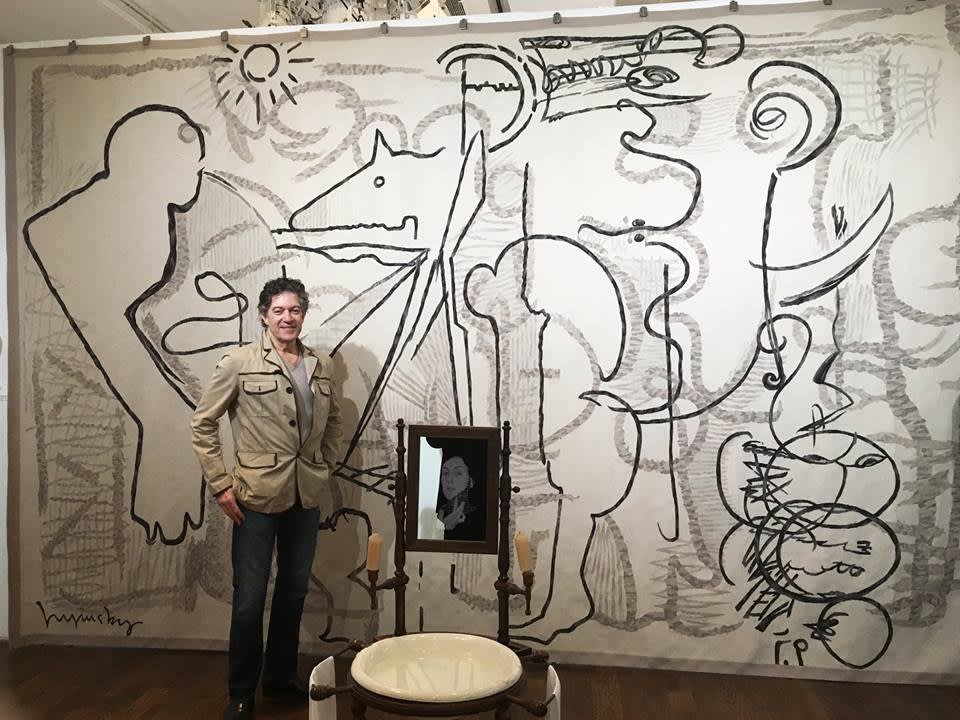 Joseph Ginsberg and his Pangea tapestry showing at Scope 2019
AC: Your career is dynamic, and its longevity is obviously due, in part, to your pushing your vision to new and more brilliant heights. What would you say is the key to growing creatively?
JG: Taking chances, pushing it when uneasy, having to master solutions in getting there when the unknown(s) presents itself.
AC: Who or what influences you?
JG: Dance in all forms; the Dada movement, Bauhaus; Brutalist architecture, European and African cultures, Albers, Picasso, The Beatles.
AC: Rumor has it that Mary Boone used to yell at you for touching the art in the gallery. Can you confirm/deny and elaborate on this?
JG: Yes. I happened to have lightly touched a painting, and at that moment, she'd of course come out behind the curtain and give it to me. How did you know this, were you there?
AC: Can you share a bit of what it was like to be part of this pivotal era in American art history?
JG: It was a gritty adventurous time that had few boundaries, either in the street, the club, or in the work, [or] the personal strides and the countless risks we took in claiming one's own voice—in whichever your medium—as an artist.
AC: Is there a piece of yours that you're most attached to? A project?
JG: I really can't. A single line in pen or pencil can have as much passion, tension, grace, form, dimension, pulse, as the most complex piece, rendering it a masterpiece. Sorry, each project, [each] piece carry a personal connection.
Joseph Ginsberg sketching in his studio
AC: Do you have any dream projects?
JG: Any project offered that can include children in the process, expressing their own voice. Also to have the opportunity to design a children's hospital and park having art, the culture of the place as a foundation while collaborating with my fellow creatives.
AC: Where do you see these two separate, but fraternal, if you will, industries heading? How do you see increasing digitization impacting your work?
JG: I work in all, most mediums, and have been working digitally for over 25 years, as it has its place when appropriate. Another medium healthy in its own light. All and every work starts out with either brush, pen or pencil, still the strongest of mediums for me.
View Joseph Ginsberg's solo exhibition, The Rooms of Joseph Ginsberg, here.