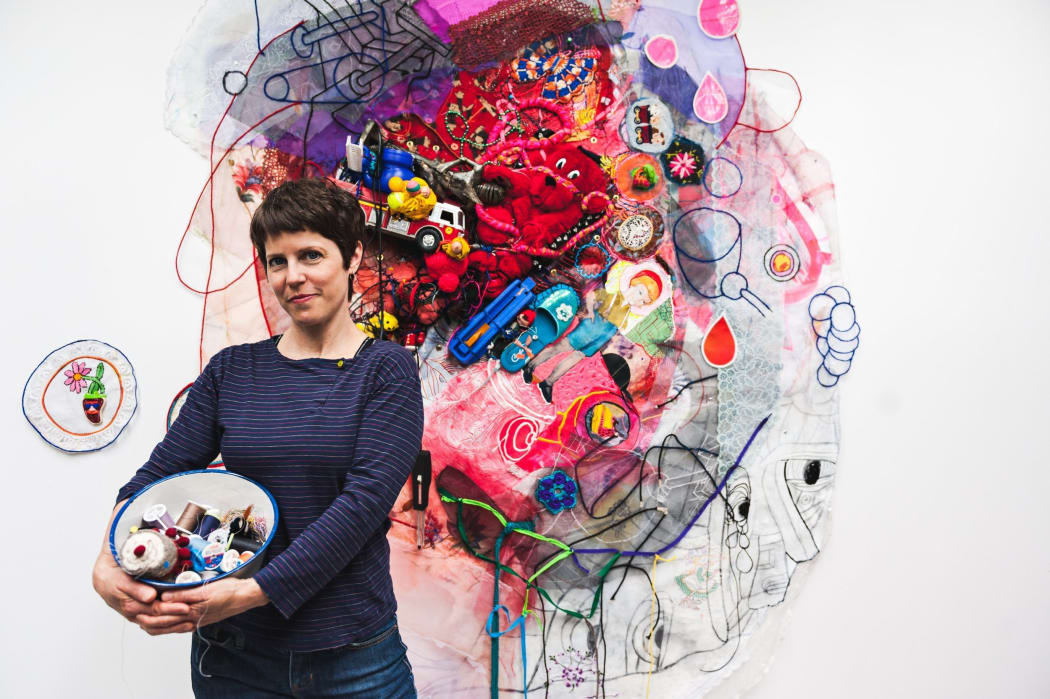 This month, The CAMP Gallery is spotlighting Julie Peppito, an artist based in Brooklyn, NY whose body of work is vast in media, scale, color, and purpose. Her assemblages can be interpreted as childlike curiosity with a punk twist, engaging people of all ages and backgrounds with her paintings, installations, sculptures, and activist work to interrogate the world around us meaningfully.
Originally from Tulsa, Oklahoma, Julie's decades-long career has seen her work at venues such as The Long Island Children's Museum, Kentler International Drawing Space, Art in General, and PS122. She's a recipient of the New York Foundation for the Arts Fellowship in Sculpture, has made art for four New York City Park's Department playgrounds, and has been featured in The New York Times and ArtNews as of late. She's also been featured in The CAMP's most recent booths at SPRING/BREAK Art Show NY and SCOPE Art Show Miami Beach.
Read below for an exclusive interview with the artist and CAMP founder Melanie Prapopoulos.
When did you know that you were an artist?
When I was in the 2nd grade I drew a picture of a turkey in black crayon that looked remarkably like a turkey. My art teacher entered it in a statewide competition and it won 1st place. Then everyone started calling me an artist. My mom enrolled me in art classes at Philbrook Museum in Tulsa.
Is there an artist that you feel inspired you to become an artist? If so, who and how?
I'm not sure I chose to become an artist. I just always loved to make things. And other people told me that I was one. Picasso was the first artist that I identified as an "Artist". That was probably in 2nd grade as well. And I loved his art. I was told I would be the next Picasso. I loved that too. But, later it messed with me. Later artists that inspired me: Joyce Scott, Robert Rauschenberg, Magritte, Joan Miro, Kathe Kollwitz, Niki De Saint Phalle, Gideon Kendall.
Why mixed media and found objects make up so much of your works?
I compulsively save everything. I'm close to being a hoarder. I grew up in the 70's and 80's in the transition between the America that repaired everything and the America that buys everything cheap then throws it away for the next bright shiny thing. I used to go thrift shopping all the time with my sister. We would find things with potential and refashion them with our Singer sewing machine. I would hand sew beads, buttons and toys onto jackets, skirts and pants. Lining the tops of the racks of clothes and on shelves in the back were plastic bags filled with so much stuff that people discarded, that was no longer valuable to them. I could see the potential in all of it. Later I realized that my obsession with trying to revalue and physically connect old things is a metaphor for the reality that we are all connected to each other and to the environment we live in.
There was an exhibit and book called The Eloquent Object that came to Philbrook Museum in Tulsa when I was in high school. It was "fine craft": ceramics, jewelry, a toilet covered with beads. the exhibit and all of the artists and materials in it had a huge impact on me.
What is the most important thing you have learned about being an artist?
I have to list more than one!
I need to get lost in the process and get out of my head in order to create.

I need to do what I do whether or not anyone else is doing it—whether it's been done already, whether it is or isn't in fashion.

I'm no better or worse than anyone else.

Networking isn't a bad thing, it's building a community.

When I get jealous of someone else I need to forgive myself (it's human), examine why I'm jealous, and realize it's helpful information about what I want to do and where I want to be.

You need business skills!!!!!!!!!!!!!!!!!!!!!!!!!!!!!!!!!!!!!!!!!!!!!!!!!!!!!!!!!!!!!!!!!!!!!!!!!!!!!!!
Where do you find inspiration?
The roots and branches of trees, bugs, birds, all creatures and nature, the news, trash, artists (so many artists - too many to name), old magazines and prints, the art of other cultures (mostly Mexican, Native American, African, Indian), old embroidery and lace, vintage textiles, activists, everything and everywhere!
Which is or was your favorite piece of your art?
Oh geez. I have so many. But, the most formative was probably Joyce Scott's "Jonestown Massacre." Made of bones, beads, thread, plastic and images, it showed me that a piece could be small, mixed media, political and make a tremendous impact.
Which is your favorite Museum and why?
The Met—so many materials, media, cultures, places to get lost in time and space. Also, I love medieval art and the Met has so much of it. Love the Cloisters too. I also love the Brooklyn Museum. It's similar to the Met but you can take it all in in one visit, and I can bike there in 10 minutes.
What museum do you want to visit but haven't yet and why do you want to go there?
Taj Mahal because it's glorious. I love Indian design.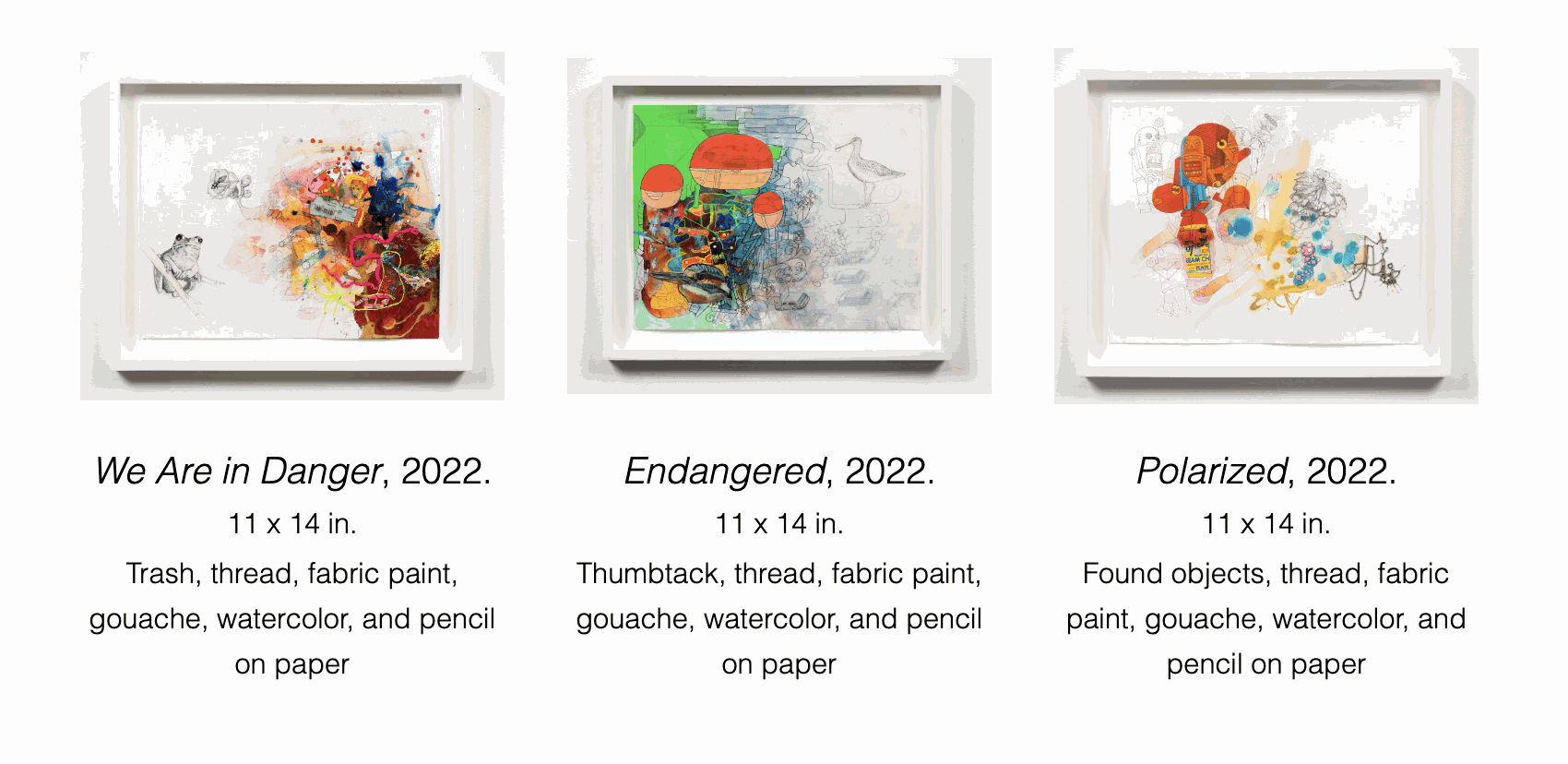 What do you want the viewer to gain when encountering your work?
I want them to be drawn in and get lost in it. I want them to be transported to another reality that helps them reflect and cope with this reality.
What is your favorite color, and why?
Anything florescent (pink, yellow, green, orange) popped on top of something tertiary. Because it's plastic plus nature, because it spikes my endorphins.
Do you have a routine when creating art?
Yes. I clean my studio, go through my bins of objects and images, and listen to Democracy Now! When that's over I listen to music, NPR, and more recently podcasts.
Is music part of that and if so what type and who?
Mostly, I listen to New Wave, Punk, Indie, and Motown. Lately I have been obsessed with Wet Leg.
If you could invite 4 artists from history dinner who would they be, what would you ask them and what would you serve them?
OMG. I don't know if I can wrap my mind around this. [Editor's note: the artist's answer changes from moment to moment.]