The Contemporary Art Modern Project (CAMP) is preparing for the third edition of Women Pulling at The Threads of Social Discourse, an annual exhibition that spotlights female voices and experiences through textile and fiber artistry as a means to promote dialogue and community with intention and curiosity.
Textile work, historically, is inextricable from the lived experience of women transnationally, and is continually relegated to the realm of the "feminine". Given the homogeneity within the group of voices given importance by way of centuries of social norms, it has become increasingly necessary to turn to the feminine experience, often subjected to the sidelines as a silent observer, and take notice of the way a simple, yet authentic shift in perspective enriches our collective reality.
The first run of Women Pulling at the Threads of Social Discourse in 2019 featured works from Aurora Molina, Katika, Natalia Schonowski, Nathalie Alfonso, Paola Moreira, Laura Marsh, April Hartley, and Janna Isbey. Applying Marxist literary criticism to textiles, Eight Women Pulling at the Threads of Social Discourse presented reflections of society—its tendencies, failings, and structure—as mirrors of the social institutions and practices from which the works evolve. Together, the works highlighted how notions of class and social structure alienate the individual, thus stimulating the ever present modern phenomenon of 'angst', and what Sartre referred to as 'nausea.'
Eight Women Pulling at the Threads of Social Discourse featured works from CAMP artist, Katika.
2020's edition of Women Pulling at the Threads of Social Discourse was made possible by a collaboration with Fiber Artists Miami Association (FAMA), founded by artists Aurora Molina, Evelyn Politzer, and Alina Rodriguez Rojo, and expanded to include 40 artists of varied racial, ethnic, and linguistic backgrounds. 40 Women Pulling at the Thread of Social Discourse saw a celebration of the Women's Suffrage centennial in an election year, ultimately unifying fiber art with the complex intersections of femininity, race and history, and feminist sociopolitics. Arte al Día wrote that "the marriage of the female artist to the textile medium, both outwardly and socially expected to be weak, are in fact, in the hands of these artists, affirming that strength lies in durability, pliability and resolve,'' best embodied by works such as Laetitia Adam-Rabel's Red, White, and Pink: The Colors of Politics, Alissa Alfonso's Earth Can't Vote, Laura Marsh's Resistance Isn't Enough, and Silvana Soriano's widely publicized figurative collage, We (are) The People.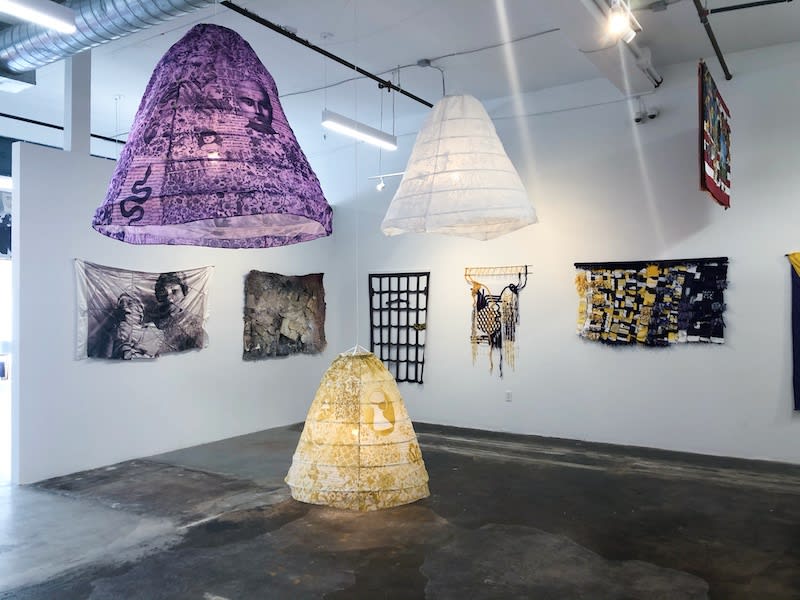 Forty Women Pulling at the Threads of Social Discourse at CAMP's original Little Haiti space in Miami.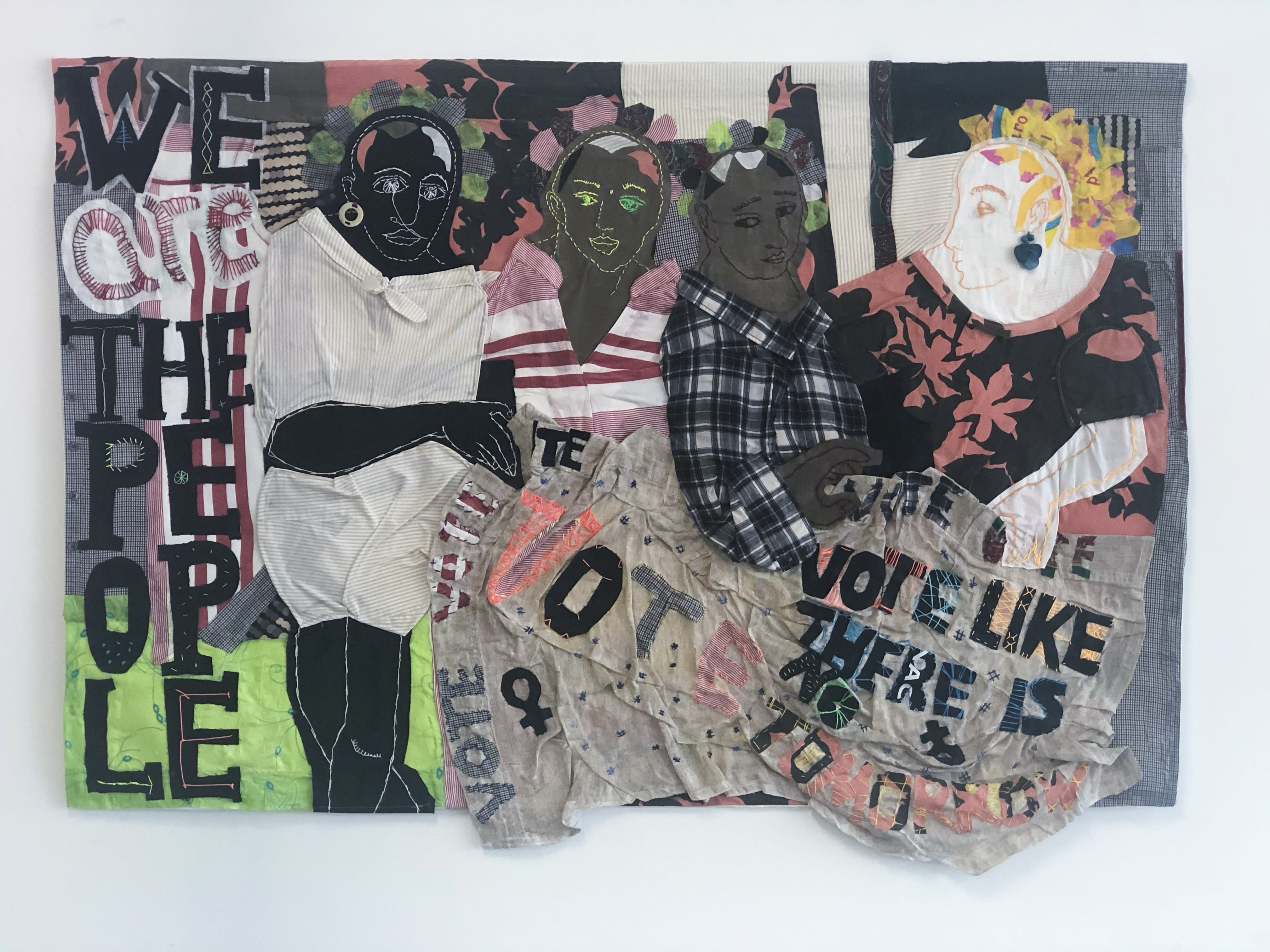 Silvana Soriano's collage expertise translated into textile. The artist used her own clothes instead of her usual paper.
After spending all of 2020 apart from one another amidst grave turmoil, many are still experiencing an alienation from life as they've known it, seeking to reunite with their communities as well as ideals that we can embrace and be proud of. This year's edition, FAMA Quilts, speaks to the spheres of experience we're still grappling with as a collective, both socially and privately, and weaves the participating artists' stories into one large quilt. The goal of 2021's edition of Women Pulling at the Threads of Social Discourse, is to physically and intellectually unite their stories and, in many cases, their answers to what plagues us. A return to textile art inspires us to interrogate our intricacies in the same fashion fibers intertwine to create a well-rounded composite, cluing us into how society can break free, and ultimately cure itself, from distance, hate, separatism, and all the ills come to light that defined 2020.
September 21, 2021