2020 is on its way out of our collective memory, though not without fully overhauling life as we've known it. At The CAMP, we kicked the year off by starting from scratch, adding new and wildly talented artists to our darling roster (i.e., making loads of new friends), partnering with FAMA for a 40-artist exhibition, leaving our Little River home and setting up shop in North Miami, and even the launch of a brand-new virtual gallery with the help of Emperia, UK.
Which made us curious—how has the unruly intensity of the new decade impacted those we work closest with?

In the spirit of growth and community, we bring you The CAMP's 2020 Roundup, a small interview series featuring reflections from our CAMP and CAMP Spotlight artists.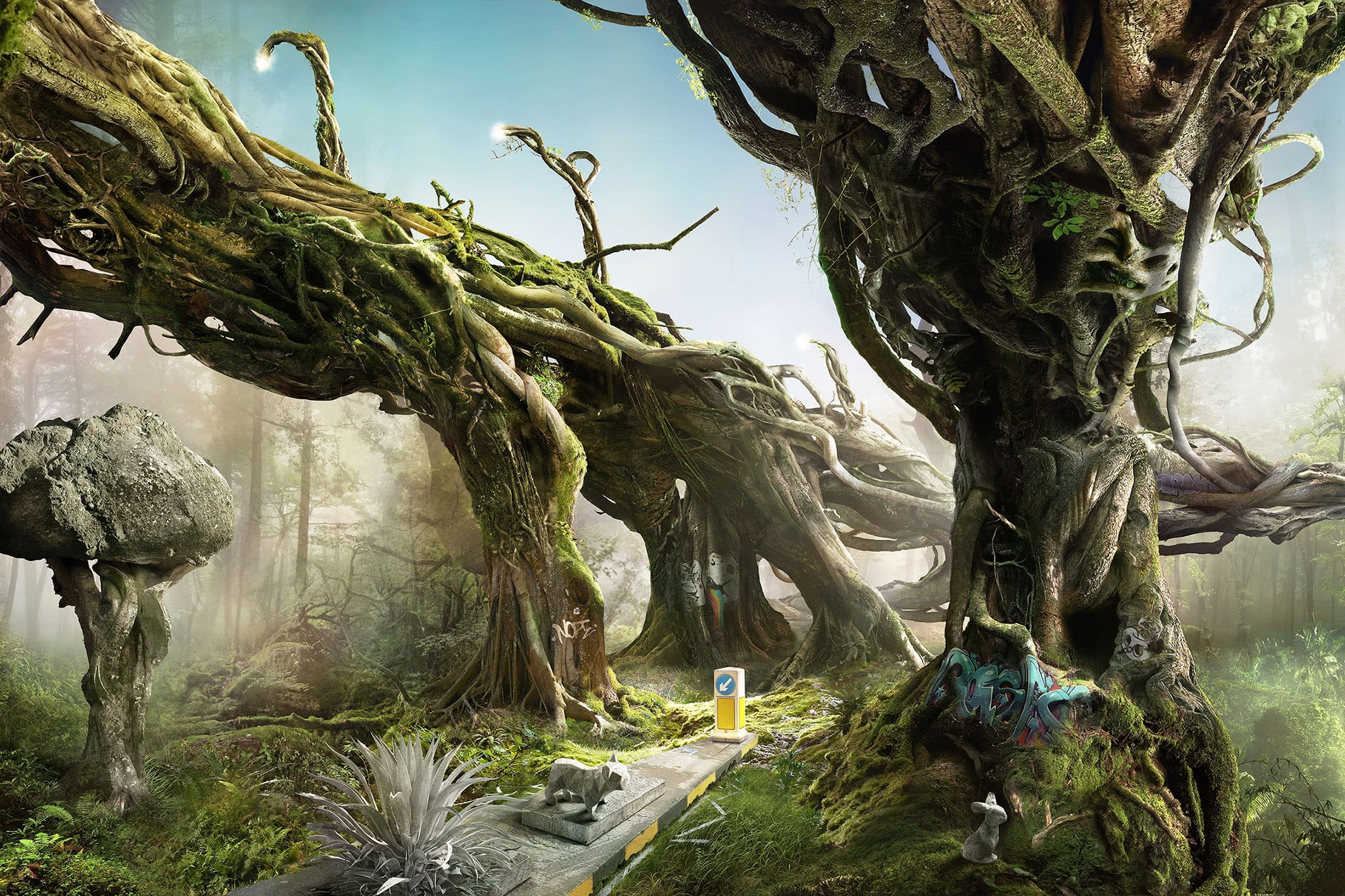 Barbara Nati. Inverted Kingdoms, 2017. Digital collage. 100 x 70 cm.
CAMP Spotlight artist Barbara Nati's photography work finds itself at halfway points—those between fantasy and reality, poetry and irony, the natural and digital, and the honest and estranging. Her approach to the social implications of environmental decimation invite audiences to interrogate what lies beneath the collective ignoring of both the natural world we inhabit and that of the industrial world we've created. Through a fusing of her fascinations with art and history as well as the versatility of digital technique, Nati creates easily recognizable scenes (highways, roadways, skyscrapers) out of completely incongruent, natural materials. The resulting juxtaposition not only exposes the dystopic undertones of industrialization, but the emotional volatility of our collective, ambiguous attachment to our homes, our things, and our planet.
2020 has been a difficult and often tumultuous year - how has it affected you and your artwork?
One may think that during lockdown I had more time to funnel into my production. Actually, being a mum of two girls I hardly ever had time to myself. Even now that the pandemic seems to be slowing down a bit, routine has changed completely, and it feels like I'm always running out of time to spend on my production.
What has been the biggest hurdle you have had to deal with since March of this year?
Less time, less money to invest in printing/mounting/3d printing and so on. But most of all I miss being around people, interacting, drinking and enjoying life.
Have you noticed any changes in your work?
What with a smaller amount of time I noticed that I'm improving my planning skills, which I tend to struggle with.
Have you noticed any changes in how people react and or engage with your work now that they can see it mainly online?
I think that my photographic collage work, unlike painting or sometimes sculpture, works well with online platforms. Because it was conceived on a screen it won't change drastically when exhibited on a virtual platform. Having said that, I'm afraid the lack of proper scale reduces its impact on the audience.
What has been the best thing that has happened this year?
I turned 40. I was once told this age represents a pivotal building block in what you are becoming as a person; the goals you set, the choices you make, the direction you're heading towards are final and for someone always looking for new stimuli this sounds reassuring yet a bit scary…
The other good thing happening this year is not having to make plans for New Year's Eve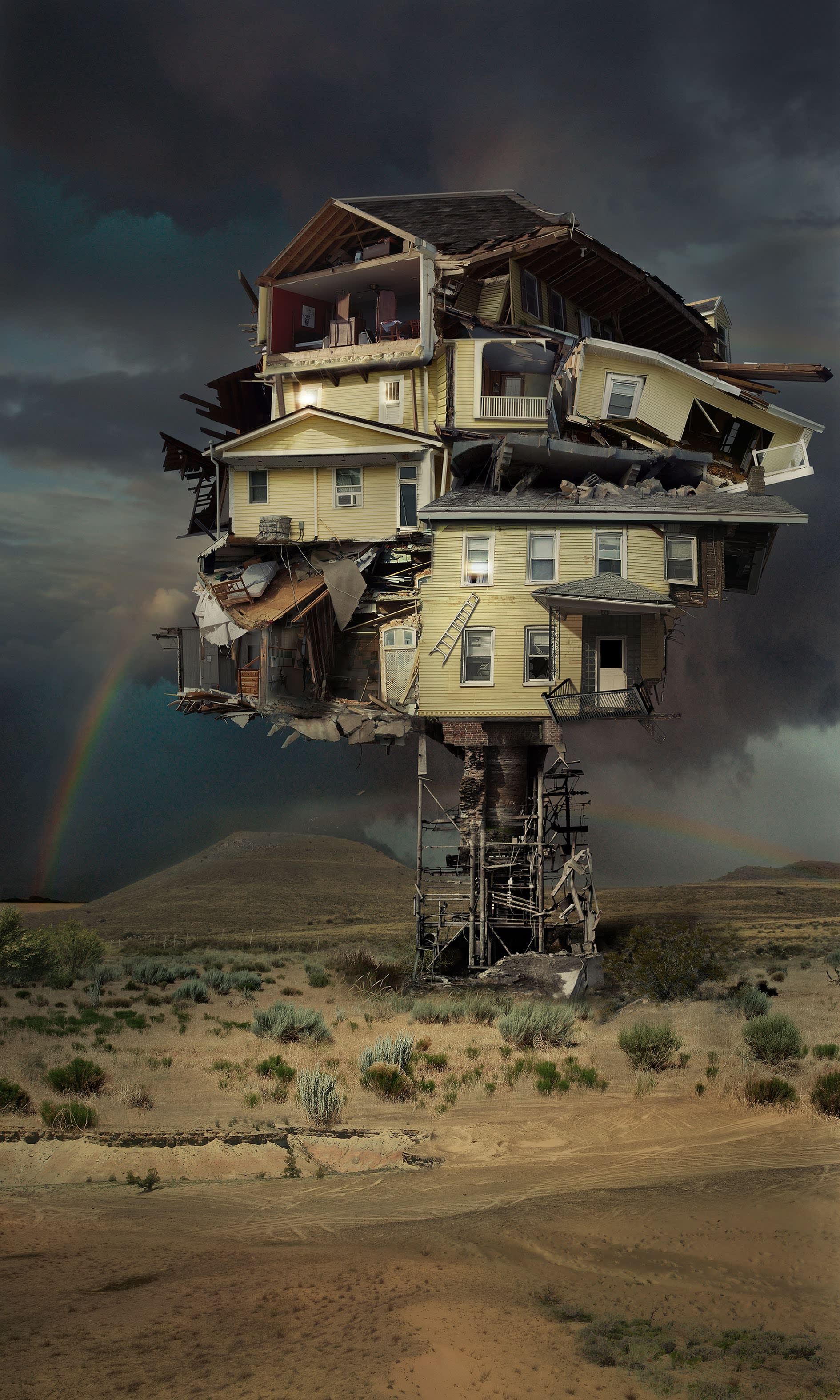 Barbara Nati. The House of This Evening V, 2013. Digital collage. 75 x 125 cm.
Has anything surprised you this year?
Now is a question that opens up a thousand possible answers. Being an artist is getting somehow surprised every day. So it's too long of a list to mention.
What inspires you currently? Do you see this changing?
I haven't noticed a massive shift in inspiration. If anything, the source of this disease urges me to delve further into humanity's destruction of biodiversity that creates the conditions for new viruses and diseases such as Covid-19. As a matter of fact, my newest volcano-town installation that embodies human destructive force spreading like an infection from the core of our planet had been in my mind for two years before I decided to work on it
Is there anything (exhibition, event, travel, etc.) that you had to forego this year that ended up working out beautifully?
I was supposed to develop this new diorama prototype I had been planning for months and the first piece was meant to be exhibited at The Barge House in London last Spring. Unfortunately the event was postponed. On the bright side, however, I had all the time I needed to reconsider some technical aspects and develop some details I hadn't pondered. Now the diorama is ready and I'm pretty happy with the outcome.
In the same vein, is there anything that quarantine/isolation has inspired you to start doing or practicing?
Ever since I read an article on CNN in April, I haven't been able to to get it out of my mind: "The coronavirus pandemic is making Earth vibrate less" Around the world, seismologists are observing a lot less ambient seismic noise — meaning, the vibrations generated by cars, trains, buses and people going about their daily lives. And in the absence of that noise, Earth's upper crust is moving just a little less.
I've always thought that, despite the harm we made to our planet, our presence is still quite scarce considering the size of the Earth. Some phenomena that humans are usually held responsible for, such as rising temperatures, are not actually depending on human presence but they're just the result of fluctuations that have always occurred.
Learning that reduced human activity could be perceived by seismologists blew my mind, and inspired me to work on the next project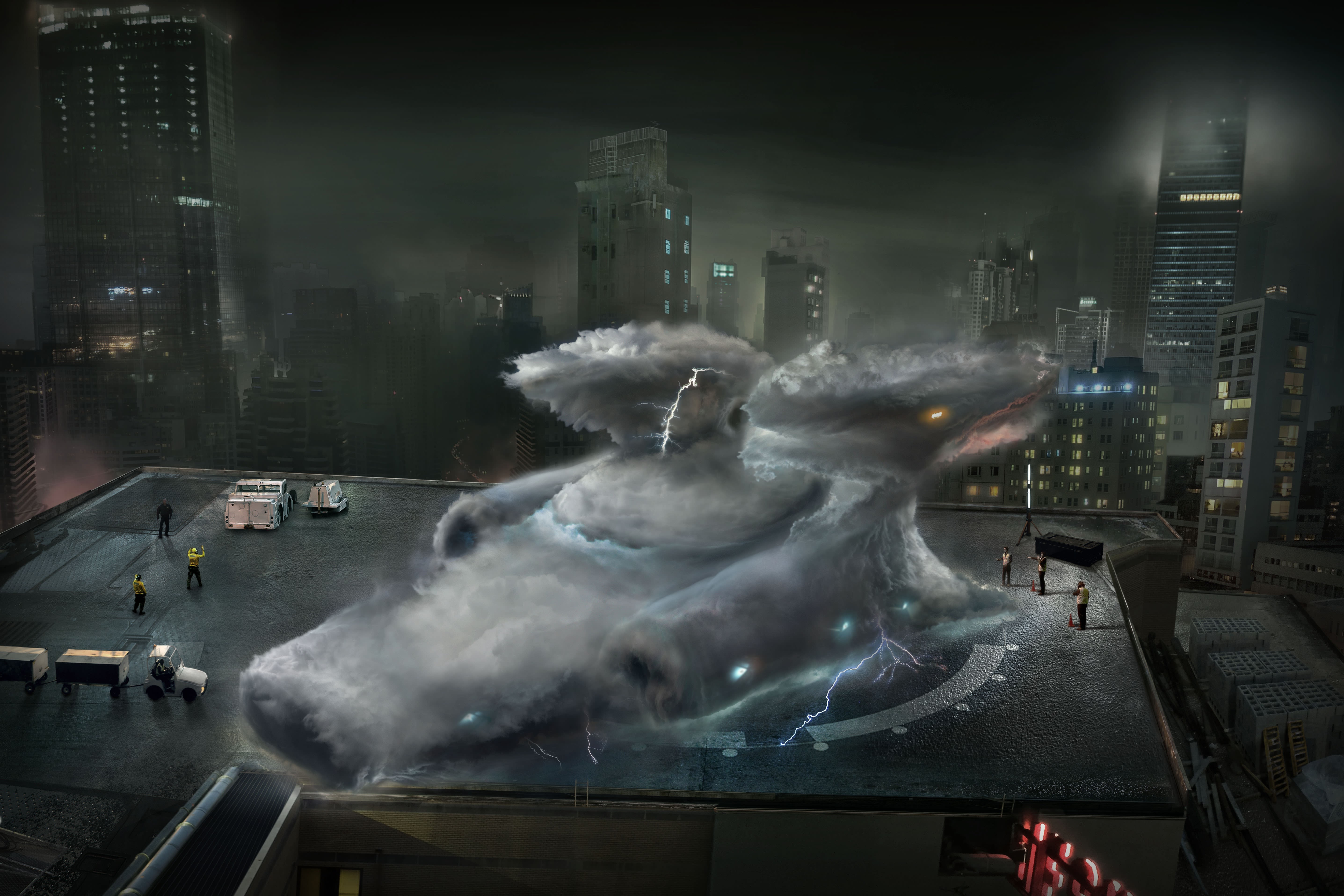 Barbara Nati. Shooting Clouds, 2019. Digital collage. 90 x 60 cm.
How does your process differ now that we're all spending less time out "in the world" and more time with ourselves?
I am indeed afraid that individual artists might get even more isolated (from society and fellow artists) than before. Even people who enjoy solitude like myself need some references to mark their day so as not to get alienated.
How do you see this moment in time affecting the bigger industry in the long-term?
It is probably accelerating the process of bringing our daily lives and activity onto a virtual level. This means a big challenge to many fellow-artists and many will be left behind but we have to come to terms with this epoch-making change
Do you have any New Year's Resolutions?
Not that I can think of. I think I'm doing quite well at the moment. Perhaps set more deadlines and stick to them?