At The CAMP, we're not just interested in the the business of art. Sure, there's a wonderful feeling when we make a sale because it encourages the artists we work with and validates our dreams of growing into the platform we know we're meant to be, but it's bigger than that. What we're interested in is art—full stop. The CAMP revolves around a serious love for artistic expression and along with that comes serious people who are just as beautiful as their creation.
This is Introducing, a series of questions and answers sent to the latest artists joining The CAMP and The CAMP Spotlight: their journeys, their inspirations, and even some tidbits you may not find in a run-of-the-mill interview. If there's one thing about us, all of us, it's that we're not like other platforms—we're a community.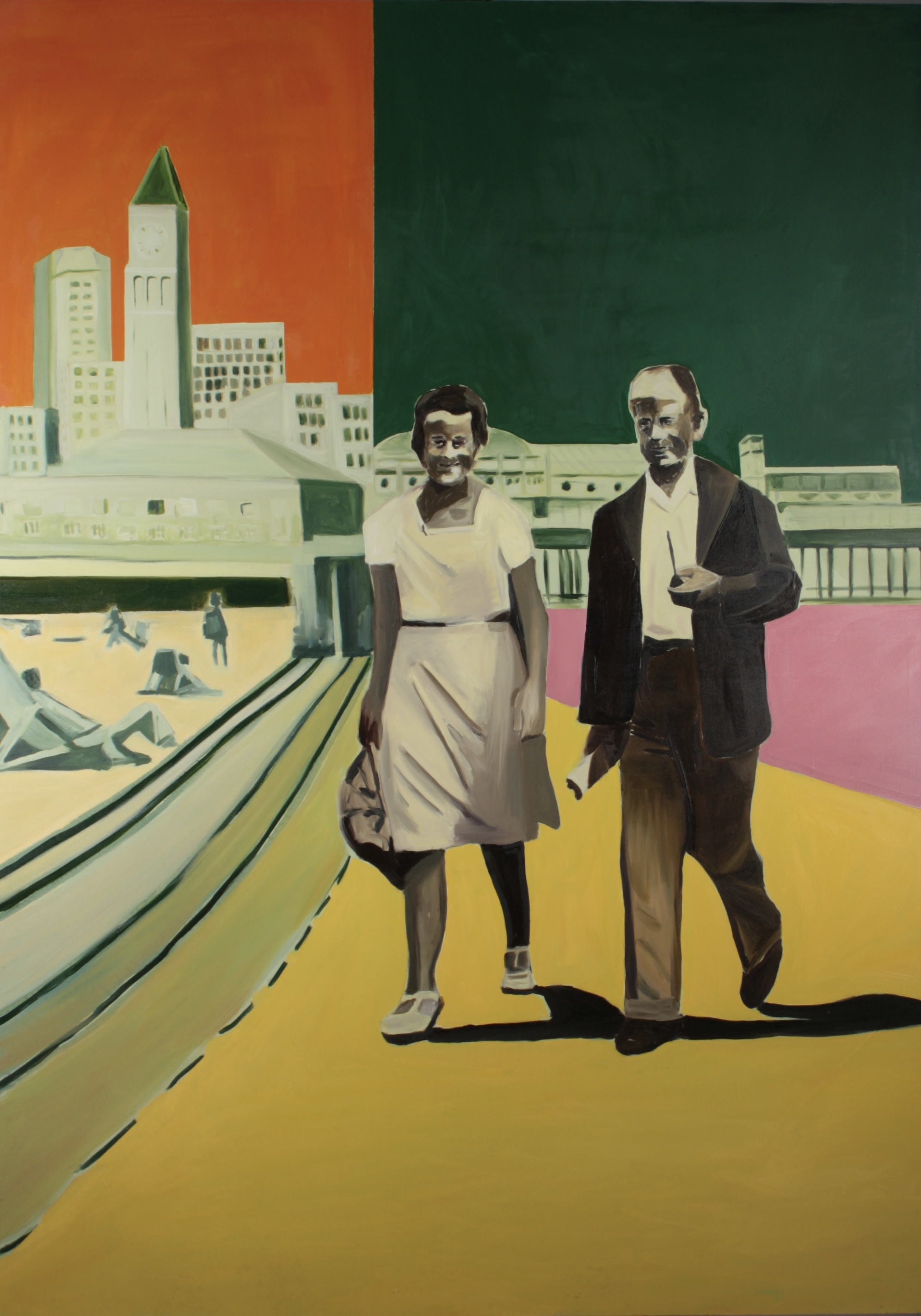 Molly Brocklehurst. Intrusion, 2018. Oil on canvas. 180 x 150 cm.
British figurative painter Molly Brocklehurst describes herself as an "image scavenger," poring through found photographs and dissecting, reconstructing, and even sometimes distorting, narratives. Though sometimes unsettling, Brocklehurst's work can be seen as a softer, muted approach to the grotesque, at least emotionally. Her paintings address concepts such as loss and nostalgia, "strange fictions" that blur the boundaries constructed around "fiction" and "history" and proving, through her use of color and shadow, that we can be participants in both. Whether we do so knowingly or otherwise, like her subjects, is part of the experience.
.
Brocklehurst joins the CAMP, forging another bridge—this time, between London and Miami!
When did you know you wanted to be an artist?
I've always been creative in one way or another. My grandpa was an artist and my earliest memories are of painting with him in his studio. It was probably in my last few years at senior school when I started to think about it seriously as a career. I had a really influential art teacher who believed in me and was committed to supporting me when I decided I wanted to go to an art university to continue exploring my practice. I've never looked back. Doing what I love makes all the pressures and struggles worth it.
What pressure do you feel as an artist?
Aside from the financial pressures that I think most emerging artists experience, for me it's more the pressure that I put on myself to get through all of my ideas! Even when you finish a painting, you are already thinking of the next project. It's an obsession that you can never completely satisfy. Nothing is ever enough. But that is also why I love it—it's endless. It's also about juggling all the bits that build up being an artist: you're a creator, a businesswoman, and your own boss!
What are you saying with your art?
My art speaks of a nostalgia of a life we have not lived. Looking back at our lost pasts, I seek to create new rituals and new possibilities for our collective histories that cross the boundary between a sense of longing and the anticipation of the unknown.
Molly Brocklehurst. Salem Walk, 2020. Oil on canvas. 110 × 180 cm.

What is it like in your studio?
It's my little haven! Built in my garden, it's somewhere I can go to escape. Hours and hours will pass in there without me realising it.
Why do you create the art that you do?
I obsess over things. I get such a kick out of exploring these lost, ambiguous events from the past that I find in flea markets. There is so much to investigate. Each photograph begs a fiction.
.
Who inspires you? And why?
Mamma Anderson, Wilhelm Sasnal, Peter Doig, Lisa Brice, Luc Tuymans, Hurvin Anderson, Antonia Showering

Tell us about a pivotal moment for you and your career as an artist.
All the opportunities and experiences that came out of doing my Fine Art Degree and Masters. Exhibiting with the Maddox Gallery, exhibiting in Scandinavia. Now it's CAMP! It's a really exciting opportunity to be widening my audience to the USA.

How are you adapting to the socially distant world?
I'm realising how increasingly important the digital world is nowadays as a result of our socially distant world. Physical exhibitions have, sadly, really taken a step back and so, I'm really trying to up my game on my social media platforms to ensure my art can still be seen and accessed online. It's an isolating time, especially for artists who work alone, so it's important to keep that artist community going online.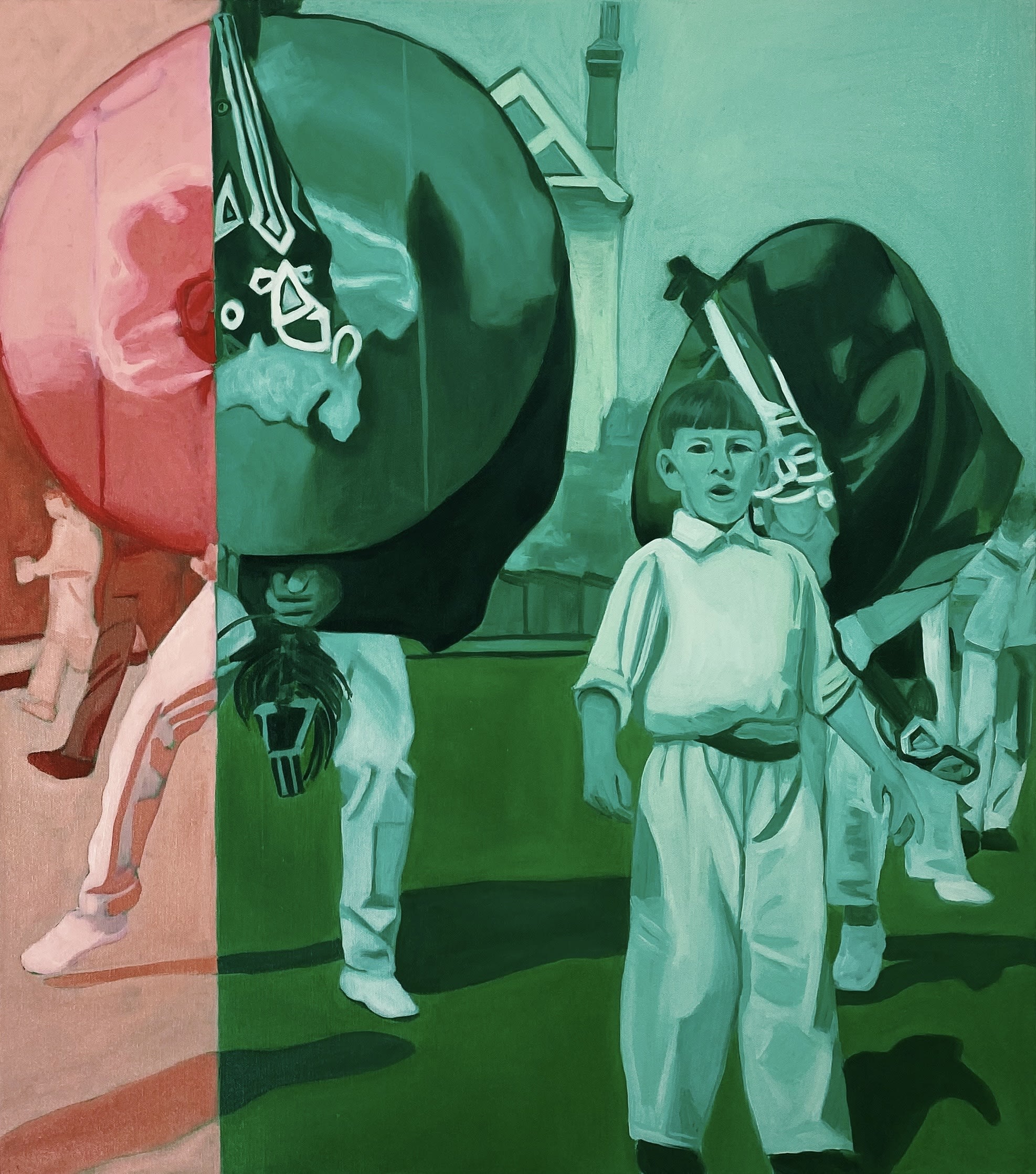 Molly Brocklehurst. Pagan Dancer, 2020. Oil on canvas. 85 × 75 cm.
Outside of your art, what is something that you are most proud of?

My determination, my teaching and the kids I teach, and my beloved dog Rizzo!

What do you do in your day when not creating?

I spend a lot of time just thinking about ideas for future paintings. I collect old photographs from flea markets and antique shops, and nowadays from online archives. I love walking. Some days I teach. I go to exhibitions and museums and I like to travel in non-COVID times!
Lastly: tell us a story, anything, that lets readers know who you are—the person.
I grew up as a country girl in the Scottish moors. Surrounded by wildlife, rivers and no phone signal! That's how I remember it. Our nearest shop was half an hour away. Quite bonkers. It was beautiful though, I spent my childhood playing with my brothers and sisters, making dams and dens and riding. So simplistic, but it's all I knew and all I wanted. I remember it was after I was awarded the class art prize that my parents gave me an easel for my 9th birthday! I took it with me outside and everywhere.
It was a big change moving to the big city of Leeds to do my Art Degree. There were people everywhere, cars everywhere, noise everywhere. It was exciting! I spent 3 of the best years of my life there. I'm now living in London where I completed my masters. I've built a studio in my garden and it's the best thing I ever did.