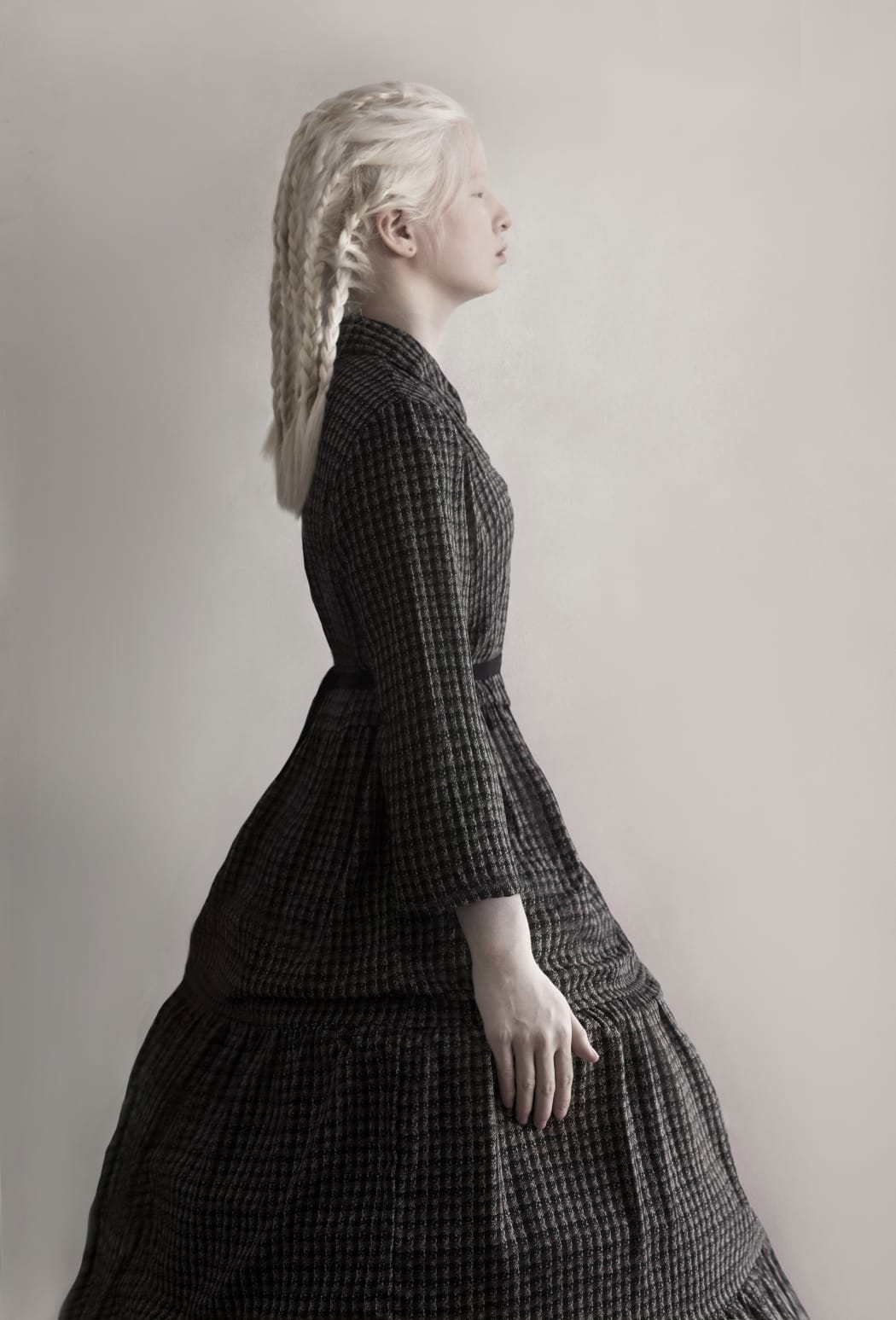 The one detail of group exhibitions that is equal parts anxiety-inducing and thrilling is not, as expected, the number of artists, whether there are three or over sixty; it's actually the sheer quantity of dialogues their works create together. The CAMP's latest group exhibition, Not Dior's New Look III, isn't simply an array of works tethered to one another by medium or aesthetic—it's a conceptual runway. Following CAMP founder Melanie Prapopoulos' commitment to donating a percentage of gallery sales to Fashion Fights Cancer, a non-profit organization founded in 2004 that offers innovative and therapeutic programs in fashion and design, what was once a fun digital exhibition has blossomed into a conversation, and ultimately, a force for good.
Oftentimes, the intersection of the Fashion and Fine Art realms is looked at from a depersonalized lens, fully devoid of nuance, and totally forsaking the vibrancy of creative pursuits that makes all that labor worth it. Not Dior's New Look III stands as an acknowledgment of what makes this life fun, how easily we're able to both influence and find inspiration within the people around us, and just how vital one's personal aesthetic is to the rest of our lives.
Dutch photographer Alice de Kruijs challenges long-held ideas of just whom gets to be considered beautiful, highlighting that 'fashion' is more about energy than the standards that have been decided for us. Her sincere approach is marked by a palpable interest in presenting honest portrayals without fetishizing or manipulating her subjects. Mario Rodriguez, curator of de Kruijs' 2021 exhibition Alice de Kruijs: Master of New Age Portraiture, has noted that "the essence of her work has a foundation in a natural curiosity that culminates in portraiture rich in color, concept, symbolism and an earnest appreciation for her subjects' experiences."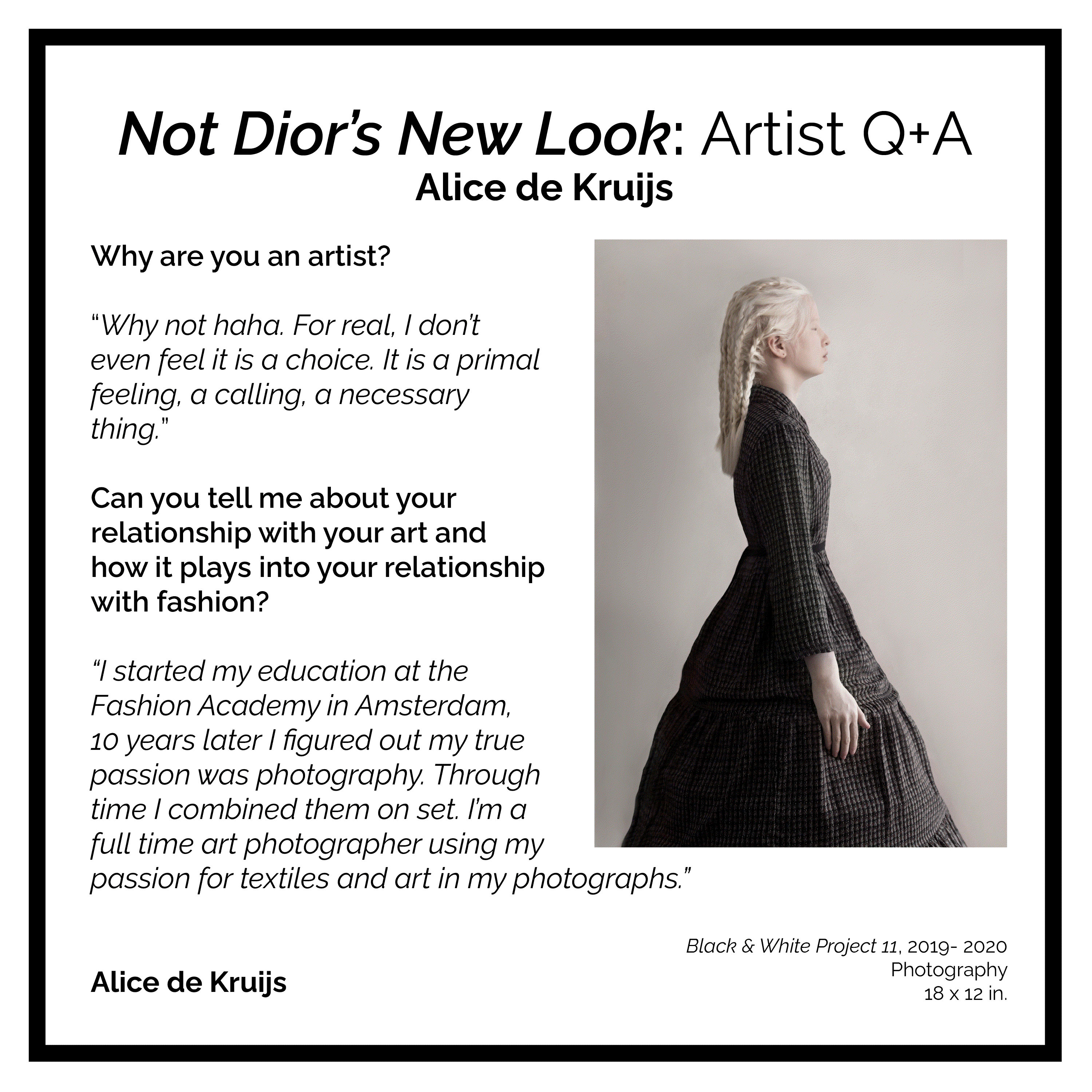 What role do you think art plays in our societies?
Art is a creative reflection of society, circumstances, and (in)justice. Writers write; we artists make a visual story or artwork, [expressing] our vision towards whatever makes us find it necessary to express. What is so amazing to me is that so many photographs, paintings, and sculptures are already made but still every piece that comes from the heart or soul is unique.
How do you find fulfillment in your artistic process?
The power to express your mind, struggles, passion, and love to a visual art piece. My art is my freedom, my passion, my life, my love, and the ability to express what I want to tell. The visual encounter gives the ability to dream, to express your roots or to express a situation you are very upset about.
Is there a larger theme at play across your body of work?
I frequently touch [on] the subject of identity and diversity that aims to go against the standard ideals, and showcase stories through culture and different ethnic backgrounds. I see my work as a celebration of these differences in culture. My style is to conceptually and symbolically tell stories, usually by showing a different perspective on personal, daily life struggles. Recently, I finished three series [touching on] the rising sea level. I'm working on a photo book showing the images I created in the last three years. It will be finished in about two months.
Can you tell me a little bit about your relationship with your art and how it plays into your relationship with fashion?
I started my education at the Fashion Academy in Amsterdam. 10 years later I figured out my true passion was photography. Through time, I combined them on set. I'm a full-time art photographer using my passion for textiles and art in my photographs.
Does this impact your work?
It has a great impact. I love to work with textile background; the structure, the draping, and the light falling in the pleats is so charming and gives a deeper look. Besides working on my book. I'm also working on a new series where textiles play a larger role, a very private series about my need to travel to follow my dreams.
After finishing school, I couldn't wait to step in the world, I travelled through many countries and left when I felt it was time to leave, like Nomads. I collected a lot of traditional textiles wandering in the world. Even now, I permanently live in The Netherlands, but I dream of moving to Ethiopia, or Kenya. Tribes that still live in this way inspire me. Every tribe I visited, textiles are such a fundamental part of their culture—that goes much deeper than just a cloth. In the new series, I will visualize my story and will share parts of my travel diaries as well.
Not Dior's New Look III is the first official collaboration that The CAMP is doing with Fashion Fights Cancer. Can you walk me through your feelings about this, and the fact that part of the proceeds will be donated to FFC?
I can only support this. Unfortunately, cancer has such a big impact on all our lives. To publicly create an event and combine it with art is such a wonderful idea. The beautiful artworks make it an appealing event while supporting FFC.
How do you feel about your work, specifically, being placed in a larger conversation about art's capability to inspire awareness and bring about change?
I believe this is what artists want, to tell the story. Most of us create art with a message of joy, pain, inequality, injustice and/or acceptance. It is the image or art piece that must make you think, see a different perspective, a fantasy or struggle and make you feel a certain way.
Why are you an artist?
Why no? For real, I don't even feel it is a choice. It is this primal feeling, a calling, a necessary thing.