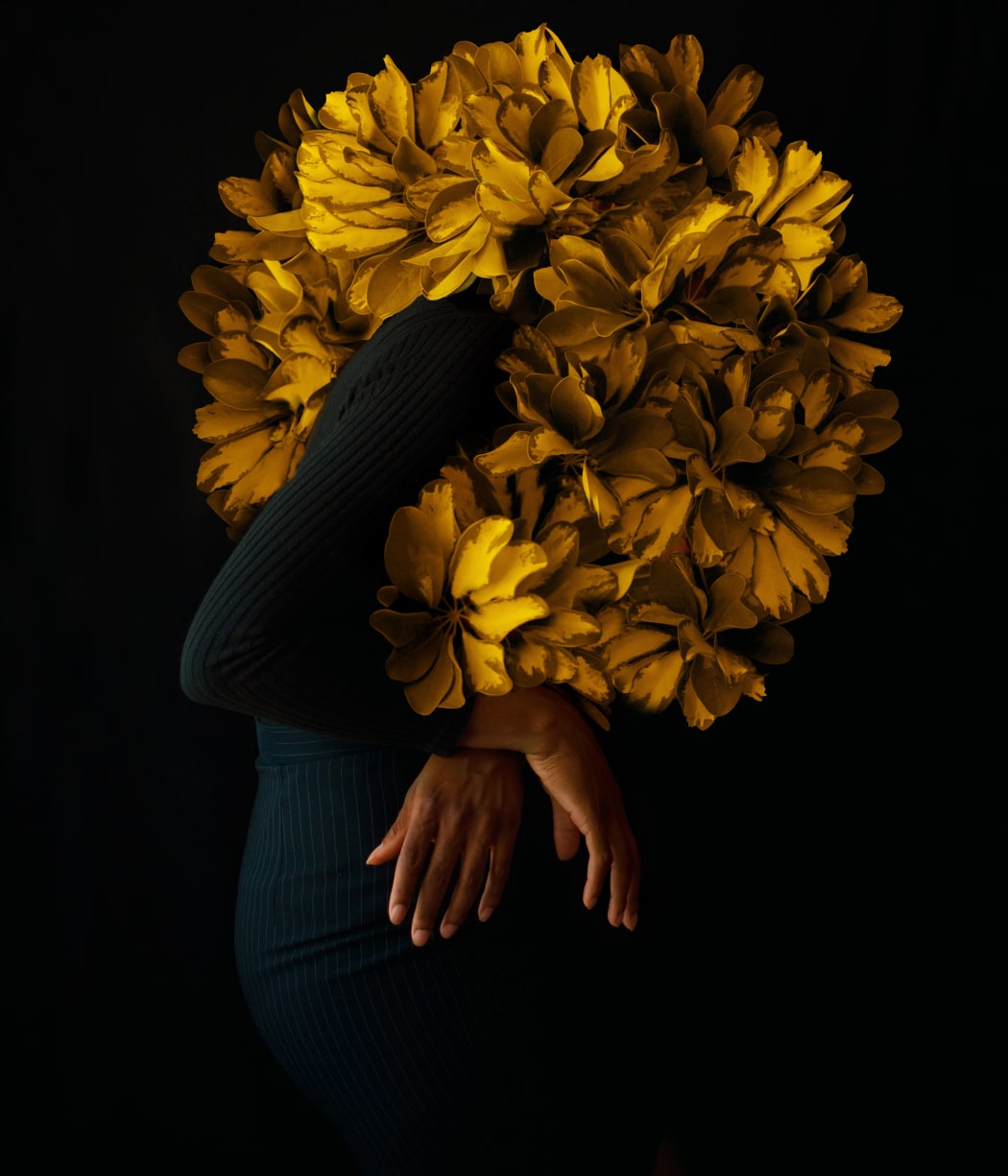 The one detail of group exhibitions that is equal parts anxiety-inducing and thrilling is not, as expected, the number of artists, whether there are three or over sixty; it's actually the sheer quantity of dialogues their works create together. The CAMP's latest group exhibition, Not Dior's New Look III, isn't simply an array of works tethered to one another by medium or aesthetic—it's a conceptual runway. Following CAMP founder Melanie Prapopoulos' commitment to donating a percentage of gallery sales to Fashion Fights Cancer, a non-profit organization founded in 2004 that offers innovative and therapeutic programs in fashion and design, what was once a fun digital exhibition has blossomed into a conversation, and ultimately, a force for good.
Oftentimes, the intersection of the Fashion and Fine Art realms is looked at from a depersonalized lens, fully devoid of nuance, and totally forsaking the vibrancy of creative pursuits that makes all that labor worth it. Not Dior's New Look III stands as an acknowledgment of what makes this life fun, how easily we're able to both influence and find inspiration within the people around us, and just how vital one's personal aesthetic is to the rest of our lives.
Writer and photographer Fares Micue plays with aesthetics to tease apart the complex emotions, providing us with a vibrant foray into visual storytelling. Integrating her writing practice with self-portrait photography, Micue's work weaves color symbolism, body language, and natural elements together to externalize complex emotional experiences. Her playful, yet honest, approach blends the perfection of editorial photography with the boundlessness of magical realism.
What role do you think art plays in our societies?
I found art to be not only something beautiful to decorate your home [with] but something to learn from and to be comforted by. Art has the power to make you dream, change your mood. Art can make you think and realize things you didn't notice before. The "right" art for you will definitely make you a happier and more fulfilled person.
How do you find fulfillment in your artistic process?
I enjoy every step of the creation of my pieces, from the birth of the idea to the materialization of the image. Seeing my vision come to life is a fulfilling and fascinating process.
Is there a larger theme at play across your body of work?
Sure: positivity, self-improvement, self-love, and empowerment… all across my body of work in different ways, from the colors, to the elements, to the body language.
Can you tell me a little bit about your relationship with your art and how it plays into your relationship with fashion?
I have a very distinctive and specific style in my photography, apart from the obvious use of particular colors, I always chose timeless styles, with very feminine vibes. I always go for not very "trendy" clothing, prints, or cuts, mostly plain fabrics.
Does this impact your work?
Of course. With this choice, I create timeless images which are hard to place in any particular era, if we are only judging by the clothing—that shows that encouragement, empowerment, and self-love are necessary at any given time in history, that self-doubt is not an exclusive problem of twenty-first century, although we are now more aware of it.
Not Dior's New Look III is the first official collaboration that The CAMP is doing with Fashion Fights Cancer. Can you walk me through your feelings about this, and the fact that part of the proceeds will be donated to FFC?
It is always a pleasure to be able to be part of things that can potentially improve and make a change in someone's life, therefore I am happy that the CAMP took this step and myself along with them on this journey.
How do you feel about your work, specifically, being placed in a larger conversation about art's capability to inspire awareness and bring about change?
I feel proud, because that has always been one of the purposes of my work: to heal and make people feel better with themselves, as well as come to terms with their circumstances and their past, realizing that they are powerful and have the capacity to now change their present and their future, if they choose to.
Why are you an artist?
I feel I have a message to share, which I am passionate about, and I know a lot of people need to hear. Because it makes me feel useful and it heals my soul.