"Outsider Art" is a formal category within the Industry, usually reserved for artists who are not "formally trained" and yet, still produce work that is "clearly very fine art." Outsider artists include titans such as the self-taught Jean-Michel Basquiat, and Judith Scott, a sculptor with Down syndrome. I imagine that centuries ago, "outsider" would include any women, Black people, Indigenous people—in other words, anyone who wasn't categorically known as Man from the dawn of Gender and Race—who had the guts to defy social expectations and put their creativity out there. I'd like to think that the greatest artists across all media are people who are, in the deepest sense of the word, novices or art babes who either lacked access to "formal training" or weren't considered person enough (which, like, gross) to be included in The Conversation, and decided they didn't need that to express their innermost brilliance.
The CAMP Miami's March exhibition, titled Me: I Am Not An Outsider, I Am An Artist, featured works by two local artists: Thalya Baker and Eric Sowers. Baker and Sowers fall under the spectrum of neurodiverse for their own reasons, which I won't be specifying, and this places their work in the context of "Outsider Art." For them, Art is a point of self-acknowledgment, and more importantly, of their humanity. Jean Dubuffet, a French painter known for his offbeat "low art" collection featuring artists such as Aloïse Corbaz, a Swiss painter who lived with Schizophrenia, and Roger Cardinal, the art historian who originally coined the term, together suggested that the deeply rebellious of act of rejecting social and historical norms about which art is worthy of recognition, and who's behind it, is just as legitimate as, say, breaking rules about paint application and sculptural method. I, Maria Gabriela Di Giammarco, want to add that if you really think about it, it's weird to do that anyway. I say this because art is inarguably the most human of impulses. From 40,000-year-old stenciling in Indonesia and petroglyphs in the depths of the Amazon, to Basquiat's body of work, to—and I include this reluctantly, but in earnest—Beeple's record-breaking NFT work, creative expression is just something human beings do.

(Left) Aurora Molina and I in her studio, discussing Eric's work; (Right) Andrea trying to hold up Thalya's People, which comes in at 62.25 x 109 inches.
Of course, I understand that this level of teasing apart can bring everything into question, but that's kind of the point. Curating this show wasn't simply something nice, like, a gesture of goodwill, nor was it a baby project for a baby curator. It was a moment of transformation, for myself, for the two artists, for the gallery, and for our communities. While putting this show together, I found myself dodging mines like "oh, so-and-so is Autistic? How cute. It's so cute. Isn't this the cutest thing you've ever seen? How sweet!" and the egregious "art babble is not art" (shout out to the Instagram troll who was entirely too enraged at the fact that we would dare to do this exhibition.)
I want to make a point here: there's been a lot of chat about what opening up The Conversation looks like now, especially after the great reckoning that was the Summer of 2020, but I can't help to think that society, that big We that looms over us, is still scared of what including everyone's perspective looks like. For a lot of people, it means confronting that what their parents taught them may be wrong, or that they haven't always been as nice a person as they've thought themselves to be. I think that that art is, or should be considered, the perfect place to begin this process, even if the sound of "progress" is scary. In reality, it should already provide solace from the dark and insidious parts that come along with participating in We, the larger collective. The Industry is naturally a part of the problem as far as inclusion goes, but this doesn't mean that it can't be leading the charge when it comes to exploring solutions. If anything, I stand by the idea that institutions built upon and for creative appreciation and expression are key in comprehensive change—its genesis and survival. Or, better, galleries and museums are where change is most possible.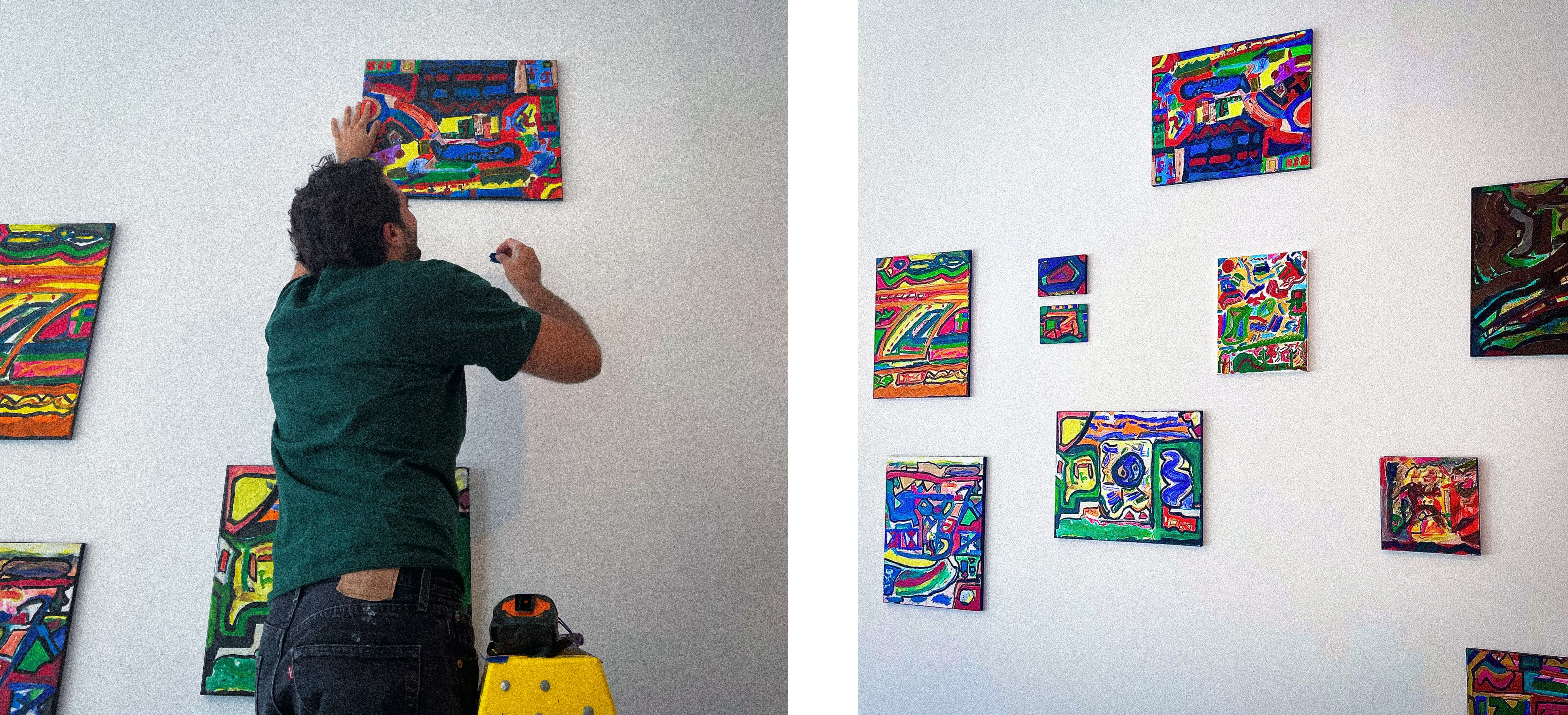 Mario installing Eric's pieces the week before opening.
That said, The Conversation has yet to include those who are neurodivergent and/or live with disabilities. The Conversation, especially as it pertains to artists who are Autistic, or have Cerebral Palsy, or are blind, doesn't have to be a flowery-worded, dainty shying away from the reality of what it's like to live in a world that others you if you're one of the 15% of the world's population living with a disability. There's no way to make that pretty or cute, or comfortable, and that has to be okay—especially for people who don't have disabilities. But it's all about how seriously we all take that big idea of We.
This othering has been the case, as Melanie pointed out in her statement for The CAMP's Women's History Month overview, with women artists; Toni Morrison's body of work touched upon this gatekeeping of creative expression in the literary world; certainly the case with Me. All the while, throughout curation and installation, and especially while immersing myself in Cardinal's work, I couldn't shake the idea of what barrier-breaking, transformative, celebration of Art for the sake of it would be like if we acknowledged, embraced even, the fount of perspectives that are often kept at the periphery of the Industry. Wouldn't we spark change by doing that? Wouldn't conversations get easier? What would Art History lectures look like?
Opening night shenanigans at The CAMP Gallery Miami, featuring artists and new friends.
Me is, in essence, an example of how rejecting and, worse, infantilizing artists who are disabled and/or neurodivergent can keep us from exploring The Conversation to its fullest. Thalya and Eric's works are pulse points for each of us to reflect on why we don't mention art and neurodivergence or disability in the same conversations, suggesting that We may not be viewing Art as this natural impulse, or have gone too far in making it inaccessible by extracting that which makes it so special. Me lives as a reason to tear down these awkward and nonsensical conceptions of Diversity as trendy, and, at least personally, to question why there's an umbrella term for "outsiders" that approaches the humanistic element of art-making better than any other movement ever will.
So, I gift these musings as creative fodder, and I present this exhibition, which was absolutely magical for someone who's on an eternal quest to interrogate everything until its bones sing, as A moment of reflection on whether Art is a gatekeep-y, awkward stringing together or Western norms and attitudes that demands one to give in, or if it's just something We do, love, and care for.